Benefit Ride for Haiti Relief: 100% of entry fees goes to Mercy Corps: 80 miles for $80!
February 13, 2010
Held on Eastern San Diego County's Old Hwy 80 and one stretch of Hwy 94: Minimal traffic, no traffic lights and just a few stop signs. A beautiful, quiet route!
Three checkpoints plus roving support.
Excellent training ride for Mount Laguna Bicycle Classic, our mountainous cycling event in this same region on April 17.
"L'Union Fait la Force" means "Strength Through Unity." That's the National Motto of Haiti. Now it's time for cyclists to unite!
In response to the horrific situation in Haiti, AdventureCORPS organized a cycling event called "80 For Haiti" on February 13, 2010. It was an 80-mile ride, on Old Hwy 80 in southeastern San Diego County, with an $80 entry fee. 100% of the entry fees went directly to Mercy Corps, one of the most respected relief organizations worldwide. The "80 for Haiti" start / finish was in Pine Valley, CA. The route was spectacular, on absolutely quiet roads through rolling terrain. We are still accepting donatins./ Click the Mercy Corps logo at right:

2010 Roster, Images, Video Slideshow, and More

Click here for all the event images and the full ride report / post-event press release.

Click here for a six-minute video slideshow with music of the event, featuring the same images as in the above slideshow.

Click here for the Roster of Riders, Donors, Volunteers, Supporters, and Media

Click here for the Preview Slideshow and Video of the Route

Click here for Frequently Asked Questions and Pre-Event Press Release.

Click here to donate to Mercy Corps.
Route Description
80 For Haiti uses the same start line as our April 17 Mount Laguna Bicycle Classic: Pine Valley County Park. From the park, 80 For Haiti riders will ride a four-mile loop around Pine Valley to warm up, then head east on Old Hwy 80 to La Posta Rid. Next, they head right / south (mostly downhill) on La Posta to a left / east on 94. Heading east, riders will rejoin Hwy 80 as riders enter the town of Boulevard. We continue east on 80 through Jacumba to the end of Old Hwy 80 at the Desert View Tower, which sits above Inkopah Pass at 3000' with a commanding view of the Anza-Borrego Desert. This spectacular seeting is the turn-around. We then beeline straight back to Pine Valley on Old Hwy 80, with a third and final checkpoint located just after Boulevard at approximately mile 65. Then it's straight back to Pine Valley on Old Hwy 80. The route has 6090' of total elevation gain. Half is attained during the 45 miles to Desert View Tower, then the remaining 3000' during the 35 mile return to Pine Valley.
Click here for a less than six-minute video slideshow of the entire route from start to finish. It is compiled from 171 images taken during a pre-ride of the entire route on January 29, 2010. Turn up your speakers to enjoy the music!
Click here to see a traditional slideshow of the entire route from start to finish. Features the same 171 images from the video slideshow.
Click here for a Google map of the route, as depicted here: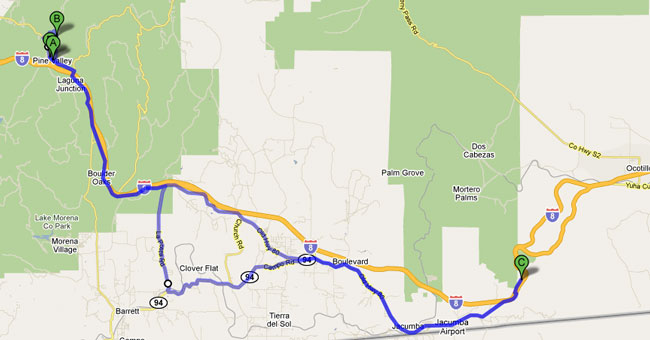 ---
Supporters

Infusions of Tea, our local tea house and a tea wholesaler, provided hot tea at the start line for the riders! Infusions of Tea is dedicated to the promotion of healthy lifestyles and the celebration of life and friendships. They view the consumption of tea as a ritual that promotes self-reflection, social interaction, and lifelong health benefits. Infusions of Tea provides a vehicle for continued learning and exploration into the world's finest teas and tea related products. Given the increasing daily demands of today's modern lifestyle, it is critical that we all make time for ourselves and those we love. Tea, both the act of preparing and enjoying the tea itself, brings with it a deep tradition and history that many have studied and for a lifetime.

We anticipated a cold out there in the morning on Feb 13, so REI donated hand warmer packets for the riders. Whether you're new to outdoor adventure or a seasoned pro, REI gladly shares their enthusiasm for their products—and the trails, slopes and waterways where they play. Also, each year, REI donates millions of dollars to support conservation efforts nationwide, and sends scores of volunteers to build trails, clean up beaches, and teach outdoor ethics to kids.

Chuao Chocalatier donated chocolate for all the riders! Not only do we love their chocolate - they are a San Diego area company - but 80 For Haiti took place on Valentine's weekend: great timing! Chuao Chocolatier (pronounced chew-WOW) is the first Venezuelan Chocolatier based in the United States and Southern California's premier artisan chocolatier. Founded in 2002 by Master Chef Michael Antonorsi and his brother Richard Antonorsi - the company's CEO; Chuao Chocolatier is pioneering "fusion chocolate" through a commitment to creating unusual, unexpected and delicious flavors using their secret blend of premium chocolate and fresh natural ingredients.

Ls Campbell, the owner of Temecula, CA bike shop Cyco-Path, donated $1000 to Mercy Corps and provided roving support on the course all day, tending to bikes and riders with his expertise and love of cycling.
Jimbo's Naturally Market, with four organic and natural food markets in San Diego County, donated a $75 gift card which we used to buy chips and healthy snacks for the riders.
Pharmaca donated green tea "shots" to help fuel the riders. Pharmaca stores offer a range of products to help you maintain good health, as well as traditional treatment options and a staff of health care experts for times when you need them most.
Jan Heine of Bicycle Quarterly, our absolutely favorite magazine, is helping out behind the scenes.
Clif Bar donated energy food: Clif Quench, Clif Blox, Clif Bars, and Lana Bars.
Thanks to Bill Oetinger of Sebastopol, CA for creating this fantastic logo quickly and for free! Bill is a full-time, self-employed commercial artist. He has created nearly all of the logos for our events. His work is supreme and we really appreciate working with him. Click here to see a small sample of Bill's portfolio and his contact information.
---
Media Coverage
Los Angeles Times Blog | Bike San Diego | Xtremesport4u | EcoVelo | Velo Cult | Biking Bis | Bike Radar | Active.com | Adventure Cycling (link of the week) | Bicycle Fixation |Urban Velo | Adventure Cycling Blog | Adventure Cycling "Bike Bits" | La Jolla Light |
---
Start / Finish in Pine Valley, CA
The 80 For Haiti event start / finish is at Pine Valley County Park at 28810 Old Highway 80 in Pine Valley, CA 91962. It's an extremely easy location to reach. All participants should park within the Park, NOT along the highway or in front of local businesses.

Click here for Google Map of the start/finish location. Click here for more about Pine Valley, CA.

Here are the primary relevant businesses located in Pine Valley, all within walking distance of the start / finish line at Pine Valley County Park. Click here for more about Pine Valley businesses.

Pine Valley Inn Motel
Mountain Supermarket
Pine Valley Java
Major's Coffee Shop and Diner
Calvin's Steaks and Seafood Sports Bar
Frosty Burger
Pine Valley Store Gas Pizza Deli Groceries
---
Where To Stay
Pine Valley Inn Motel
Laguna Mountain Lodge (12 miles north: neat cabins atop Mount Laguna)
Alpine (15 miles west): Ayres Inn | Victoria Rock B&B
Jacumba Hot Springs Spa (32 miles east)
El Cajon (29 miles west)
La Mesa (33 miles west)
Campgrounds are located all over Mount Laguna and at nearby Lake Cuyamaca State Park.
Additional Distances to Pine Valley:
San Diego to Pine Valley: 44 miles
Oceanside to Pine Valley: 73 miles
San Bernardino to Pine Valley: 142 miles
LAX to Pine Valley: 160 miles
Santa Barbara to Pine Valley: 252 miles
Phoenix, AZ to Pine Valley: 312 miles
Las Vegas to Pine Valley: 360 miles
Tucson, AZ to Pine Valley: 366 miles
---
Check-In
Rider Check-In will take place on Saturday morning from 700 to 800am at the park in Pine Valley. (Check-In is for pre-registered riders only. We do not accept in-person sign-up.) Please come prepared and please don't wait until the last minute to show up!
---
Twilight, Sunrise, and Sunset
Twilight begins 6:13; Sunrise is 6:38; Sunset is 17:24; Twilight ends 17:50.
---
Wave Start Times
Each wave will have 50 riders and they will begin in ten minute intervals, starting at 800am. Waves will begin at 800am, 810, 820am, etc. Choose any wave you prefer.
All eyes—County, CHP, Forest Service, locals, and visitors—will be watching this event. PLEASE do the right thing, everyone! Thank you in advance for your cooperation!
---
What to Bring
Riders must come prepared for any possible mechanical failure or contingency. At the very least, all riders should carry a spare tube, tire (yes, an actual tire), pump, patch kit, basic tools, water bottles, money, personal and medical identification, cell phone, money, credit card, and a good attitude.
---
Official Charity: Mercy Corps

The Official Charity of 80 FOR HAITI is Mercy Corps, a team of 3700 professionals helping turn crisis into opportunity for millions around the world. By trade, they are engineers, financial analysts, drivers, community organizers, project managers, public health experts, administrators, social entrepreneurs and logisticians. In spirit, they are activists, optimists, innovators and proud partners of the people they serve. According to their website:
"Mercy Corps has long been recognized as an excellent steward of the resources entrusted to it. Over the past five years, more than 89 percent of our resources have been allocated to programs that help people in need. Ensuring that resources are wisely spent is the cornerstone of our values, vision, and strategy for growth in the future. We are proud of the awards, endorsements, memberships, and honors that substantiate our track record of accountability."
Click here to donate directly to Mercy Corps.
Click here to visit the Mercy Corps website.
Click here to read more about what Mercy Corps is specifically doing in Haiti right now.
---
Mount Laguna Bicycle Classic: April 17, 2010: Start/Finish in Pine Valley, CA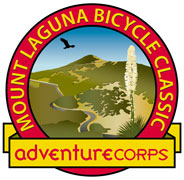 The 2010 Mount Laguna Bicycle Classic is the newest AdventureCORPS cycling event, featuring 103 miles with 10,000 feet of climbing and three different ascents of San Diego County's Mount Laguna! We'll climb San Diego's highest point via Sunrise Hwy from the north, via the fabled and car-free Kitchen Creek from the south-east, and via the little-known and truly epic Pine Creek drainage from the west. There are just three stop signs and NO traffic lights on this incredible route which starts and finishes in Pine Valley, CA! "80 For Haiti" is a great training ride for the Mount Laguna Bicycle Classic! Please join us in Pine Valley again on April 17.
Click here for a seven-minute video slideshow of the entire route from start to finish. It is compiled from 181 images of the route from various rides we've enjoyed out there in recent years. The images are in sequential order, exactly as if riding the event. Each of the three loops is also depicted with a map, elevation profile, and 3D image. Turn up your speakers to enjoy the music!
Click here to see photos, plus the report, results, and feedback, from the Official Pre-Ride of the event, held on November 14, 2009.
Click here for extensive route maps and elevation profiles for the Mount Laguna Bicycle Classic route.
Click here to see photos, videos, and more from numerous cycling adventures we've had on and around Mt. Laguna over the past few years. It's a spectacular place!
---
PLEASE STUDY EVERYTHING ON THIS PAGE CAREFULLY. ALL POLICIES STRICTLY ENFORCED.
Important Registration Details and Policies
All entrants are required to sign the Accident Waiver at check-in (before beginning the event). The waiver may not be modified in any manner.
All riders must pay the event entry fee (donation).
Entry fees are non-transferable. (No rider exchanges.)
Entry fees are non-refundable. (No roll-over credits, either.)
We reserve the right to refuse service to anyone.
Photo ID is required to check-in for the event.
The minimum age for participants and volunteers is 11. Riders under 18 must have their Accident Waiver signed by a parent or guardian who attends the event.
Participants may not tow trailers or "trail-a-bikes."
There is no registration at the event. You may not ride unless you have pre-registered and therefore your name is on the event roster.
There will be no mailing via postal service of any info, results, or entry confirmation before or after the event, however Active.com will email you confirmation of your entry when you complete the application process through their website. Keep that email on file as proof of your registration. We will keep you up-to-date via our email newsletter, but only if you choose to sign up for it.
We ride rain or shine.
Fire Cancels! This event is held under permits from the United States Forest Service and the County of San Diego. Either agency has the jurisdiction to cancel the event due to fire, other natural disaster, act of terrorism, Act of God, or other reasons. If this happens, there will be No Refunds. Please review the AdventureCORPS, Inc. Disaster Policy.
Please, no personal support vehicles! The Old Hwy 80 area is a beautiful, low traffic place to ride, so why spoil it with more cars? If you've got family or friends who want to be there, but don't ride, please ask them to volunteer for the event!
Rules for Riding
All riders must be friendly and must always display a good attitude before, during, and after the event. Whining and/or a sense of entitlement will not be tolerated.
All riders must carry and/or wear the official event ID provided at check-in. Riders without ID will be refused support and will be listed as DQ in the results. "Bandit riders" will be banned from future events.
All riders must carry proper personal identification and personal emergency contact phone number at all times while cycling. We recommend the fine products from www.RoadID.com.
All riders must wear a properly fitted and fastened helmet while cycling.
All riders must obey all laws and all relevant aspects of the California Motor Vehicle Code. Riders who break laws and/or ride unsafely will be disqualified from the event; they will also be banned from entering future events.
All riders must follow the basic rules for safe cycling, including, but not limited to: Ride to the right, single file at all times. Stop at all stop signs and red signals. Protect and warn one another about road hazards and traffic. Don't overlap wheels. Practice safe paceline and group riding etiquette. Be courteous to and cognizant of motorists and other park visitors.
All riders must leave the course within twelve hours and MAY NOT cycle in the dark.
All riders must begin in the wave start as directed.
All riders, including those who DNF, must check in at the finish line.