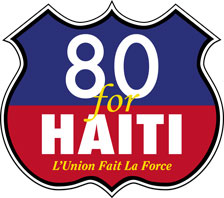 FOR IMMEDIATE RELEASE: 80 FOR HAITI BENEFIT CYCLING EVENT RAISES $24,000 TO SUPPORT HAITI RELIEF EFFORTS
L'Union Fait la Force / Strength Through Unity
= National Motto of Haiti
OAK PARK, CA - AdventureCORPS, Inc., an athlete-run firm which produces some of the world's toughest sports events - including the Badwater Ultramarathon and Furnace Creek 508 races in Death Valley - will host "80 FOR HAITI," a cycling benefit ride for Haiti relief supporting Mercy Corps this Saturday, February 13, 2010. The "80 FOR HAITI" cycling event start / finish line is just 44 miles east of San Diego, in Pine Valley and the route features an 80-mile ride along Old Hwy 80 in southeastern San Diego County. One hundred percent of the $80 entry fees are going directly to Mercy Corps, one of the most respected relief organizations worldwide. A total of 157 cyclists from across California are coming together to ride the event, paying $13,400 in entry fees, plus 101 non-riding supporters have donated $11,053, totaling at least $24,453 to support Mercy Corps' efforts in Haiti. This is the only known cycling event in the USA which was created in response to the crisis in Haiti and is likely one of the only fundraisers of any kind which is donating 100% of the proceeds (not just "the profit") to support Haiti relief efforts.
The 80 FOR HAITI riders will roll out from Pine Valley Country Park at 800am and will take five to eight hours to complete the rigorous course which features just over 6000' of total elevation gain through San Diego County's quietest back-country. Sights and highlights of the ride include the little-known hamlets of Boulevard and Jacumba, incredible views of the Anza-Borrego Desert far below the turn-around spot at Desert View Tower atop Inkapah Pass, lush views south into Mexico and north to Mount Laguna, and 80 miles of traffic-free, world-class cycling along Old Hwy 80 and Hwy 94.
A team of AdventureCORPS staffers and volunteers will take care of the riders as they make their journey. That effort will be made easier by the donations of many San Diego area companies:
Infusions of Tea, a La Jolla-based tea house and tea wholesaler, is donating tea for all the riders to enjoy before beginning the ride, while one of their employees will brew and serve the tea, then volunteer on the course all day. Chuao Chocolatier, the first Venezuelan Chocolatier based in the USA and Southern California's premier artisan chocolatier, donated chocolate for the riders. Jimbo's Naturally Market donated cookies, chips, and other organic snacks. Clif Bar donated energy bars and drinks. Pharmaca donated green tea energy shots. REI donated hand-warming packets to help with the anticipated sub-40 degree temperature at the start line. Temecula bike shop Cyco-Path donated $1000 to Mercy Corps and will provide roving support on the course all day, tending to bikes and riders with their expertise. And, as at all AdventureCORPS events, energy and electrolyte drinks and gels by Hammer Nutrition will be served. The logo was created and donated by graphic and commercial artist Bill Oetinger. The operating expenses for the event, such as portable toilets, permits, insurance, rental vans, the rest of the food served along the course as well as pizza and soda at the finish, is being sponsored by ride organizers AdventureCORPS.
As international relief efforts continue in Haiti, a Mercy Corps earthquake response team is in Port-au-Prince responding to urgent needs. Registering for this ride - or donating to the cause, for those who can't do the actual ride - will help families in Haiti recover from the most powerful quake to hit the country in more than 200 years. Mercy Corps relief workers with experience in disaster responses ranging from Hurricane Katrina to the Myanmar cyclone have converged on Haiti from Africa, Asia, and North America. They're focusing first on the immediate needs -- for water, food, temporary shelter supplies and much more -- and expanding their work to three areas: clean water, post-trauma support for children, and job creation.
Click here for all the 80 FOR HAITI information.
Click here for the event's fundraising page with Mercy Corps (the final tally of donations, combined with entry fees, will be reflected on approximately February 17).
ABOUT THE HAITI EARTHQUAKE
The 2010 Haiti earthquake was a catastrophic magnitude 7.0 Mw earthquake. Its epicentre was near the town of Léogâne, approximately 25 km (16 miles) west of Port-au-Prince, Haiti's capital. The earthquake occurred at 16:53 local time (21:53 UTC) on Tuesday, 12 January 2010. By 24 January, at least 52 aftershocks measuring 4.5 or greater had been recorded. An estimated three million people were affected by the quake; Prime Minister Jean-Max Bellerive stated on 3 February 2010 that 200,000 people had been identified as dead and estimated that 300,000 injured had been treated. Bellerive also estimated that 250,000 residences and 30,000 commercial buildings had collapsed or were severely damaged. Source (and more details): Wikipedia.com
OFFICIAL CHARITY
The Official Charity of 80 FOR HAITI is Mercy Corps. Mercy Corps is a team of 3700 professionals helping turn crisis into opportunity for millions around the world. By trade, they are engineers, financial analysts, drivers, community organizers, project managers, public health experts, administrators, social entrepreneurs and logisticians. In spirit, they are activists, optimists, innovators and proud partners of the people they serve. According to their website:
"Mercy Corps has long been recognized as an excellent steward of the resources entrusted to it. Over the past five years, more than 89 percent of our resources have been allocated to programs that help people in need. Ensuring that resources are wisely spent is the cornerstone of our values, vision, and strategy for growth in the future. We are proud of the awards, endorsements, memberships, and honors that substantiate our track record of accountability." Source (and more details about their efforts in Haiti)
ABOUT ADVENTURECORPS
Oak Park, CA-based AdventureCORPS, Inc. is an athlete-run firm producing and promoting ultra-endurance sports events. Adventure is our way of life. AdventureCORPS' world-class events for athlete-adventurers include epic races such as the Badwater Ultramarathon and Furnace Creek 508, muiti-day cycling lifestyle adventures known as CORPScamps, the annual Rough Riders Rally in Marin County, plus several 100- and 200-mile cycling events in Death Valley, and on and around San Diego County's Mt. Laguna. We also host and develop our adventure-related websites and blogs and provide a variety of adventure-related services. Founded in 1984 by Chris Kostman, this group effort is dedicated to exploring the inner and outer universes, seeking adventure, energy, and insight both in daily life and "out there." AdventureCORPS is a member of 1% For The Planet and the Conservation Alliance, and supports three Official Charities: Challenged Athletes Foundation, Death Valley Natural History Association, and Major Taylor Association.
Frequently Asked Questions about 80 FOR HAITI
- I already donated to a charity helping Haiti. Didn't I already do enough?
We can not possibly do enough. This is one of the moral challenges of our time. Skip a few trips to Starbucks, tighten the belt, bike commute instead of driving, have a garage sale - do whatever you need to find some more money to donate!
- I'm not in shape at this time of year: Do riders have to ride the whole 80 miles?
No, but I'd bet you can ride the whole 80 miles!! However, participants may ride any distance they want. The route is mostly an out-and-back and it's simple to tailor the distance ridden to one's current fitness level. Besides, it will be fun, you'll be working with other riders, there will be support along the course, and the miles will pass. You can do it!
- How hard is the route?
It's not mountainous, but it is very hilly with 6,090 feet of elevation gain. We pre-rode the route on January 30 and posted a slideshow (and video slideshow) of the whole route. But remember, challenge is a good thing. Sure, we might suffer a bit out there on February 13, but does it really matter, in the grand scheme of things? Good causes are very motivating.
- I'm busy that day - already signed for another bike event, or a half-marathon, etc - so I guess I can't do it, right?
WRONG! Get your priorities straight, if you don't mind my saying. Join us for 80 FOR HAITI! Trust me, it's more important than any other sporting or social event one could be doing that day, and it's sure going to be more rewarding and memorable. Join us! You won't regret it! Think of the devasation to the routines and ways of life, not to mention shattered lives, of the people in Haiti. You think changing your plans is inconvenient, or might mess up your race training? Come on!
-How quickly were you able to put this ride together?
We came up with the idea on Friday, January 15 and we used that day to cancel a trip to Puerto Rico we had planned for Feb 4-8. We spent Saturday riding a century event and then drove the 80 FOR HAITI route on the way home. We used Sunday to create the route sheet and map, the logo concept, and built the webpage. It took another day to write up the lengthy press release and assemble a few hundred email addresses for sending the press release, then to actually send the press release, release it as an email newsletter to our 8000 subscribers, and post it to our Facebook page and Twitter feed. It then took another day (Jan 18) to apply for a permit (which we still need to receive), set up the insurance, and begin outreach to media contacts and others to really start pumping up the event. As you can see, this is what we do, passionately, as event promoters and "seekers and sharers of adventure!"
-Why did you start this ride?
How could we not do something? This is just about the worst thing to happen to humanity in my lifetime. What we at AdventureCORPS do best is organize endurance sports events, especially long-distance cycling and running events. Our events are designed as forums for life-changing experiences. That's why they are generally very long, very difficult, and cover a lot of ground: the inner and outer universes, as we like to say. Participating in an ultra cycling or ultra running event is a choice, however; the pain and suffering are self-inflicted. This is not the case for the people of Haiti. They are suffering RIGHT NOW and will be for many years to come. We were planning to be in Puerto Rico on the weekend of Feb 5-7 to ride in the Lighthouse Cycling Tour, an extremely fun event which we rode last year. But how can we go down to the Caribbean for fun and games at a time like this? We can't. So we cancelled that trip and are hosting, and footing the bill for, 80 FOR HAITI instead. We hope that cyclists will unite and ride this event and/or donate to the cause. The Haitians have a great national motto: Strength Through Unity. Let's hope that cyclists feel the same way. We're all on this pale blue dot of a planet together.
-How many people have registered for this ride since the registration opened, when did registration open?
We opened registration on 1/18, and, I have to admit, we were not immediately inundated with entries. Word about the event really got out, though, and ultimately 157 riders signed up. There's also a group of cyclists in the San Francisco Bay Area who hosted their own unofficial "virtual 80 FOR HAITI" the weekend prior to ours and a triathlon group in the Quad Cities area of the Midwest who will ride 80 miles indoors the following weekend. The real focus, though, is raising money for Mercy Corps; as of February 12, 101 fans of this cause have donated $11,053 to Mercy Corps, not counting the entry fees for the actual 80 FOR HAITI ride, which is another $13,400. Our goal was to raise $20,000, so between donations and entry fees, we achieved that goal, and then some! We also hope to make this an annual event, because the people of Haiti will have relief and reconstruction needs for many years to come.
I do have to say, though, that it bothers me that many people weren't willing to drop what they are doing that day to join this ride. I mean, we cancelled an absolutely awesome trip to Puerto Rico to do this. Why can't other people skip the century ride, or half-marathon, or party that they have planned for that day? Americans book up their schedules too much - so busy, busy, busy - but as my friend Johnny G said to me recently, "Activity does not necessarily equal progress."
Click here for the roster of riders, donors, supporters, and media. Thanks to all of them!
-Why did you chose to support the Mercy Corps?
We want to support the needs of people in Haiti RIGHT NOW. That's what Mercy Corps is doing. They have an excellent reputation and over 89% of the money raised is spent directly in the field. They don't have a bloated overhead like some charitable groups do.
-What was the reason for the date change?
In response to the tragedy in Haiti, we have been pulling this event together quickly. We chose the original February 6 date because it is soon and because no other century or double century cycling event is happening in Southern California on that date. Unfortunately, there is a traditional bicycle road race (Boulevard Road Race) happening on the very same roads that we intend to use on February 6. They use the roads all day long. They do not shut down the roads to traffic, but bicycles are not allowed to be on the route except for racers. Riding in the opposite direction is not allowed for any cyclists. That means we can't get through. Old Hwy 80 is really the best place to host this ride - not only because of its name, but also the scenic, traffic-free route with few stop signs and no stop lights - so we had to change the date. Nobody seems to mind, plus it gives us another week to promote the event.
- I don't live near Southern California. Is it possible to host my own "virtual" 80 FOR HAITI where I live?
Yes! A group of cyclists in the San Francisco Bay Area (Team Spike the Wonder Dog) are doing their own "virtual" "80 For Haiti" on Feb 13 (80-mile ride in the Palo Alto area) and are donating to Mercy Corps directly via our fundraising page. Anything that gets people to donate, and ride their bikes, enjoy camaraderie with other cyclists, and which demonstrates solidarity with the Haitians is a great idea! Heck, it doesn't even have to be an outdoor bicycle ride. This is Winter, after all. How about a spin class? Or an 80-mil - OK, 8-mile, run? Get some friends together in and make it happen! Let us know how it goes and we'll include your names and such on our webpage.