AdventureCORPS Presents the Mount Laguna Bicycle Classic: Report, Results, Feedback and Images from the Official Pre-Ride, November 14, 2009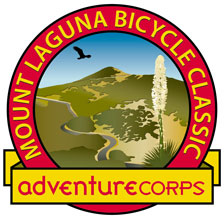 We want to thank everyone so much for joining us for the Official Pre-Ride of the Mount Laguna Bicycle Classic on November 14, 2009! We really enjoyed our day out there, especially getting to ride with fourteeen great people and sharing some of our most favorite roads! Thanks for helping us put the finishing touches on the newest AdventureCORPS cycling event, featuring 103 miles with 10,000 feet of climbing and three different ascents of San Diego County's Mount Laguna! The route ascends San Diego's highest point via Sunrise Hwy from the north, via the fabled and car-free Kitchen Creek from the south-east, and via the little-known and truly epic Pine Creek drainage from the west. There are just three stop signs and NO traffic lights on this incredible route which starts and finishes in Pine Valley, CA!
We also are extremely grateful for the impeccable SAG support provided that day by Mandy Genato and Ricky Herrera of the Adobo Velo club! The good cheer, good checkpoint hygiene, good roving support, and great food were just simply amazing!!! I think we were all shocked by the friendly, thorough, absolutely perfect job of supporting us! And hot, home-made adobo served at the finish?? Incredible!
We are extremely excited to host the official first edition of the Mount Laguna Bicycle Classic on April 17, 2010.
Feedback about the Mount Laguna Bicycle Classic
"The pre-ride at Mt. Laguna was brutally awesome. The route was simple, no numerous turns to get confused. Just a few glances at the rout sheet and you're on your way. The three loops made it stress-free and a sense of security that everybody is close by. The views are amazing, specially on the first loop. The last loop made this ride very memorable due to its difficulty. You have to dig deep just to go over the next steep section on Pine Creek Rd. Whoo!!! This ride has all the elements of an "epic" ride: greatness and adventure. The Adobo Velo family and myself would like to thank you for inviting us. It's a pleasure and a privilege of riding with fine group of people. Thank you." - Francis Ignacio, Adobo Velo, Furnace Creek 508 veteran
"I thoroughly enjoyed the Mt. Laguna route. Leave it to you to come up with those killer routes that tap into the dark crevices of our brains that make us want to return to repeat the moments of agony, namely that monster hill at the end. I'm definitely coming back in April, so put my name on the list. Riding atop the mountains on what appears to be paved fire roads was really enjoyable. The three downhills were fun and came at the precise right times during the ride. Now, the two most difficult centuries I have ever done are connected to YOU, Hell's Gate and Mt. Laguna. What's next?
"The scenery was fantastic and the traffic, or lack of, was welcomed. The motorists seemed to be accommodating to cyclists. Kudos to your sag support, once again top notch cycling nourishment was provided, along with the hot meal at the end." - John Marino, the godfather of ultra cycling: Info | More Info
"This is a tough climbing century - the way they all should be. The views were spectacular throughout the ride. In particular, I've always enjoyed going around Lake Cuyamaca and seeing the meadow off to the right with the mountains as a backdrop. Kitchen Creek is by far one of my favorite climbs in all San Diego County. I love the closed gated section. It makes it so much safer and peaceful. If you haven't been on this climb before then just being able to discover this climb might make the event worth it for you. I can't believe out of all the times I rode to and from Pine Valley that had I never made the turn onto Pine Creek Rd. The third loop is the shortest but the toughest of the three. I like the fact that it comes last in the event as a way to really test your resolve! Let's set aside the difficulty of the climb for a moment and focus on why we climb mountains. The views from Pine Creek Rd. are simply amazing. It's so incredible to see nature's beauty. The Mount Laguna Bicycle Classic is going to be a great addition to the century options already offered in San Diego. It will appeal more to the rider looking for a challenge and likes to climb. One other great thing about this ride is that the traffic is significantly lower than any of the organized centuries or doubles I have done in Southern California." - George Vargas, four-time Furnace Creek 508 veteran (excerpted from his extensive blog report)
"The Mount Laguna Bicycle Classic is Southern California riding at its finest, and toughest: one hundred miles of mountain back roads and not a single stop light to break the rhythm of the fantastic scenery, from mountain pine, to desert cactus and chaparral. It's a challenge for the legs and lungs, but the scenery and space are all payback." - Dustin Sharp
"The ride was very polite. It allowed you to climb, at times up unrelentingly steep sections of road, and descend equally, giving something for all of us. I truly enjoyed the scenery, climbing through several ecosystems throughout the day, and seeing an area that I've never ridden in all my time in Southern California. It was VERY epic. I really enjoyed the 3 climbs with increasing difficulty; fantastic layout for the day. The repeated descent was difficult and required a lot of concentration. I really enjoyed it (50+ mph each time), but I really like going fast down hill. Overall it was one of the 3 hardest centuries in SoCal. The elevation gain is deceiving. It doesn't seem like you're gaining over 3k each loop, but when you do that descent, you are certainly losing it!" - Jack Lindquist, Team Swarm!
"The ride was awesome. I was very pleased not to have to descend Kitchen Creek or Pine Creek. Smart decision to have riders descend Sunrise Highway. This is my domain. I train up in this area all the time. I never knew about Pine Creek Road. I like descending Sunrise Highway and feel like I am riding down the introduction to the movie 'The Shining.' Reaching into the suitcase of courage, I successfully completed the Mt. Laguna Classic pre-ride, saving my best for the dreaded Pine Creek climbs with grades up to 20% in places." - Greg Sherman, Furnace Creek 508 veteran
"These are the most beautiful roads in San Diego County. I am ashamed to admit that I have lived in SD County for 25 years and this is the first time I have ridden Kitchen Creek and Pine Creek. Overall for the day, I saw more cyclists than motor vehicles; I counted 8 vehicles on the first loop." - Jack Bochsler, Furnace Creek 508 Veteran
"My concern was that I was going to feel like I wasn't getting anywhere by riding up to the same ridge three times. But I had never been to this part of California and was amazed and stoked on how beautiful and varying the terrain is and never felt that way. When you finally get to the ridge, the far side is open and vast and slightly desert-y, but you are in pine trees. California never quits. The descent was super fast and smooth." - Matt Desert Moth Ruscigno, Furnace Creek 508 Veteran and Vegan Cycling Blogger
Blog Report and Image Links
| | |
| --- | --- |
| | Rider George Vargas' Extensive Blog Report |
| | Rider Matt Ruscigno's Blog Report |
| | Check out volunteer Mandy Genato's Images |
| | Clheck out rider Joe Garza's Images |
| | Check out rider Greg Sherman's Images |
Results from the 2009 Mount Laguna Bicycle Classic Official Pre-Ride
| | | | | | | | |
| --- | --- | --- | --- | --- | --- | --- | --- |
| Rider | 17.7mi | 33.6mi | 56.3mi | 65.3mi | 77.0mi | 91.7mi | Finish |
| Jack Bochsler | 1:19 | 2:22 | 3:37 | 4:33 | 5:00 | 6:47 | 7:18* |
| Greg Sherman | 1:17 | 2:37 | 4:13 | 5:28 | 5:59 | 7:44 | 8:11 |
| Brian Davidson | 1:28 | 2:42 | 4:09 | 5:15 | 5:59 | 7:55 | 8:30 |
| Dustin Sharp | 1:21 | 2:40 | 4:09 | 5:23 | 5:58 | 7:50 | 8:30 |
| Francis Ignacio | 1:28 | 2:42 | 4:12 | 5:15 | 5:59 | 7:55 | 8:30 |
| Jack Lindquist | 1:28 | 2:42 | 4:09 | 5:15 | 5:59 | 7:55 | 8:30 |
| Matt Ruscigno | 1:28 | 2:42 | 4:09 | 5:15 | 5:59 | 7:55 | 8:30 |
| Elizabeth Jefferson | 1:32 | 2:58 | 4:48 | 6:12 | 6:45 | 9:00 | 9:33* |
| Chris Kostman | 1:28 | 2:55 | 4:47 | 6:05 | 6:50 | 9:18 | 9:50 |
| George Vargas | 1:32 | 3:06 | 4:50 | 6:20 | 6:50 | 9:20 | 9:50 |
| Joe Garza | 1:32 | 2:55 | 4:47 | 6:05 | 6:50 | 9:18 | 9:50 |
| Brandy DeLuca | 1:32 | 3:06 | 4:50 | 6:20 | 6:50 | 9:20 | 9:53 |
| John Marino | 1:29 | 2:57 | 4:47 | 6:12 | 6:50 | 9:18 | 9:53 |
| John Byrne | | 2:57 | 4:45 | 6:05 | 6:50 | NA | 2 Loops |
| Roy Wallack | 1:35 | 3:04 | ? | ? | ? | NA | 2 Loops |
| Scott Palka | 1:19 | 2:40 | 4:13 | | 5:40 | NA | 2 Loops |

* Male and Female Course Records

Images Below by Chris Kostman | Click for Joe Garza's Images | Click for Mandy Genato's Images

Click here for extensive route maps and elevation profiles for each of the three loops.

Click here for a seven-minute video slideshow of the entire route from start to finish. It is compiled from 181 images of the route from various rides we've enjoyed out there in recent years. The images are in sequential order, exactly as if riding the event. Each of the three loops is also depicted with a map, elevation profile, and 3D image. It's a large file, so allow a few minutes for it to load before you click the Play button. Turn up your speakers to enjoy the music!

Click here to see a traditional slideshow of the entire route from start to finish. Features the same 181 images from the video slideshow linked above, or click here to view the same images in our SmugMug Gallery.

Click here to see photos, videos, and more from numerous cycling adventures we've had on and around Mt. Laguna over the past few years. It's a spectacular place!