About AdventureCORPS®, Inc.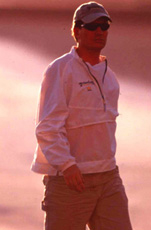 AdventureCORPS®, Inc. is an athlete-run firm producing and promoting ultra-endurance sports events and the BADWATER® brand. Adventure is our way of life. AdventureCORPS' world-class events for athlete-adventurers include epic races such as the BADWATER® 135, BADWATER® SALTON SEA, BADWATER® CAPE FEAR, Silver State 508™, Furnace Creek 508™, and other events. Our products include the Badwater® line of apparel, skin care products, gear, and services.
Founded in 1984 by Chris Kostman, this group effort is dedicated to exploring the inner and outer universes, seeking adventure, energy, and insight both in daily life and "out there."
Our slogan is
"We're Out There"

Our prime directive is
"To Seek and Share Adventure."
Event Production
We annually produce a series of legendary events with a world-wide following, as below, while new AdventureCORPS creations are in the works.


March 19, 2016

BADWATER® CAPE FEAR is a 50km/51-mile ultra running race featuring a twelve-mile warm-up on the car-free, one-lane-wide roads of Bald Head Island, North Carolina, followed by either 19 or 39 miles of running on the wild and secluded sandy beach between Cape Fear and Fort Fisher. The race is held along the Atlantic Seaboard with spectacular views of the Frying Pan Shoals to the east and wild and undeveloped marshlands to the west. It is a dramatic, invigorating, inspiring setting to experience Cape Fear in all its grandeur! More info.



May 1-2, 2016

We host BADWATER® SALTON SEA annually in May. An official qualifier for the Badwater 135 and epic challenge in its own right, this remarkable event challenges 30 teams of three ultrarunners - running together for the duration, not in a relay - to tackle an unimaginable traverse of Southern California deserts and mountains. The route covers 81 miles (130km) non-stop from below sea level at the shoreline of the Salton Sea, across, up, and over Anza-Borrego Desert State Park, to the top of Palomar Mountain with a dramatic view of the Pacific Ocean. For all the info, click here.



July 18-20, 2016

BADWATER® 135® is recognized globally as "the world's toughest foot race." This legendary event pits up to 100 of the world's toughest athletes—runners, triathletes, adventure racers, and mountaineers—against one another and the elements. Covering 135 miles (217km) non-stop over the most epic terrain imaginable and finishing at the end of the road on Mt. Whitney, it is the most demanding and extreme running race offered anywhere on the planet. The 39th anniversary edition will be held in 2016. For all the info, visit the race's dedicated website at www.badwater.com.


September 17-19, 2016

Silver State 508™, also known as The 508™, has been an AdventureCORPS event held annually in October since 1990, but it dates back to 1983 under the directorship of John Marino, founder of the Race Across America (RAAM).

Known as "The Toughest 48 hours in Sport," Silver State 508 is the world's premier weekend ultracycling race. This 508-mile bicycle race is revered the world over for its epic mountain climbs, stark desert scenery, desolate roads, and its reputation as one of the toughest but most gratifying endurance challenges available, bar none. For all the info, visit The 508's dedicated website at www.the508.com.

---
Past AdventureCORPS Productions include The Trona 308 in 2014, Badwater Immersion in 2014, CORPScamp Santa Monica Mountains in 2014, CORPScamp Death Valley in 2008-2010 & 2012-2013, Mount Laguna Bicycle Classic in 2009-2013, Velo & Vino Julian Cyling Camp in 2013, Hell's Gate Hundred in 2009 - 2012, CORPScamp Shasta in 2008 and 2009, Rough Riders Rally in 2010, 80 For Haiti in 2010, Team Race Across America Bicycle Race in 1992 - 1996, Adventure Sunday in 1996 to 1997, LA Marathon Bike Tour in 1995 with over 12,000 participants, American Lung Association's Klamath Loop Bike Trek and Misty Redwood Run in 1993, Earth Day Sports and Fitness Symposium at the Biosphere in 1993, Santa Fe Outdoor Performance Training Camp with Steve Ilg in 1993, Mt.Shasta Snowshoe Safari in 1994, Earth Journey British Columbia Triathlon Stage Race in 1991, HPV Race Across America Bicycle Race in 1989, Furnace Creek Spring Tour in 1999 to 2003, and the Southern California Brevet Series in 2001 to 2003. From 2001 through 2004, AdventureCORPS' Chris Kostman also served as founder and 50% partner in Planet Ultra and all of its events. AdventureCORPS is lso pleased to have produced Ride to Cure Diabetes events on behalf of the Juvenile Diabetes Research Foundation from 2001 through 2007 in Death Valley, in Monterey in 2003 and 2004, and in the Santa Rosa Wine Country in 2007. For reports, results, and images from past events we've produced, visit the Results & Webcasts page.
---