Mt. Shasta Snowshoe Safari
(NOTE: The Mt. Shasta Snowshoe Safari described below has been replaced by the CORPScamp Shasta Snofari, described elsewhere. Please head to that page now to check it out!)
This four day adventure retreat on snowshoeing and its skill transfer to other outdoor sports and "real life" is held on and around Mt. Shasta. Led by outdoor athlete Chris Kostman, and limited to just nine shoers, this will be a transformative experience. We'll stay the first and third nights at the charming Stoney Brook Inn in McCloud, complete with jacuzzi and sauna, on the south side of that beautiful and unusual peak. The second night we'll camp out somewhere on the slopes of Shasta and our final evening will include live music and dinner in the town of Mt. Shasta. There will be also be interactive seminars on outdoor performance, the tao of snowshoeing, and kinesthetics. The approach will be soft, personalized, and totally non-intimidating, we promise. Tuition is $795 per person, including all food, lodging, notebook, and use of Atlas Snowshoes. You supply your clothing and gear, pretty much all of which you can rent for the weekend; call The Fifth Season in Mt. Shasta at 916-926-3606 to reserve whatever gear you need. To join us on this wonderful adventure, send in a non-refundable deposit of $195. First come, first served. Limit nine; double occupancy.
The Details
Weather depending and upon request, takes place once or twice each Spring.
Usually scheduled from Thursday eve 'til Sunday morn.
McCloud, CA, its environs, and the slopes of Mt. Shasta.
Nights one and three at the Stoney Brook Inn with jacuzzi & sauna.
Night two snuggled up in the Shasta snow.
Three days of shoeing, three seminars, all meals
An evening in Mt. Shasta town, live music, great food
Thursday
Four pm: Check-in to the Stoney Brook Inn in McCloud.
meet your roommate (unless you brought one) & new friends.
get settled in, enjoy the view, have tea by the fire.
Five pm: Go into the town of Mt. Shasta to visit notable book stores and the I Am Reading Room, plus rent gear at The Fifth Season, as needed.
Six pm: Dinner in town.
Seven-thirty to Nine pm: "Intro to Wilderness Travel and Camping" and "Kinesthetics Clinic" with Chris in the kiva at the Stoney Brook.
Friday
Eight am: Breakfast at the Bagel Cafe and Natural Bakery in the town of Mt. Shasta.
All-day snowshoe experience on the Shasta slopes.
epic scenery, Shasta energy, active meditation?
graceful movement, solo and team efforts, joy?
Lunch and dinner in the field, then camp out under the stars.
Fire-side group retrospection, mealtime.
Saturday
Morning shoeing, finish back in town. Group decides route and plan.
Twelve noon: Catered lunch at the Stoney Brook Inn.
R & R, jacuzzi, sauna, tea by the fire.
Four to Five pm: "Kinesthetics Clinic" with Chris in the kiva.
Six pm: Dinner at a local eatery, to be determined by the group
Eight pm onwards: Sweat Lodge with Walking Eagle.
Sunday
Morning shoe locally, before or after breakfast. You decide. Optional.
Nine am: Breakfast at the Stoney Brook Inn.
Closing conversation, reflection, and future-spection.
By Eleven am: Check-out.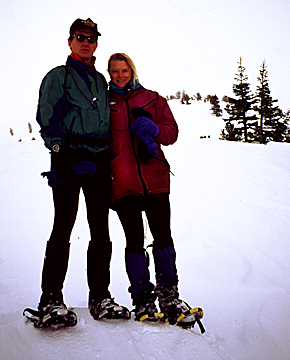 Chris Kostman is an outdoor athlete who regularly participates in shoeing, cycling, scuba diving, and triathlon. He is a veteran of the 100 mile Alaskan Iditashoe Race held on the Iditarod Trail in February and has published frequently on the joys of shoeing. Chris organizes this snowshoe safari through his company, adventureCORPS.
His personal comment: "Give me a day in the great outdoors with both physical and cerebral challenges and I'm a happy human. Make me fit and well fed and nothing is insurmountable. And give me the platform to share this heart-felt dedication to expanding our mutual potential and I'll be supremely content indeed. This camp is just such a platform, so please come enjoy the view!"