The Ultra-Marathon Bike of the Nineties
By Chris "RAAMBEAU" Kostman
Originally published in the UMCA Newsletter, July 1990
---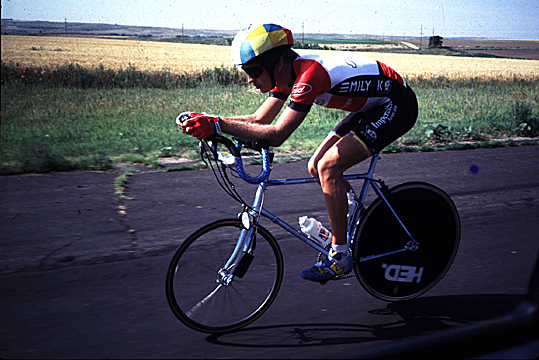 Chris Kostman in the beautiful Midwest during the 1988 Race Across AMerica
(Note the Ultra Stout bicycle, featured below and in another article)
---
For some quite some time now I have been involved with the technological end of ultra-marathon cycling. I've published various articles on the subject, and have been a product tester for Wheelsmith, Hed Design, Scott USA, Cyclepro, Aerolite pedals, GripShift, various steel and non-steel frame manufacturers such as Holdsworth, Nishiki, Ron Stout, and Moots, component manufacturers such as American Classic, Scott SuperBrake, Sun Metal, Matrix, Cook Brothers Racing, Avocet, Shimano, Galli, and for many other products and companies. I also developed the only complete ultra-marathon cycling bike available for sale to the public, the Chris Kostman Ultra STOUT (pictured below), reviewed here in the UMCA Newsletter in September 1988 and in Bike Tech (Rodale Press) in December 1988. I have also officiated at six RAAM Qualifiers, RAAMs 85 and 86, was race director of the 1989 HPV RAAM, and have worked on support teams at three Qualifiers. Of course, I also compete in ultra-marathon events, including two RAAMs (87 & 88) and two JMOs (Hemet 85 & Arizona 86) and have set or broken six different UMCA records. The upcoming RAAM 90 Program, a special insert in California, Texas, and Florida Bicyclist, will feature an article of mine entitled "The Bikes of RAAM" which tracks the history and evolution of bike technology in RAAM from 82 to the present.
I'd now like to offer some predictions as to what types of bikes and equipment performance cyclists in general and RAAM competitors in particular will be using in the nineties:
First off, frame material: No, steel will not be made obsolete by its non-ferrous competitors. Although carbon fiber and other carbon mixes have become very popular in RAAM, winning the men's division every year since 85 except for 88, steel will remain popular. The non-ferrous frames do offer many exciting characteristics such as light weight, comfort, stiffness, and superior tracking (although rarely all in any one particular model), but they will continue to be limited in popularity and usefulness because of their availability only in stock sizes and geometry. Not only is it impossible to order a custom frame of this type, but the geometry used in the current frames is heavily lacking in originality. For example, Kestrel uses the same geometry in their recent 200 SC and 200 EMS models as they used in the original 4000, and this was, believe it or not, copied from designer Brent Trimble's old Colnago. Since comfort is so important to ultra-marathoners and also because their penchant for originality and innovativeness in design and component selection will often require custom geometries, special features, and braze-ons, custom ferrous frames will remain popular. One alternative material with custom possibilities is titanium. Frame builder Harry Havnoonian of Philadelphia builds a custom titanium frame which is the only bonded model available in the cycling industry. Titanium will gain popularity and may fill the gap between custom steel frames and stock carbon and aluminum frames. As for steel, it's on the rebound. Witness the exciting maximum performance tubesets such as Tange Prestige, Ritchey Logic, and Columbus Multi-Shape, plus the growing number of steel tube choices available to the builder such as those from True Temper, Vitus, Excell, and many other steel tube manufacturers.
In the wheel department, advances will continue in terms of aerodynamics and reliability. Hi performance clinchers will complete usurp sew-ups in the tyre department. 700c will remain the most popular wheel size, but 24" will foster a growing following. 26" wheels will fade away completely for road use (and probably off-road, too), especially in the now popular (and 100% bogus) 26" front and 700c rear combination. "Aero" rims will become the industry standard. Disc wheels will go by the wayside, along with their "wanna be" imitators, the wheel covers. People will realize that real world side and cross winds completely eliminate any aerodynamic advantage these wheels were once thought to have. Likewise, tri-spokes and their cousins the quad and quint-spokers will never reach great heights of popularity. Possibly, with the aid of wind tunnel testing to remedy their poor aerodynamic results, tri-spokers will remain on some bikes. Thus, minimally spoked wheels are the future, without a doubt. 20 spokes in front and 24 in back, all bladed and with internal nipples, will be commonplace among racers. An adventurous (and enlightened) few will have great success with even less spokes, possibly 12 in front and 18 in back, and definitely so among 24" wheel afficiandos. Bridging the gap between spoked wheels and discs and tri-spokers will be wheels like Hed's new Cx wheels which feature a special carbon rim about 4" tall and laced up with bladed spokes.
Component-wise, ultra-marathoners will continue to stay clear of mono-grouppo bikes. Mix-and-match will remain the standard, unless major component manufacturers buy the rights to some of the great advances in component technology made by American companies such as American Classic, Kingsberry USA, Scott Superbrake, Cook Brothers Racing, Aerolite, Bullseye, Hi-E, Ritchey, Phil Wood, Chris King, GripShift, etc., and incorporate these into their line-up. Aero handlebars will be absolutely standard equipment on all ultra-marathoners' bikes and riders will finally realize that the bars' aim is to get narrow, not low. All bars will be fitted with some sort of shifting system mounted out in front, such as GripShifters (which won RAAM 89 in both men's and women's divisions). Index shifting is here to stay, and I imagine it will probably quite soon go electronic and wireless. Eight-speed clusters will die out as overkill. Cassette hubs will also bite the dust. And thankfully, round chainrings are here to stay. Completely maintenance-free hubs, headsets, and bottom brackets, such as those produced by the above-mentioned American companies, will become standard as riders also realize that maintaining these components is a waste of time.
Steep angled seat tubed bikes will be non-existent, as will LeMondesque shallow angled seat tubed bikes. In fact, seat tube angle will become largely unimportant as riders adopt systems for altering their seat positions and effective seat angles while riding. Virtually everyone will utilize a system such as the brand new Seat Shifter (an American product from San Carlos, California), which allows the rider to choose four different positions of the saddle in relation to the bottom bracket via a small handlebar mounted lever. Riders can set the Seat Shifter to provide their standard/ hill-climbing/ behind the bottom bracket position as the rearward most setting on the seat shifter, thus allowing three forward positions with a total of 4" of travel. When hill climbing, riders can move the saddle back, sit up, and climb in their most effective and efficient position. On a long climb, they can alternate between this position and the next forward position to change muscle group usage and reduce fatigue. On downhills and flats, riders can slide all the way forward and stretch out onto their aero handlebars, gaining a two to three MPH speed increase by dramatically increasing their biomechanical positioning, efficiency, and comfort. Once again, riders can alternate between this forwardmost position and its next closest position to reduce fatigue and enhance recovery. Not only will this type of system make cycling faster, more efficient, and more comfortable, but it will also eliminate almost all cases of lower back fatigue and Shermer/Solon neck.
That sums up my predictions for ultra-marathon bikes of the 90's. Happy trails and gears to you!