The Bikes of RAAM (1982 through 1990)
By Chris Kostman
Originally published in California Bicyclist, August 1990
---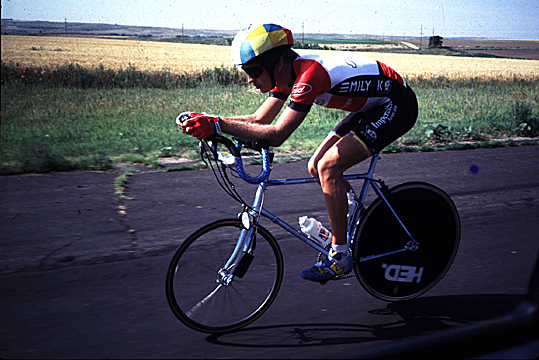 Chris Kostman in the beautiful Midwest during the 1988 Race Across AMerica
(Note the Ultra Stout bicycle, featured below and in another article)
NOTE: I no longer own this bicycle, but I sure wish I did! Years ago, I sent the frame back to Ron Stout for some repairs, and then he sold it somebody else! Ron doesn't build frames anymore, either. Anyway, if you own this frame or know who does, please get in touch! It really bums me out that I don't own this important piece of my personal and professional history. I want it back! As for recognizing it, it's pretty darn distinctive, so I think you'll know if you have it or have seen it! Please help me! Click "contact" above to get in touch. Help me get this bike back!
---
The inaugural Race Across America, the 1982 Great American Bike Race, was an historic event which dramatically altered man's preconceived limits of his potential and which set the stage for a brand new style of personal expression through cycling. This new breed of sport, ultra-marathon cycling, has grown and refined itself continually since that fateful four-man cross-country battle of the summer of '82. An integral part of this development has been associated with the technology of the bicycles themselves. Although as RAAM great Lon Haldeman has oft said "machines don't break records, muscles do", bicycle technology has played an important role in the faster, and more comfortable, cross-country records over the years. Conversely, RAAM has provided a brutal testing ground which has proven vital for the development of this technology. Most RAAM racers utilize about four bikes and a dozen or more wheels, and what follows is an historical overview of what they rode.
In 1982, four riders competed and all completed the tortuous course from Santa Monica to New York City. As befitted the state of bike technology of that period, these bikes were all essentially road racing-type bikes with standard pedals, handlebars, tubular tyres, etc. First place rider Lon Haldeman rode custom frames of steel tubing built by Ron Boi of RRB Cycles. They were equipped with the now (and actually then) unheard of Excel components. Second placer John Howard rode steel Specialized bicycles with Campy Super Record components. Third placer Michael Shermer rode a very unusual bicycle for its time: an all-aluminum Vitus from Motobecane called the Prolite. This was the first aluminum bicycle sold on a large scale stateside. Shermer's was equipped with Mavic components. Shermer also used another new cycling invention: a bike computer. His was the positively humongous Entex model which Sherms now admits was "sized like a cash register". Race founder and fourth placer John Marino also rode a very unique machine: a full-aero-tubed custom steel frame built by Huffy Olympic bike wizard Mike Melton. Its tear-dropped tubes were adorned with the wind tunnel tested Shimano Dura Ace AX line of aerodynamic components.
In 1983 the race changed its moniker to the Race Across America and had a starting lineup of twelve competitors and six official finishers. Lon Haldeman once again prevailed and rode similar RRB custom bikes, this time built up with nearly equally incongruous Galli components. Second placer Pete Penseyres rode essentially stock Raleigh Prestige production bikes. The only major change to these off-the-rack $800 steel bikes was the use of 24 spoke wheels. Third placer Michael Secrest rode custom steel frames by Assenmacher from his home state of Michigan built up with a mix of components. Secrest, like Haldeman and Shermer, rode and still rides exclusively on a Brooks leather saddle.
'84 brought 23 riders to the starting line, with seven official finishers. Pete Penseyres won this time and used nearly identical bikes to those of '83. The rest of the top finishing field also used nearly identical bikes to the previous year. One small exception used by Shermer was the non-round Biopace chainrings on his brand new first-generation Shimano Dura Ace components. Another interesting component used by several competitors, including John Marino and others, was the Powercam crankset. This system utilized a special cam in conjunction with the right crankarm and the bottom bracket to enable the rider to push BIG chainrings, such as 44/60 or 44/68, albeit at a slower cadence. Another seemingly minor item used, which was in a way foreshadowing the shape of things to come, was an armrest system utilized by fourth placer Jim Elliott. These rests projected back from the bars behind the brake levers and provided a more comfortable position with a more aero posture.
The '85 RAAM had 25 riders, with seven finishing officially. First place finisher Jonathan Boyer rode Vitus frames with carbon fiber main tubes and aluminum forks and rear triangle. They were equipped with Campy C-Record components with Cobalto brakes, traditional tubular wheels, and not a gear lower than 42X21. The only extra amenity was an Avocet bike computer. As befit his European background, his handlebar tape was white and changed daily. Secrest again rode a custom Assenmacher and was likewise equipped with Campy components. Secrest also used the hi-tech Roval aero wheels with 24 spokes up front and 28 in back. Shermer rode Peugeot carbon fiber bikes with Shimano Dura Ace components, including the then brand new SIS indexed shifting system. In the woman's field, winner Susan Notorangelo rode steel Nishiki bicycles with Shimano components. She used 24 spoke rear wheels and a mega-aero 12 spoke front wheel. Susan rides on a Brooks saddle.
'86 brought 26 competitors and seven official finishers. It also brought the most comprehensive and startling utilization of bicycle technology in the guise of Pete Penseyres' astounding new record time of 8 days, 9 hours, 46 minutes. Penseyres rode custom Raleigh/ Easton frames constructed of layers of aluminum, carbon fiber, and kevlar. The resulting perfectly custom-fit frame was ultra light, rigid, and comfortable. Campy C-Record components were utilized, as were very aero wheels with as few as 14 spokes up front and 24 in back. A rear disc wheel was also used for parts of the course as this was the first year in which discs were RAAM-legal. Penseyres also utilized an evolved form of the arm rest system which first appeared under Jim Elliott in '84. Pete's system was a carbon fiber platform mounted in front of the bars between the brake levers with resting trays for his arms mounted atop. This gave Pete a very comfortable position which induced an aerodynamic flat-backed posture. Secrest also made the switch to carbon fiber, riding a Vitus identical to Boyer's in '85 (Boyer's importing company, Veltec-Boyer, even sponsored Secrest!). Once again, Secrest's only token gesture away from the traditional racing bike setup was the use of Roval wheels. Lon once again rode custom RRB frames, built up this year with Shimano Dura Ace components and aero wheels with 12 spokes up front and 24 in back, as well as Hed Design disc wheels on the rear on some sections. Lon also experimented with an arm rest system. Third placer Matt Beerer rode a carbon fiber Peugeot with a mix of components, a simple arm rest system consisting of a plastic rod mounted across between his brake levers, and Aerolite clipless pedals. First place woman Elaine Mariolle was also at the forefront of bicycle technology, using aluminum Vitus frames (with the Univega moniker), Shimano Dura Ace with SIS (but not Biopace), Mavic disc wheels, aero spoked wheels and Mavic's version of the Look clipless pedals. Second place woman Susan Notarangelo rode Alan (Nishiki) carbon fiber bikes with Dura Ace, Hed Design rear discs, and twelve spoke front wheels.
'87 found RAAM on its toughest course ever and with its largest field to date. 33 riders started and an astounding 18 finished officially, including yours truly in ninth place at 10 days, 23 hours, 58 minutes. Men's victor Michael ("the monkey's off my back") Secrest rode the exciting new Kestrel one piece carbon fiber monocoque frame from Cycle Composites. This futuristic cycling version of a ballistic missile was adorned with C-Record components, including Delta brakes, as well as Roval wheels, Look pedals, and, of course, a Brooks saddle and traditional bars. Second placer Mike Trail, on the other hand, rode a pair of beat up $500 production bikes without clipless pedals or any other "hi-tech" components. What an unbelievable testimony to Lon Haldeman's adage about muscles and machines! Third placer Franz Spilauer of Austria rode a Basso with traditional Super Record components. His only RAAM-type add-on was a Spenco saddle pad. I alternated between a custom steel Ron Stout bike and an Alan (Nishiki) carbon fiber bike, both equipped with SIS, Aerolite pedals, and Wheelsmith wheels with 20 bladed spokes up front and 24 in back, swapped occasionally for Hed Design disc wheels. Women's winner Casey Patterson rode aluminum Centurion bikes with Shimano components and Look pedals, and occasionally used a rear disc wheel. Several competitors, including David Heck, Rob Templin, David Walls, Bill Woodruff, and myself, were among the first cyclists ever to ride the innovative Scott USA DH handlebars. These bars were invented by cycling inventor guru Boone Lennon who, having been the US National Ski Team coach for several years as well as being a world-class masters division bike racer, applied skiing's downhill (hence DH) position to the sport of cycling. These bars put the rider into a comfortable resting position like the systems of Elliott and Penseyres, but, more importantly, bring the riders' arms together in front of him, effectively sealing off the parachute-like chest pocket which normal bars induce.
The '88 RAAM had a record 39 entrants and 14 official finishers and followed '87's brutal northern course from San Francisco to Washington D.C. Men's victor Franz Spilauer rode steel Daccordi frames with Dura Ace components and clipless pedals, as well as a rear disc, and occasionally, DH bars. Second placer Rob Templin rode custom Raleigh/ Easton frames much like Penseyres' '86 steeds with Dura Ace components and a customized Decker clip-on bar system with the shifters mounted up front for shifting without changing position. Women's winner Cindy Staiger rode custom Sam Cotten steel bikes with Shimano Santé components and Aerolite pedals. She also used a customized Scott USA clip-on handlebar and aero spoked wheels. Second placer Karen Anderson rode oversized aluminum Cannondale bicycles with Santé components and Shimano clipless pedals, as well as a Decker clip-on handlebar. She had no aero wheels or discs. Nearly everyone in the '88 RAAM used clipless pedals and DH-type aero handlebars and several riders rode Kestrel frames, including Kevin Zelenka, Rob Kish, Steve Born, and Bob Breedlove. I rode what I consider the ultimate ultra-marathon time trialing bike: the Chris Kostman Ultra STOUT (pictured above), custom built by Ron Stout of super light and resilient Tange Prestige tubing. This RAAM-specific bike features a 24" front wheel with 18 bladed Wheelsmith spokes; dropped (not sloping) top tube (with extended seat and head tubes) for a stiffer frame, increased clearance, and lower center of gravity; DH handlebars with GripShifters for indexed shifting while in the aero position; internal cables and wiring; and a host of American components, including American Classic maintenance-free hubs and bottom bracket, Chris King headset, Scott Superbrakes, Aerolite pedals, custom Salsa stem to put the DH bars in the ideal position, Avocet Gelflex saddle, and Hed Design disc wheels. This is the first bike designed and manufactured specifically for ultra-marathon racing and which is available for retail to the public.
'89's RAAM route returned to much the same roads as the inaugural GABR, covering 2,908 miles from Costa Mesa to New York City. The route was designed to be shorter and faster than ever before and new records were set in all departments. Men's winner Paul Solon rode a Kestrel 4000 equipped with Campy components, a Campy rear disc, Profile For Speed bars, and Gripshifters to a new record of 8 days, 8 hours, and 45 minutes. Men's runner up Mike Secrest rode the wild looking and ultra aero carbon fiber monocoque Trimble bicycle with Dura Ace components and a Profile clip on handlebar. Bob Breedlove rode a Kestrel 4000 to third place and also broke Lon Haldeman's double transcontinental record by two days in the process. Women's winner Susan Notorangelo rode a Terry with Dura Ace components, Decker clip-ons, Hed discs, and Grip Shifters to a new record of 9 days, 9 hours, and 9 minutes.
The evolution of bicycle technology has been astounding over the past few years. Much of this technology has been tested and refined at least partly with RAAM as its proving ground, notable examples being clipless pedals, index shifting, minimally spoked wheels, DH-type aero handlebars, Spenco comfort products, and high performance clincher tyres. This evolution of bicycle technology has proceeded hand in hand with the RAAM evolution of faster and more comfortable trans-America crossings. As new transcontinental gruelathons continue to take place, we can expect even greater achievements from these amazing overachievers and their equally impressive steeds.