Charity
| | | |
| --- | --- | --- |
| | | |
| | | |
| | | |
Challenged Athletes Foundation
Official Charity since 2002
The original Official Charity of AdventureCORPS is the Challenged Athletes Foundation. One of the goals of our events is to raise funds for, and awareness of, this wonderful organization.
The Challenged Athletes Foundation was created on the belief that people of all abilities should have the opportunity to pursue a life full of physical activity and of sports. Be they recreational or in pursuit of a gold medal at the Paralympic Games, people with a physical disability are limited only by their access to funding. Since 1994, CAF has raised more than $47 million—allowing the Foundation to satisfy thousands of funding requests from challenged athletes in all 50 states and across the globe.
Over eighty cents of every dollar raised by CAF provides funding and programs that get challenged athletes into the game. Whether it's a $2,000 handcycle, helping underwrite a $15,000 running prosthetic or arranging enthusiastic encouragement from a mentor who has triumphed over a similar injury, CAF's mission is clear: give those with the desire to live active, competitive lifestyles every opportunity to compete in the sports they love.
Click here to donate to CAF right now through a secure and easy-to-use webpage.
Click here for the "Race For a Reason" program—You can personally participate in our events on behalf of CAF - and even earn cool incentive prizes in recognition of your efforts!
Click here to read about the events that AdventureCORPS' Chris Kostman has participated in on behalf of CAF: Million Dollar Challenge (2010, 2011, 2012, and 2014), Ironman Revisited (2002-2005 & 2007) and San Diego Triathlon Challenge (2002-2003).
Total Money Raised so far for Challenged Athletes by AdventureCORPS: $298,214
Yearly Tallies: 2015: $26,150; 2014: $11,765; 2013: $45,250; 2012: $23,446; 2011: $22,301; 2010: $18,465; 2009: $9279; 2008: $17,497; 2007: $32,378; 2006: app. $17,400; 2005: app. $35,000, 2004: $11,196; 2003: app. $15,500; 2002: $12,590. Donate Today! Thanks for your support!
Note: The figures above do not include the several hundred thousand dollars raised directly by AdventureCORPS athletes in association with their participation in our events!
Bald Head Island Conservancy
Official Charity since 2013
The Official Charity of BADWATER CAPE FEAR is the Bald Head Island Conservancy, a leader in barrier island conservation, preservation and education. Race participants will appreciate that BHIC cares for this race route's pristine setting and its role as sea turtle nesting site, and will be encouraged to fundraise for BHIC and support its mission. Learn more at www.bhic.org.
The goal of this race is raise $10,000 for the Bald Head Island Conservancy to purchase one of the special electric UTV electric vehicles which BHIC uses to patrol the beach and care for sea turtle nesting sites. All racers are encouraged to support BHIC and all money donated or raised by them will count towards this ambitious goal.
Learn more at www.bhic.org.
One Percent For The Planet: Member since 2008
We joined One Percent For The Planet on July 1, 2008, a growing global movement of 899 companies (and counting) that donate 1% of their sales to a network of 1,582 environmental organizations (and counting) worldwide. Therefore we are now donating at least 1% of total revenues (in other words, "off the top," not just 1% of profit, which would be next to nothing!) to environmental causes. This is in addition to all the work we do on behalf of, and donations we make to, our two Official Charities, Challenged Athletes Foundation and Major Taylor Association, as outlined above.
Click here to read more about our environmental efforts and the environmental groups we support.
Click here to visit the One Percent For The Planet website.
The Conservation Alliance: Supported since 2008
In association with our membership in One Percent for the Planet, we are pleased to support The Conservation Alliance as of September 10, 2008. The Conservation Alliance is an organization of outdoor businesses whose collective contributions support grassroots environmental organizations and their efforts to protect wild places where outdoor enthusiasts recreate. Alliance funds have played a key role in protecting rivers, trails, wildlands and climbing areas throughout North America.
Membership in the Alliance is open to companies representing all aspects of the outdoor industry, including manufacturers, retailers, publishers, mills and sales representatives. The result is a diverse group of businesses whose livelihood depends on protecting our natural environment. Since its inception in 1989, the Alliance has contributed more than $6 million to grassroots environmental groups. Alliance funding has helped save over 39 million acres of wildlands; stop or remove 26 dams; and preserve access to more than 16,000 miles of waterways and several climbing areas.
Click here to read more about our environmental efforts.
Click here to visit The Conservation Alliance website.
Death Valley Natural History Association: Life Member since 2009 + Official Charity 2009 - 2013
In association with our membership in 1% For The Planet, we announced that we joined the Death Valley Natural History Association as Life Members and began recognizing DVNHA as an Official Charity of AdventureCORPS as of January 23, 2009,w hich continued thorugh 2013. DVNHA is a non-profit organization supporting education, research, and preservation in Death Valley National Park and Ash Meadows National Wildlife Refuge. Some of their efforts include DeathValley R.O.C.K.S. (bringing inner city kids to experience one of the largest outdoor classrooms in the world), Devil's Hole Pupfish Recovery, Death Valley All Taxa Biological Inventory, plus they run the wonderful gift shops at the Furnace Creek Visitor's Center, Scotty's Castle Museum, Stovepipe Wells Ranger Station, and at the Ash Meadows National Wildlife Refuge Office.
Click here to read more about our environmental efforts.
Click here to visit the DVNHA website.
Click here to donate to DVNHA.
---
Past Major Charitable Efforts:
80 FOR HAITI to Support Mercy Corps: Raised $28,000 in 2010
In response to the horrific situation in Haiti, AdventureCORPS organized a cycling event called "80 For Haiti" on February 13, 2010. It was an 80-mile ride, on Old Hwy 80 in southeastern San Diego County, with an $80 entry fee. 100% of the entry fees went directly to Mercy Corps, one of the most respected relief organizations worldwide. The "80 for Haiti" start / finish was in Pine Valley, CA and the route was spectacular, on absolutely quiet roads through rolling terrain. AdventureCORPS absorbed all costs so that 100% of the entry fees could go to Mercy Corps. Altogether, over $28,000 was raised!
The Official Charity of 80 FOR HAITI is Mercy Corps. Mercy Corps is a team of 3700 professionals helping turn crisis into opportunity for millions around the world. By trade, they are engineers, financial analysts, drivers, community organizers, project managers, public health experts, administrators, social entrepreneurs and logisticians. In spirit, they are activists, optimists, innovators and proud partners of the people they serve. According to their website:
"Mercy Corps has long been recognized as an excellent steward of the resources entrusted to it. Over the past five years, more than 89 percent of our resources have been allocated to programs that help people in need. Ensuring that resources are wisely spent is the cornerstone of our values, vision, and strategy for growth in the future. We are proud of the awards, endorsements, memberships, and honors that substantiate our track record of accountability."
Click here for all the ride info.
Los Angeles County Bicycle Coalition's Jim Swarzman Memorial Membership Drive: $10,000 Donated, and $23,000 more was Raised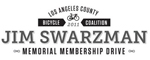 Fellow cyclist Jim Swarzman, age 47, was killed by a hit-and-run driver in a large pick-up truck, possibly intentionally, while cycling in an unsupported 600km long-distance cycling event called a "brevet" early on April 10, 2011 in Leucadia (part of Encinitas, in San Diego County). The driver later turned himself in, plead not guilty, but was found guilty and was sentenced to less than two years. (The maximum sentence is four years for the crime for which he was charged.) Meanwhile, Jim is gone and the lives of his fiancé, friends, and family have been shattered. Jim's fiancé asked that his friends support the LA County Bicycle Coalition to honor Jim's memory and legacy, so we decided to sponsor a membership drive.
From the LACBC site, LA-Bike.org: "The Los Angeles County Bicycle Coalition is a nonprofit organization with over 1,000 members that engages cyclists through advocacy, education and outreach across the county. Founded in 1998 by bicycle advocates Joe Linton and Ron Milam, LACBC brings together the diverse bicycling community in a united mission to improve the bicycling environment and quality of life for the entire region. Despite Los Angeles' reputation as a car-centric region, LACBC has emerged as one of the most innovative and wide-reaching bicycle advocacy non-profits in the country. They have played a major role in the growing cycling movement here in LA. Their vision is to improve the built environment in Los Angeles, so that all cyclists - low-income, commuter, recreational, families, and women - can safely navigate LA County streets. Through the help of a strong volunteer network, LACBC accomplishes this vision in their campaigns to increase bicycle infrastructure throughout 88 cities in LA County."
In meeting with LACBC executie director Jen Klausner, I was stunned to learn that the sole organization in this giant county of ten million people which represents and furthers cyclists' rights and needs has barely over a thousand members! Eleven hundred members, out of ALL those LA area cyclists??? I was stunned, and appalled. Knowing how critical a collective voice is to gaining, and then keeping, our rights to safely ride on the roads of Los Angeles County is, everyone who rides a bike in LA County should be a member of the LACBC! (Even those living outside LA County should consider supporting LACBC, because they have become a role model organization for promoting cycling in large metropolitan areas.)
To that end, AdventureCORPS sponsored the Jim Swarzman Memorial Membership Drive. As such, AdventureCORPS matched all memberships and contributions to LACBC in Jim's honor, up to $10,000. So when anyone joined, renewed, or donated during the membership drive, LACBC received twice the amount that was given. We asked that everyone we know to please encourage their friends to become members now - whether they are new or long-time cyclists, whether they knew Jim personally or have been touched by hearing about his story.
The Membership Drive was a success! Here is a write-up from the LACBC Blog:
"10,000 Thanks to AdventureCORPS for Sponsoring the Jim Swarzman Memorial Membership Drive."
"Last summer and fall, our friend Chris Kostman and AdventureCORPS, Inc. sponsored a matching membership drive in honor of fallen rider Jim Swarzman. Jim, a great friend of LACBC, was killed last Spring while riding his bike in San Diego County with his fiancée and a friend.
"For every contribution made to LACBC during the Jim Swarzman Memorial Membership Drive, whether through membership or donation, AdventureCORPS, a promoter of endurance cycling and running events including the world-famous Furnace Creek 508 and the Badwater Ultramarathon through Death Valley, promised to match those contributions up to $10,000. Chris spread the word to the athletes who ride in all AdventureCORPS events, including the Death Valley Century and Double Century, the Mount Laguna Bicycle Classic held near San Diego, and Hell's Gate Hundred. Jim was a several-time veteran of AdventureCORPS events and well-known and liked in the ultracycling scene, so his untimely and senseless death really hit home for his fellow endurance riders. Their desire to help keep these types of unnecessary tragedies from happening again, with AdventureCORPS' backing and support, led to the most successful membership drive in LACBC history.
"With your help, we were able to raise over $23,000 during the Jim Swarzman Memorial Drive on memberships and donations alone! As promised, Chris Kostman recently presented a check of $10,000 to our Executive Director Jennifer Klausner on top of the $23,000 raised!
"Thank you to Chris and AdventureCORPS for their generosity and support! Thank you to the many of Jim's friends, family, and fellow endurance riders who have contributed! Thank you to all who donated and/or became members during the drive! And thank you to everyone who helped spread the word about making LA County a better, more bike-able place!"
Click here for the Full Story.
Click here to join LACBC today.
Click here to read more about Jim Swarzman and this membership drive.
Major Taylor Association: Official Charity 2004 - 2014
AdventureCORPS proudly supported the Major Taylor Association for over a decade.
The Major Taylor Association was formed by residents of Worcester, Mass., who became intrigued with the story of the 1899 world champion bicycle racer from Worcester who overcame racial prejudice to become the first internationally acclaimed African-American sports star.
The organization's mission is to memorialize Major Taylor with a statue on public land in Worcester, in recognition of his athletic achievements and strength of character—his sportsmanship, concern for those less fortunate, devotion to God, and personal struggle for equality. Further, the Major Taylor Association aims to create a living memorial to Taylor by conducting good works in his name and educating people about his life and legacy.
MTA hosts the annual George Street Bike Challenge for Major Taylor, a short, steep uphill time trial on a downtown Worcester street where Major Taylor used to train. Additionally, Major Taylor Association offers a free curriculum guide for schools, for grades 3 through 8, featuring lessons about the trailblazing black athlete Marshall W. "Major" Taylor. The materials are designed to be used at any time—such as Black History Month (February) or National Sportsmanship Day (first Tuesday in March)—in conjunction with an optional readathon to benefit the Major Taylor Association.
Click here to donate directly to the Major Taylor Association.
Click here for our photos, video, and audio files from the statue unveiling on May 23, 2008.