2013 Mount Laguna Bicycle Classic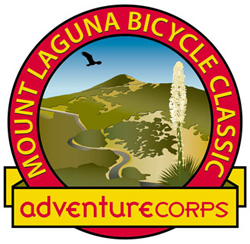 We are pleased to announce the results and images from the April 20, 2013 Mount Laguna Bicycle Classic, featuring up to 101 miles with 10,000 feet of climbing and three different ascents of San Diego County's Mount Laguna! Participants climbed San Diego's highest point via Sunrise Hwy from the north, via the fabled and car-free Kitchen Creek from the south-east, and via the little-known and truly epic Pine Creek drainage from the west. There are just three stop signs and NO traffic lights on this incredible route which starts and finishes in Pine Valley, CA! The 2013 edition featured perfect weather with 124 participants.
Special Thanks is extended to Francis Picachu Ignacio, a five-time Furnace Creek 508 solo finisher, who prepared the super popular adobo Filipino food for all the riders, then he spent all of Saturday keeping his home-cooked food warm and ready to serve. And now you know why his LA-based cycling club (which is open to riders from anywhere) is called Adobo Velo! (Several Adobo Velo riders participted, and several volunteered. They are a regular fixture at AdventureCORPS events: riding, volunteering, or both.)
---
Let's Give a Big Round of Applause to all the Fantastic 2013 Volunteers!
Ricer Check-In: Bob Andrews, Scott Palka, Chris Kostman, and Michael Angelos
Roving SAG: Bob Andrews and Michael Angelos
Marking the Turn onto Hwy 79: Bob Andrews
CP1 at Lake Cuyamaca Store: Jeff Brown Bear Bell, Tracy Zimmerman, and Laurie Kostman
CP2/4/6 at Red Tail Roost atop Mount Laguna: John Clare, Amanda Caulder, Mary Jane Caulder, Lan Tran, Matt Ruscigno, and Michael Angelos
CP3 at Kitchen Creek: Ryan Crane, Mary Crane, and Susan Reichert
Pine Creek Water Stop on Loop 3: Steven and Debbi Ward
Pine Valley Checkpoint & Finish Line and Adobo Velo Finish Line Feast: Jeff Brown Bear Bell, Robert Panzera of CCSD.com, Laurie Kostman, Francis Ignacio, Imre Udvardy, Ricky Hererra, June Dominguez, and Lester Hofilena of Adobo Velo.
We also want to thank the San Diego County Parks staff, who were very supportive and we thank them for allowing us to host the start / finish for this event at Pine Valley County Park. Finally, we thank the United States Forest Service and the County of San Diego for issuing the permits and allowing us to host this event on the roads which they oversee. This is a spectacular route and we thank them for taking good care of this superb cycling region!
Images
Click here for over 100 images from the event. Enjoy, and feel free to post them on your blogs, FB, and such.
Results
Wave
Loop 1
Loop 2
Loop 3
Distance
Elapsed
First
Last
M/F
City
State
Club
6:10
9:52
11:18
101 mi
5:08
Drew
Peterson
M
El Cajon
CA
sandiego randonneurs
6:20
10:05
11:39
101 mi
5:19
Hans Anton
Nygaard
M
Copenhagen
Denmark
6:00
9:52
11:34
101 mi
5:34
Adam
Pacal
M
San Diego
CA
6:00
9:52
11:37
101 mi
5:37
David
Haase
M
Fond du Lac
WI
attitude sports
6:00
10:06
11:55
101 mi
5:55
Robert
Bingham
M
Del Mar
CA
Gitman Holland Group
6:00
?
11:56
101 mi
5:56
David
Roth
M
San Diego
CA
6:00
10:19
12:01
101 mi
6:01
Justin
Hoblet
M
San Diego
CA
6:00
10:07
12:07
101 mi
6:07
Max
Affarano
M
San Diego
CA
Hi-Tech Bikes
6:00
10:17
12:07
101 mi
6:07
Christian
de Groot
M
La Jolla
CA
6:00
10:32
12:25
101 mi
6:25
Scott
Ashman
M
Encinitas
CA
Velo Hangar
6:00
10:32
12:42
101 mi
6:42
Ryan
Alfred
M
San Diego
CA
TCSD
6:00
10:32
12:42
101 mi
6:42
Jeff
Bean
M
San Diego
CA
BikeCrave
6:00
10:52
12:42
101 mi
6:42
Nathan
Simpson
M
San Diego
CA
6:10
11:02
12:57
101 mi
6:47
Lori
Hoechlin
F
Huntington Beach
CA
6:10
11:02
12:57
101 mi
6:47
George
Vargas
M
Encinitas
CA
REV Endurance Cycling
6:00
10:32
12:49
101 mi
6:49
Alexander
Wree
M
LA JOLLA
CA
6:00
10:50
12:52
101 mi
6:52
Koji
Kimura
M
San Diego
CA
6:10
11:00
13:06
101 mi
6:56
Duane
Peck
M
rancho santa margarita
CA
Rock & Road
6:00
10:52
12:57
101 mi
6:57
Jonathan
Whitman
M
San Diego
CA
UCSD Masters
6:10
11:08
13:15
101 mi
7:05
David
Gibson
M
anaheim
CA
6:10
11:20
13:20
101 mi
7:10
Judy
Brusslan
F
Long Beach
CA
Adobo Velo
6:10
11:16
13:21
101 mi
7:11
Heather
Bruemmer
F
Carlsbad
CA
6:00
11:01
13:15
101 mi
7:15
Matt
Bruner
M
San Diego
CA
6:00
11:16
13:15
101 mi
7:15
Mark
LaGioia
M
Portland
OR
6:10
11:04
13:28
101 mi
7:18
Tim
Yuskin
M
El Cajon
CA
6:00
11:09
13:22
101 mi
7:22
Bruce
Watson
M
Del Mar
CA
6:10
11:16
13:35
101 mi
7:25
Bryce
Williams
M
San Diego
CA
All Endurance Sports Club
6:00
11:35
13:26
101 mi
7:26
David
Bruemmer
M
Carlsbad
CA
6:00
11:17
13:27
101 mi
7:27
Eric
Meech
M
San Diego
CA
Team Meech
6:10
11:15
13:43
101 mi
7:33
Kris
Wells
M
La Mesa
CA
6:10
11:35
13:44
101 mi
7:34
Bob
Beede
M
Arcata
CA
6:20
11:29
13:55
101 mi
7:35
Kevin
Heil
M
San Diego
CA
6:00
11:04
13:36
101 mi
7:36
Matt
Whalen
M
San Diego
CA
6:20
11:29
14:02
101 mi
7:42
Gary
Schoenfeld
M
San Diego
CA
6:10
11:18
13:53
101 mi
7:43
Brian
Feltovich
M
Park city
UT
6:00
11:32
13:55
101 mi
7:55
Allen
Hwang
M
redlands
CA
6:00
11:39
13:56
101 mi
7:56
David
O'Brien
M
Tucson
AZ
6:20
11:47
14:18
101 mi
7:58
william s
hammond iii
M
San Diego
CA
6:20
11:48
14:18
101 mi
7:58
Jay
Simpson
M
San Diego
CA
6:00
11:45
13:59
101 mi
7:59
Michael
Burg
M
SAN DIEGO
CA
6:10
11:37?
14:14
101 mi
8:04
Chris
Lenkeit
M
San Marcos
CA
Swami's
6:10
11:40
14:16
101 mi
8:06
Keith
Sherwood
M
San Diego
CA
6:00
11:56
14:18
101 mi
8:18
Anthony
Martinez
M
Cherry Valley
CA
6:00
11:44
14:19
101 mi
8:19
Darren
Santos
M
Laguna Hills
CA
6:40
15:07
101 mi
8:27
Ursula
Vaccaro
F
San Diego
CA
Revolution
6:10
?
14:37
101 mi
8:27
Jill
Theodossi
F
Carlsbad
CA
6:10
12:11
14:38
101 mi
8:28
Michael
Drew
M
Capistrano Beach
CA
6:10
12:11
14:38
101 mi
8:28
Tom
Drew
M
Modesto
CA
6:30
12:23
15:06
101 mi
8:36
Peter
Harnisch
M
Temple City
CA
Adobo Velo
6:30
12:23
15:06
101 mi
8:36
David
Hartson
M
Sunland
CA
Adobo Velo
6:20
12:25
14:57
101 mi
8:37
Candido
Gamez
M
Arcadia
CA
6:10
12:24
14:52
101 mi
8:42
Bruce
Shank
M
San Diego
CA
6:00
11:58
14:43
101 mi
8:43
James
Eitelberg
M
Santee
CA
Cyclo-Vets
6:20
12:25
15:04
101 mi
8:44
Jay
Lynch
M
La Jolla
CA
6:10
11:55
14:55
101 mi
8:45
Alfred
Cooper
M
Irvine
CA
6:10
12:13
14:56
101 mi
8:46
Jon
Bohaty
M
San Diego
CA
6:10
12:13
14:56
101 mi
8:46
Ryan
Drew
M
San Diego
CA
6:10
12:13
14:56
101 mi
8:46
Nolan
Hansen
M
San DIego
CA
6:10
12:09
14:57
101 mi
8:47
Adam
Bushell
M
Helendale
CA
6:10
12:09
14:57
101 mi
8:47
Erik
Reifenstahl
M
Ft Irwin
CA
6:10
12:09
14:57
101 mi
8:47
Kevyn
Wetzel
M
Fort Irwin
CA
6:00
11:55
14:51
101 mi
8:51
Rich
Koenig
M
El Cajon
CA
6:10
12:24
15:02
101 mi
8:52
Paul
Tourkin
M
San Diego
CA
6:20
10:51
15:13
101 mi
8:53
Chris
Adams
M
Carlsbad
CA
6:20
10:51
15:13
101 mi
8:53
Lauretta
Rustad
F
Victorville
CA
Orange County Rebel Riders
6:20
12:42
15:21
101 mi
9:01
Tony
Kowalczyk
M
Carlsbad
CA
6:10
12:13
15:14
101 mi
9:04
Ray
Williams
M
Riverside
CA
6:10
12:23
15:15
101 mi
9:05
Eugene
Kuznetsov
M
Escondido
CA
6:10
12:26
15:17
101 mi
9:07
Teresa
Beck
F
Torrance
CA
Adobo Velo
6:20
12:25
15:28
101 mi
9:08
Fred
Sanders
M
El Cajon
CA
6:10
12:36
15:21
101 mi
9:11
Carl
Switzky
M
Long Beach
CA
6:20
12:16
15:33
101 mi
9:13
Josef
Cuesico
M
San Diego
CA
TCSD
6:10
12:27
15:25
101 mi
9:15
William
Cogan
M
San Diego
CA
6:10
13:06
15:25
101 mi
9:15
John
O'Neill
M
CHULA VISTA
CA
6:10
12:39
15:33
101 mi
9:23
Larry
Jindra
M
Oceanside
CA
6:10
12:44
15:35
101 mi
9:25
Ellen
Kirk
F
Del Mar
CA
6:00
12:18
15:35
101 mi
9:35
Michael
Ingram
M
Tucson
AZ
6:10
12:44
15:48
101 mi
9:38
Charley
Beaton
M
Fargo
ND
6:30
13:18
16:15
101 mi
9:45
Marco
Apostol
M
Cathedral city
CA
6:00
12:30
15:50
101 mi
9:50
Bob
Hartman
M
San Diego
CA
6:00
12:41
15:52
101 mi
9:52
Peter
Weintraub
M
Alpine
CA
6:10
13:09
16:07
101 mi
9:57
Bernard
O'Neill
M
chula vista
CA
6:10
12:41
16:12
101 mi
10:02
Lawrence
Ferrence
M
Escondido
CA
6:10
13:07
16:12
101 mi
10:02
Paul
Rowe
M
San Diego
CA
6:00
13:20
16:53
101 mi
10:53
David
Nilson
M
Alpine
CA
6:20
13:46
17:40
101 mi
11:20
Emmanuel
Frias
M
Rowland Heights
CA
Adobo Velo
6:20
13:46
17:40
101 mi
11:20
Dennis
Gorospe
M
Cerritos
CA
6:00
9:49
11:35
101 mi
NA
Jim
Knight
M
San Diego
CA
6:30
9:57
77 mi
3:27
Scott
Palka
M
Carlsbad
CA
6:00
10:46
77 mi
4:46
Robert
Panzera
M
San Diego
CA
CCSD
6:20
11:10
77 mi
4:50
Pieter
van Rooyen
M
San Diego
CA
6:00
11:55
77 mi
5:55
Arthur
Hernandez
M
La Habra
CA
6:20
12:21
77 mi
6:01
John
Carnesecca
M
Murrieta
CA
6:20
12:22
77 mi
6:02
keith
moore
M
temecula
CA
6:00
12:04
77 mi
6:04
Mike
Bossom
M
San Diego
CA
6:30
12:48
77 mi
6:18
Dan
Brigham
M
Carlsbad
CA
6:30
12:55
77 mi
6:25
Paul
Duddles
M
San Diego
CA
6:30
12:55
77 mi
6:25
Ken
Person
M
Yucaipa
CA
6:20
12:54
77 mi
6:34
Jack
Druet
M
temecula
CA
6:00
12:42
77 mi
6:42
Michael
Gilb
M
Albuquerque
NM
6:10
12:54
77 mi
6:44
Steven
Stuart
M
Carlsbad
CA
Celo Pacific
6:10
12:57
77 mi
6:47
Stacey
Cooke
F
Redondo Beach
CA
6:00
12:54
77 mi
6:54
Glenn
Buberl
M
San Diego
CA
6:10
13:01
77 mi
7:01
Bob
Nicholson
M
Atascadero
CA
6:00
13:02
77 mi
7:02
Lee
Ledford
M
San Diego
CA
6:00
13:09
77 mi
7:09
Patricia
Thomas
F
La Jolla
CA
6:10
13:27
77 mi
7:17
Bob
Harting
M
San Diego
CA
6:10
13:33
77 mi
7:23
robert
Nothaft
M
San Diego
CA
6:10
13:38
77 mi
7:28
Barbara
Belli
F
Carlsbad
CA
6:10
13:38
77 mi
7:28
Jennifer
Floyd
F
La Mesa
CA
6:10
13:38
77 mi
7:28
Steve
Person
M
San Diego
CA
6:10
13:40
77 mi
7:30
Douglas
Ellner
M
Mission Viejo
CA
6:10
13:40
77 mi
7:30
Bob
Masuzumi
M
Huntington Beach
CA
Orange County Rebel Riders
6:10
10:20
45 mi
4:10
Amy
Engel
F
San Diego
CA
6:10
10:20
45 mi
4:10
William
McNamara
M
San Diego
CA
6:10
10:21
45 mi
4:11
Michael
Leshnower
M
Del Mar
CA
Tri Club San Diego
6:00
10:20
45 mi
4:20
Fred
Whitaker
M
San Diego
CA
6:10
10:34
45 mi
4:24
Tor
Ueland
M
San Diego
CA
6:30
10:59
45 mi
4:29
Pam
Williams
F
Riverside
CA
6:30
12:05
45 mi
5:35
Bodee
Maxwell
F
Sunland
CA
6:30
12:05
45 mi
5:35
Josh
Pagliuso
M
Sunland
CA
6:10
10:34
45 mi
7:24
Mark
Beckett
M
Claremont
CA
?
?
?
?
?
Jerry
Hizon
M
Temecula
CA
?
?
?
?
?
Jusuf
Nasir
M
Covina
CA