April 16, 2011 Mount Laguna Bicycle Classic Results
2012 Date: April 21, 2012: Mark Your Calendar!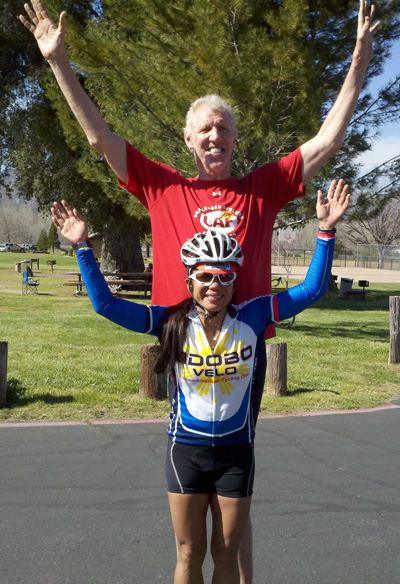 We are pleased to announce the results and images from the Mount Laguna Bicycle Classic, the newest AdventureCORPS cycling event, featuring 101 miles with over 10,000 feet of climbing and three different ascents of San Diego County's Mount Laguna! Participants climbed San Diego's highest point via Sunrise Hwy from the north, via the fabled and car-free Kitchen Creek from the south-east, and via the little-known and truly epic Pine Creek drainage from the west. There are just three stop signs and NO traffic lights on this incredible route which starts and finishes in Pine Valley, CA!
We had 200 participants (31 female and 169 male, from age 26, Jeremey Stromsoe, to age 76, Skip Nevell). Nine riders completed the 45-mile route, 56 riders completed the 75-mile route, and 133 riders completed the full 101-mile route. Just two DNF'd.
Congrats to the overall men's champion, Drew Peterson, who repeated his top finish from 2010, and overall female champion, Melissa McWhirter, as well as the first tandem finishers (as in 2010), Alex Estrada and Deya Guerrero from World Cycles!
We also thank Bill Walton for once again serving as the Chairman of Good Times, Social Affairs, Customer Relations and All Things Fun. Bill rode the Lake Cuyamaca and Kitchen Creek loops. After his ride, he spent the afternoon at the finish line, posing for photographs and congratulating riders. What a great friend we have in Bill Walton!
Special Thanks is also extended to Francis Picachu Ignacio, a three-time Furnace Creek 508 solo finisher, was up all of Friday night, cooking the super popular adobo Filipino food (adobo chicken, adobo pork, rice, and curry vegetables) for all the riders, then he spent all of Saturday working the finish line and keeping his home-cooked food warm and ready to serve. And now you know why his LA-based cycling club (which is open to riders from anywhere) is called Adobo Velo! (Four Adobo Velo riders participted, and four volunteered. They are a regular fixture at AdventureCORPS events: riding, volunteering, or both.)
Thanks to all the riders and volunteers for making the 2011 Mount Laguna Bicycle Classic a huge success! We look forward to sharing this experience with you again in 2012! Between now and next April, we plan to offer some excellent training and adventurous riding opportunities in the Mount Laguna area. We will post those to our Blog, as well as our Facebook page and Twitter feed.
We also hope you will join us in October this year for Furnace Creek 508, and/or the Death Valley Century, Ultra Century, and Double Century.
Here are some selected shots from the ride. Click any thumbnail. We have over 600 images online from this event! Slideshow links below.
Links to over 600 Images from the Ride, plus Blog Links and Media Coverage
| | |
| --- | --- |
| | Show 1: Photos by Chris Kostman: Pine Valley start to Lake Cuyamaca |
| | Show 2: Photos by Chris Kostman: Sunrise Hwy, Part One |
| | Show 3: Photos by Chris Kostman: Sunrise Hwy, Part Two |
| | Show 4: Photos by Chris Kostman: Mount Laguna and Kitchen Creek |
| | Show 5: Photos by Chris Kostman: Loop Three and Pine Valley Finish Line |
| | Show 6: Photos by Steven Ward: Lake Cuyamaca CP and Loop Three Water Stop |
| | Show 7: Photos by Michael Angelos: Loop Three |
| | Garmin GPS download from rider Rosalie Sumagaysay-Kneebone |
| | Garmin GPS download from rider Bob Corman |
| | Garmin GPS download from tandem riders Alex Estrada and Deya Guerrero, 2nd place overall finishers |
| | Blog Report by Errin Vasquez of FrontageRoads.com |
Let's Give a Big Round of Applause to all the Fantastic 2011 Volunteers!
Roving SAG: Les Campbell from Cyco-Path Bicycle Shop in Temecula
Marking the Turn onto Hwy 79: Joe Poma and Ryan Crane
CP1 at Lake Cuyamaca Store: Jeff Brown Bear Bell, Bob Hartman, and Steven Ward
CP2/4/6 / at Red Tail Roost atop Mount Laguna: Molly Arevalo, Steven Mattson, Jesse Kretschmer, Jessica Chan, and Megan Dean of Team Swarm!
CP3 at Kitchen Creek:, Joe Poma, Ryan Crane, and Tina Angeles
Pine Creek Water Stop on Loop 3: Steven Ward
Pine Valley Finish Line: Jeff Brown Bear Bell, with Francis Picachu Ignacio, Mandy Genato, Ricky Hererra, Victor Caampued, MJ Ignacio, Nikki Ignacio, and Isabelle Vergara of Adobo Velo.
Timing: George and Betty Benson of Montana Timing.
We also want to thank the folks at Pine Valley Store (the "gas station / mini mart" immediately next to the park entrance) for their all-afternoon-long friendly, great service and pizza baking! Additionally, Linda and the San Diego County Park staff were very supportive and we thank them for allowing us to host the start / finish for this event at Pine Valley County Park. Finally, we thank the United States Forest Service and the County of San Diego for issuing the permits and allowing us to host this event on the roads which they oversee. This is a spectacular route and we thank them for taking good care of this superb cycling region!
Lost & Found / Buying MLBC Jerseys: If you left clothing at the event, please email us with a description and your mailing address, or plan to meet us Saturday at 500pm in the UTC area of La Jolla at Infusions of Tea to pick up your gear. We will also have MLBC jerseys for sale there and then ($80).
Awesome, Unsolicited, Totally Appreciated Feedback!
First of all, I can't say THANK YOU enough. We had such a great time! It was only our 2nd bicycle event ever and we LOVE the culture. So different than the go go go mentality of triathlon! We really enjoyed your event and it was TOP NOTCH. Well organized and an awesomely run event. And we have done A LOT of events in our day! - Lisa Castelein
Awesome Ride, Awesome Weather, Awesome organizer, Awesome Volunteers, and Awesome Post Ride Lunch by the ADOBOvelos... what else, Adobo and Rice + other main dishes. Will I do this EPIC ride again? HELL YA!!!! See you on the Road to Mt. Laguna Next Year. Thanks Chris for all the wonderful Epic ride you organize. I love riding all of them. - Rosalie Sumagaysay-Kneebone
Awesome event - not a single mile of wasted riding. Fast, challenging, always beautiful and remote. Wonderful volunteers. All the best, Adam and Kristina, Tandem Team, Denver CO
Nice job on the Mt Laguna Classic. Great start to go up the 79 that early and the rest of the day was grand. The staff on Pine Creek were a grand site to see. I cannot wait to see their photos of me.. then again maybe not. Based on this being my first event with adventurecorps I will certainly will look in to your other cycling events and work them in. Many thanks to your aid station staff. - Matt Laurence
Thanks for the great ride. The volunteers were more pleasant and helpful than any other ride I've been on. - Paul Duddles
Many, many thanks for the great Mt. Laguna ride. My friends and I had a wonderful time and your organization and crew were tops. - Skip Nevell
First I want to thank you and all of your volunteers for another awesome day of riding. I'm stoked to say that I was able to complete the entire course this year! It wasn't easy, bike choice made it even more difficult, but I can now wear my MLBC jersey with pride! I plan to come back next year, but I think I've learned my lesson. Lighter is better! I'll have to borrow a lightweight bike next time around. Here's a link to my blog with some pics. Huge thanks! - Errin Vasquez
Hi Chris, another great ride on Saturday. I wanted to thank the person in charge of the rest stop at the oak tree on the Pine Creek loop. I, for the first time, was cramping something fierce and thought I was toast. He was great, gave me wise advice, lots of water, shade, a place to rest my weary legs and most important a good push. That was the end of my cramping and I didn't have to get back off the bike until the Finish! Even with the delay I was still able to take a chunk of time off the prior year. Again thanks, and look forward to the 3rd annual Mt. Laguna Classic! - Julie Tiede
Thanks SO MUCH for such a great event. The most challenging ride I have done. - Tom Hatcher
I am finally recovered from two laps of the Mt Laguna Bicycle Classic, more than half of which was attempted with a 42x24 due to a derailleur issue. But, I would not have even gotten that far if it hadn't been for your help in recovering from a disastrous cable slip that sent my derailleur to 42x12. I was so tired I'm not sure I had the energy to do the job. Thanks for recognizing that and saying "Here, let me do it" when you saw me struggle.

I'm finally breaking down and going Compact and I don't know if I can wait to do all three loops. I may make a weekend trip back down just to complete it.

The flat from the rock hiding in the shadows while hurtling down Sunrise didn't help me but as usual even without your help the ride was indeed a classic. The weather was just fantastic and the bugs from last year were mostly gone. The volunteers at the stops and on the road were the best.

I don't know what I'd do without AdventureCORPS but I know that literally my life wouldn't be the same without the rides and races you put together. Thank you and everyone who produces the events.

See you at Furnace Creek for #4 if not sooner. - Ron Sparrow Shepston
2012 Date: April 21, 2012: Mark Your Calendar!
2011 Mount Laguna Bicycle Classic Official Results by Montana Timing (Revised 4-20-11)

We had 200 participants (31 female and 169 male, from age 26, Jeremey Stromsoe, to age 76, Skip Nevell). Nine riders completed the 45-mile route, 56 riders completed the 75-mile route, and 133 riders completed the full 101-mile route. Just two DNF'd.

1 Loop: 45 miles
Place
Bib #
Name
Elapsed
Age
M/F
City
State
Team Name
1
14
Edwin Astudillo
4:01:48
35
M
San Diego
CA
Triathlon Club of San Diego
2
74
Bill Erskine
4:05:28
62
M
San Diego
CA
None
3
75
Susan Erskine
4:05:31
58
F
San Diego
CA
None
4
243
Peter Weintraub
4:09:50
53
M
Alpine
CA
None
5
126
Jennifer Klausner
4:49:03
41
F
Los Angeles
CA
LA County Bicycle Coalition
6
77
Mark Fackler
5:21:26
51
M
La Jolla
CA
SD TRI CLUB
7
193
Ed G Salatnay
5:50:29
55
M
Thousand Oaks
CA
None
8
194
Amanda Schaffer
6:35:27
33
F
San Diego
CA
None
9
85
Chris Fuller
6:35:46
54
M
Poway
CA
San Diego Handcycle
2 Loops: 75 miles
Place
Bib #
Name
Elapsed
Age
M/F
City
Team Name
1
88
Matt T Genovese
4:44:04
33
M
San Diego
CA
Breakaway Training
4
46
Jerald Cook
5:08:28
42
M
San Diego
CA
Canari-Navy
5
151
John Meyer
5:18:36
59
M
San Diego
CA
Canari-Navy
6
86
Peter Fusco
5:24:17
34
M
San Diego
CA
None
7
35
Steven G Burke
5:27:19
49
M
San Diego
CA
Canari-Navy
8
195
Maurin Scheetz
5:28:48
28
F
San Diego
CA
Canari-Navy
9
172
Sam Pfaff
5:32:17
50
M
San Diego
CA
San Diego Bicycle Club
10
225
Michael Todd Trimpert
5:44:40
41
M
Rancho Palos Verdes
CA
T3 Triathlon Team
11
101
Chester Scott Harris
5:44:47
51
M
Rancho Palos Verdes
CA
PV Bicycle Center
12
159
Kevin Nicholas
5:46:44
51
M
Vista
CA
None
13
13
Andrea Astudillo
6:06:01
34
F
Carlsbad
CA
Triathlon Club of San Diego
14
26
larry Bricker
6:16:30
65
M
el cajon
CA
None
15
251
John Young
6:17:40
50
M
San Diego
CA
None
16
144
John Marino
6:17:55
62
M
Irvine
CA
Orange County Wheelmen
17
211
Lauren Stearley
6:23:24
67
M
Chula Vista
CA
Crown City Cyclist
18
164
Ronald Oliver
6:23:56
49
M
Lakeside
CA
independent
19
56
Thea De Boer
6:24:48
45
F
Irvine
CA
None
20
162
Daniel Owen Norwood
6:25:26
33
M
Escondido
CA
None
21
177
Reve Ramos
6:28:07
64
M
so lake tahoe
CA
Alta Alpina
22
27
Daniel Brigham
6:30:43
47
M
San Diego
CA
None
23
244
Carl Weymann
6:40:38
50
M
San Diego
CA
San Diego Bicycle Club
24
202
Ronald Sparrow Shepston
6:44:58
63
M
Silverado
CA
None
25
179
Mike Jeffrey Riley
6:47:54
43
M
Sandy
UT
None
26
240
Charles Donald Watler
6:57:49
43
M
Stevenson Ranch
CA
None
27
33
Glenn Buberl
7:00:12
43
M
San Diego
CA
Triathlon Club of San Diego
28
41
Lisa Castelein
7:01:31
36
F
San Diego
CA
Triathlon Club of San Diego
29
131
Steve Kosowski
7:03:32
45
M
Irvine
CA
None
30
152
Patrick Moneda
7:03:38
31
M
Chula Vista
CA
Church of Cycling
31
40
Carey Castelein
7:03:55
37
M
San Diego
CA
Triathlon Club of San Diego
32
55
Shawna Lee Davis
7:04:05
42
F
San Diego
CA
San Diego Bicycle Club
33
250
Corey Wyatt
7:05:07
36
M
San Diego
CA
None
34
69
Randall W Elkins
7:07:57
43
M
San Diego
CA
None
35
182
stephanie robins
7:11:53
49
F
la Jolla
CA
SD TRI CLUB
36
181
Jon Robins
7:12:13
70
M
La Jolla
CA
SD TRI CLUB
37
82
brady fox
7:14:16
35
M
san diego
CA
None
38
78
Vassily A Filippov
7:16:18
37
M
Long Beach
CA
Topanga Creek Bicycles
39
109
Sabine Maria Hofmann
7:25:17
46
F
La Jolla
CA
Triathlon Club of San Diego
40
245
Fred Whitaker
7:27:22
58
M
IMPERIAL BEACH
CA
Triathlon Club of San Diego
41
188
beth russoniello
7:29:12
29
F
los angeles
CA
Swarm!
42
92
albert gregory gora
7:38:21
54
M
san diego
CA
San Diego Bicycle Club
43
204
Joel Slaven
7:52:05
66
M
Los Angeles
CA
San Fernando Valley bicycle Club
44
197
Michael William Schlarb
7:53:47
49
M
Durango
CO
None
45
145
Mark McFadden
8:07:04
48
M
Studio City
CA
NBC Universal Racing Team
46
220
Robert G Thorsen
8:14:19
51
M
La Jolla
CA
Rough Riders
47
117
David Edward Jackson
8:15:59
51
M
Marengo
IL
Bumpus Ridge CC
48
67
Rebecca Duane Eitelberg
8:16:15
45
F
Santee
CA
None
49
119
Noel Javier
8:16:39
42
M
Indio
CA
Orange Train
50
239
Bill Walton
8:21:37
57
M
San Diego
CA
None
51
226
Amador Santos Trinidad
8:24:58
47
M
Palm Springs
CA
Orange Train
52
11
marco apostol
8:25:40
35
M
Cathedral City
CA
Orange Train
53
54
A. Tor Uleland
8:32:58
32
M
Hawthorne
CA
Swarm!
54
158
skip nevell
8:33:05
76
M
los angeles
CA
Grand Masters Cycling
55
136
al lavery
8:35:32
65
M
encino
CA
san fernando valley bike club
56
65
Michael Paul Ehman
8:36:21
54
M
El Cajon
CA
92020
57
113
Jan Hughes
8:36:52
57
F
Rainbow
CA
Triathlon Club of San Diego
58
141
Bruce Malm
8:54:10
61
M
Los Angeles
CA
Rough Riders
3 Loops: 101 miles
Place
Bib #
Name
Elapsed
Age
M/F
City
Team Name
1
171
Drew Peterson
5:27:37
39
M
El Cajon
CA
Bike Buddies
2
96
Deya Guerrero (Tandem)
5:43:55
35
F
San Diego
CA
World Cycles
3
76
Alex Estrada (Tandem)
5:43:55
42
M
Spring Valley
CA
World Cycles
4
98
David Holstein Haase
5:53:22
43
M
Fond du Lac
WI
Attitude Sports
5
31
David J Bruemmer
6:01:59
34
M
Carlsbad
CA
Carbon Connection
6
242
Daniel Weintraub
6:04:49
50
M
Sacramento
CA
Kinetic Cycling
7
71
Steve Boniface
6:05:09
59
M
Irvine
CA
8
60
Sean Dougherty
6:06:38
45
M
Bermuda Dunes
CA
IC3
9
128
Jim Knight
6:12:41
50
M
San Diego
CA
Shadow Tour
10
232
Ton Desert Fox van Daelen
6:18:47
43
M
San Diego
CA
Ranchos Cycling
11
107
Justin Hoblet
6:21:08
32
M
San Diego
CA
None
12
95
Michael Gray
6:24:11
43
M
Del Mar
CA
None
13
147
Chris McKee
6:26:26
36
M
Coronado
CA
World Cycles
14
143
Derek Marich
6:28:13
40
M
San Diego
CA
None
15
215
Rich Strauss
6:28:45
43
M
Monrovia
CA
Endurance Nation
16
100
Gijs Hanselaar
6:31:55
39
M
Rancho Santa Fe
CA
None
17
203
Solavann Sim
6:37:19
30
M
Irvine
CA
Team velosport
18
196
Zachary Scheetz
6:37:45
29
M
San Diego
CA
Canari-Navy
19
233
George Red-Eyed Vireo Vargas
6:54:50
45
M
Newport Beach
CA
Bike Religion
20
118
Rick Hare Jacobson
7:01:51
52
M
Van Nuys
CA
LA County Bicycle Coalition
21
166
Tim Page
7:11:04
46
M
San Diego
CA
CAL COAST BICYCLES
22
58
RAUL DEL RIO
7:13:05
54
M
San Diego
CA
TREK SAN DIEGO
23
19
Murray Behl
7:13:34
58
M
Grand Forks
BC
Grand Forks Cycling Club
24
216
Jeremy Douglas Stromsoe
7:14:04
26
M
San Diego
CA
Triathlon Club of San Diego
25
10
Bob Andrews
7:15:22
52
M
La Jolla
CA
None
26
4
Chris Adams
7:18:49
41
M
Carlsbad
CA
None
27
122
mike jordan
7:21:20
50
M
san diego
CA
None
28
70
Dave Quarter Horse Elsberry
7:22:10
59
M
Laguna Niguel
CA
Santiego Cyclery
29
219
Michael Thompson
7:22:14
48
M
San Diego
CA
San Diego Cyclo-Vets
30
132
Christopher Kralick
7:28:07
60
M
Newport Beach
CA
kathys climbers
31
150
Jeffrey Mendoza
7:29:44
28
M
Chula Vista
CA
San Diego Wheelmen
32
184
Krisztian Romvari
7:30:23
37
M
Aliso Viejo
CA
Team El Guapo
33
222
Steve Tiede
7:36:46
55
M
Bishop
CA
rovana ridge riders
34
53
John Czajkowski
7:41:27
44
M
imperial beach
CA
Pulse Endurance
35
146
John McHenry
7:43:26
46
M
Chula Vista
CA
Strike Force Training Pacific
36
110
Aaron Holdaway
7:43:33
41
M
San Diego
CA
Adams Avenue Cycling club
37
247
Bryce Williams
7:44:44
31
M
San Diego
CA
Triathlon Club of San Diego
38
148
Art M McWhirter
7:45:40
62
M
Livingston
TX
None
39
149
Melissa McWhirter
7:45:51
35
F
Livingston
TX
None
40
8
William Aligue
7:46:55
41
M
Duarte
CA
Adobo Velo
41
42
Jose Cepeda
7:48:58
43
M
San Diego
CA
Adventures For The Cure
42
157
Marcus Needham
7:49:33
44
M
Tucson Az
AZ
Tucson Irregulars
43
133
Michael Joseph Kuzel
7:49:39
41
M
Scottsdale
AZ
None
44
116
Cameron Jackson
7:50:59
37
M
Irvine
CA
Bike Religion
45
9
Alex Amerri
7:54:37
31
M
Los Angeles
CA
La Grange
46
32
Stephen Cowles Bryne
7:56:55
52
M
Ventura
CA
Forest Knolls Freewheelers
47
49
Tom Jordan Cox
7:57:48
51
M
San Diego
CA
None
48
106
Jerry S Hitchcock
7:58:16
56
M
Mc Minnville
TN
Team Spike
49
213
Catherine Stewart
7:58:40
52
F
Tucson
AZ
Tucson Irregulars
50
137
DENNIS LAWLER
8:04:29
55
M
Temecula
CA
None
51
183
jeff rogers
8:04:45
39
M
mammoth lakes
CA
EastSide Velo
52
230
Greg Ulrich
8:05:07
33
M
Anchorage
CA
ORCA
53
190
mark joseph ryan
8:08:52
49
M
phoenix
AZ
team one
54
156
Jennifer Navarro
8:08:54
46
F
Austin Tx
TX
Circle C Cycling & Violet Crown
55
7
Andrea Alfaro
8:10:10
40
F
San Diego
CA
None
56
223
Philip Tinsman
8:12:01
44
M
San Diego
CA
Tierrasanta Cycling Club
57
103
Thomas Hatcher
8:17:55
60
M
Richland
WA
Chinook Cycling Club
58
138
William Lefkovics
8:20:16
44
M
Las Vegas
NV
Las Vegas High Roller Bicycle Club
59
39
William Capobianco
8:22:36
46
M
Laguna Beach
CA
None
60
121
John Johnson
8:23:11
54
M
Santa Rosa
CA
PJAMM Cycling
61
246
Andrew Duncan Wilkie
8:23:24
43
M
Morro Bay
CA
None
62
210
Cindi PitSnake Staiger
8:23:27
58
F
San Jose
CA
ACTC
63
252
Mark Alan Young
8:27:03
56
M
San Diego
CA
San Diego Bicycle Club
64
191
Didier Ryser
8:27:43
40
M
irvine
CA
None
65
241
thomas Weddick
8:31:57
66
M
huntington beach
CA
BCI
66
5
Tom Adler
8:33:32
45
M
San Diego
CA
Adler Bikes
67
140
Jay Lynch
8:33:57
49
M
La Jolla
CA
None
68
57
Roman de Salvo
8:34:28
45
M
San Diego
CA
Bike Buddies
69
153
James Mulvihill
8:35:24
50
M
La Jolla
CA
CAF MDC
70
61
Mark Philip Draper
8:37:01
44
M
Laguna Beach
CA
Radsport cycling team
71
227
Gunnar Trommer
8:39:23
39
M
Encinitas
CA
Tierrasanta Cycling Club
72
224
Kristina Tocce (Tandem)
8:40:53
35
F
denver
CO
KTAT
73
228
Adam Trosterman (Tandem)
8:41:00
39
M
denver
CO
KTAT
74
68
Greg Elias
8:42:02
44
M
Carlsbad
CA
None
75
34
Michael Burg
8:46:09
51
M
San Diego
CA
None
76
201
Robin Deanne Shepston
8:46:35
50
F
Cave Creek
AZ
None
77
200
Michael James Shepston
8:46:41
53
M
Cave Creek
AZ
None
78
231
Teresa Ulrich
8:47:30
29
F
Anchorage
AK
ORCA
79
105
Gilberto Hernandez
8:48:54
38
M
lynwood
CA
Team California Republic presented by Endurance Nation
80
80
Jim Robert Flanagan
8:48:56
37
M
Lakeside
CA
World Cycles
81
73
Keith Engelke
8:49:53
49
M
San Diego
CA
Sub5
82
36
Michael W Burton
8:51:21
44
M
san juan capistrano
CA
Team Velosport
83
253
Dwayne Ziegler
8:52:21
40
M
tustin
CA
None
84
175
Pete Primavera
8:54:33
50
M
Duarte
CA
Adobo Velo
85
178
D.J. Rausa
8:55:00
52
M
san diego
CA
Sub5
86
169
Craig Pawley
8:56:42
32
M
Lake Forest
CA
Team Sho-Air
87
15
Conrad Bangalan
8:57:23
37
M
La Jolla
CA
Triathlon Club of San Diego
88
20
Barbara Belli
8:59:26
49
F
Carlsbad
CA
None
89
170
Kenneth Person
8:59:31
47
M
Yucaipa
CA
None
90
12
Doris Asombrado
8:59:49
46
F
san diego
CA
None
91
214
Alan Stoddard
9:00:56
56
M
Hawthorne
CA
TriAthlete Zombies
92
18
bob beede
9:01:00
58
M
arcata
CA
None
93
129
Timothy Knowles
9:01:56
64
M
San Diego
CA
None
94
135
Matthew M Laurence
9:03:03
44
M
Escondido
CA
Team Tornado
95
123
Thomas Kaido
9:03:15
51
M
San Diego
CA
Team Glacial
96
174
Ed J Prendergast
9:04:24
56
M
Lakeside
CA
None
97
130
Dusitn Leigh Kor
9:08:59
32
M
Santa Barbara
CA
None
98
94
bryan gorrell
9:11:36
38
M
long beach
CA
Vello Alegro
99
62
Paul Duddles
9:13:30
47
M
San Diego
CA
None
100
81
Brenton Flatt
9:16:08
43
M
Poway
CA
None
101
6
Kurt Alderson
9:17:30
60
M
Chula Vista
CA
San Diego Bicycle Touring Society
102
187
Paul A Rowe
9:23:23
40
M
San Diego
CA
None
103
142
Eric Maquiling
9:28:21
44
M
Irvine
CA
Adobo Velo
104
16
joseph g baumgaertner
9:28:44
57
M
claremont
CA
None
105
108
Markus Georg Hofmann
9:28:50
48
M
La Jolla
CA
Triathlon Club of San Diego
106
17
William Baumgaertner
9:28:53
61
M
Los Angeles
CA
None
107
212
Michael B Stevens
9:29:27
57
M
Manhattan Beach
CA
None
108
127
Rosalie Kneebone
9:31:10
41
F
Moorpark
CA
Adobo Velo
109
221
Julie Marie Tiede
9:32:30
54
F
Bishop
CA
rovana ridge riders
110
161
Rick Nielsen
9:33:34
59
M
escondido
CA
None
111
125
eric kimura
9:35:38
46
M
torrance
CA
None
112
48
Bob Corman
9:41:30
55
M
Mountain View
CA
Team Spike the Wonder Dog
113
97
Miguel Gutierrez
9:54:30
37
M
Torrance
CA
California Republic Zombies
114
180
steve ring
9:56:59
61
M
san diego
CA
None
115
207
Amy Snyder
9:58:52
51
F
La Jolla
CA
San Diego Bicycle Club
116
104
Neal Herman
10:00:26
54
M
Mountain View
CA
Team Spike the Wonder Dog
117
238
Roy Wallack
10:06:31
54
M
Irvine
CA
Team MLC (Mud-Life Crisis) of Irvine
118
205
Charles Smith
10:08:32
34
M
San Diego
CA
None
119
209
Carl E Spangler
10:20:33
46
M
Laguna Niguel
CA
None
120
28
Lou Briones
10:31:28
63
M
Los Angeles
CA
LA Tri Club
121
79
Mark Wood Ducks Fisler
10:33:22
46
M
Palos Verdes Estates
CA
LA Tri Club
122
186
Cherryl Rose
10:38:22
51
F
Los Angeles
CA
LA Tri Club
123
45
Beverly Coke
10:41:31
51
F
El Dorado Hills
CA
None
124
218
Patricia Thomas
10:51:24
52
F
La Jolla
CA
San Diego Bicycle Club
125
99
Michael Handforth
10:55:14
38
M
San Diego
CA
None
126
102
Bob Harrier Harting
11:02:48
62
M
San Diego
CA
None
127
234
Errin Vasquez
11:05:55
45
M
Alhambra
CA
Rough Riders
128
66
James Duane Eitelberg
11:12:11
43
M
Santee
CA
None
129
199
Ed Shepherd
11:14:13
63
M
San Diego
CA
San Diego CycloVets
130
165
Robert Owen
11:29:56
51
M
St. George
UT
Randonneurs USA
131
236
Doug Vermillion
11:30:00
54
M
Anchorage AK
AK
ORCA
132
237
Patrice Vermillion
11:30:00
53
F
Anchorage AK
AK
ORCA
133
185
Jonathan Roper
11:30:25
37
M
Solana beach
AZ
Teradactyls
DNF
Place
Bib #
Name
Elapsed
Age
M/F
City
Team Name
3
51
Carlo Cuento
17:00:53
38
M
Newport Beach
CA
Bike Religion
2
235
Richard Velasco
16:59:19
30
M
San Diego
CA
Velominati