2002 Ironman Revisited: The Straight Story
by Chris Kostman
 
Show 1  -  Show 2  -  Show 3  -  Results  -  Story  -  Training Log
Donate to CAF  -  Team Magnum Home

After a 46-day crash-course-Ironman-training-program, it all began on August 21 when my crew, Debbie Caplan, and I landed in Honolulu. We stepped off the plane, started walking through the Honolulu airport, and the adventure began immediately: We found a small wooden "tiki" just like in that Brady Bunch episode. Remember the one where Greg Brady found a wooden tiki in Honolulu and then almost died surfing and later Vincent Price held the whole family captive in a cave?
Well, in this case, I was hoping the tiki was a good mojo and not cursed!
But at first, it seemed that the tiki was cursed!
Why? Because two minutes after I found that little wooden tiki, I got a call from fellow race entrant Chris Frost with the disturbing news that some guy named Scott Fisher, another Ironman Revisited entrant and fund-raiser, had just leaped past me into the lead.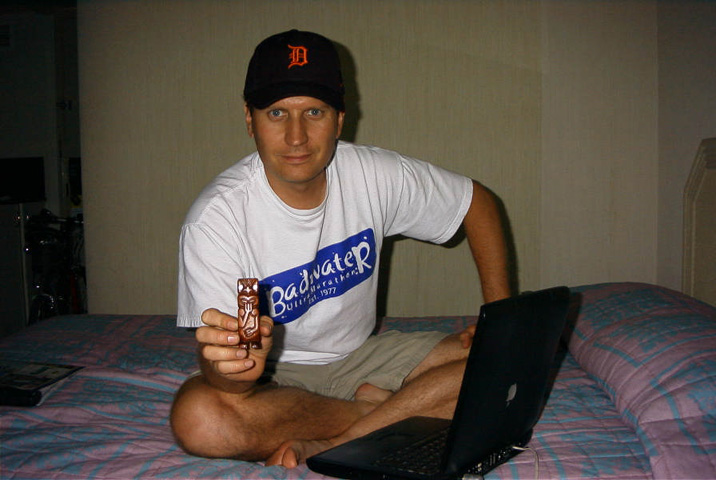 The lead of what, you say? The fund-raising lead, that's what! Due to a lot of hard work, pressing the flesh, and judicious use of my event email lists and websites, I was the "race leader" in terms of money raised to benefit the Challenged Athletes Foundation. On August 20, with $6600 "in the bank" at CAF, I had raised about $4000 more than any other entrant and five times the minimum required amount. I got on the plane to Oahu expecting that to remain the case.
But then I got off the plane, found that tiki, and learned this Scott guy, like an eBay bidder waiting until the last second to place the winning bid, had come along and blown past me into the lead with $8000.
As soon as I learned this, I raced to the hotel, tiki in hand, to send out an email to the whole world about this, stating "Well, that ain't going to stand here, not if you'll help me!"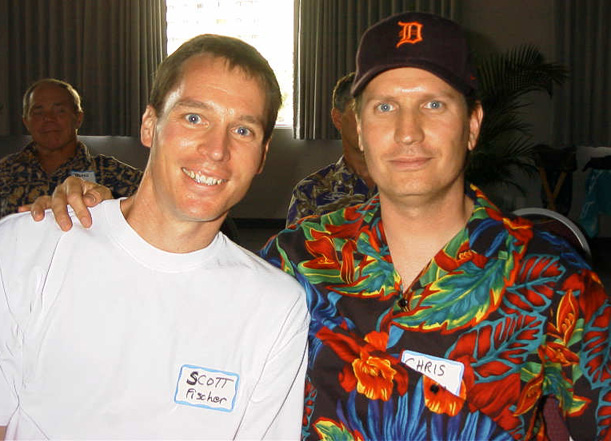 The response was overwhelming! Literally, I could sit there in Honolulu and watch the money keep ticking higher and higher on my CAF fund-raising webpage at kintera.org. By the next day, just before going to the Pre-Race Meeting, I had moved ahead of that Scott Fisher dude and back into the lead with over $9,000 raised!
You should have seen the look on his face when he found out! (Well, you can see it: I had it on my website by that night!) He was a "cold fish" that day and for the rest of the trip. I guess he'd forgotten what it was all about: raising money for challenged athletes!
In the few days leading up to the race on Sunday, we had the Pre-Race Meeting and also a really neat dinner reception at the Hard Rock Café. As you will remember, I went to Oahu in the spirit of my all-time favorite TV show and personal philosophy fountain, Magnum, PI.?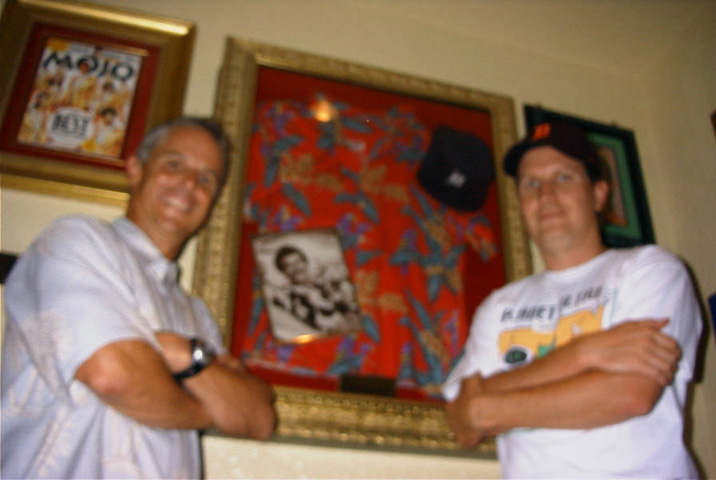 Well, that night at the Hard Rock Café, as I sat there wearing my Detroit Tigers hat and Hawaiian shirt, just like Magnum, somebody suggested that I go check out the wall next to the men's room. I did, and there I found Tom Selleck's original hat and shirt from the show! Holy cow, it was like a pilgrimage to Mecca! Of course, the photo of that was on my website by that night, too (however it's a little blurry; I guess I was just too excited!)
We competitors and crews also pre-drove the race course so that we'd have a feel for what to expect on race day. This helped me plan my pacing, avoid wasted time navigating, and also get the crew ready for how, where, and when to give me support as we went along. (Unlike the "big time" corporate Ironman Triathlons held around the world and on the Big Island, Ironman Revisited not only was held on the original race course from 1978, it also required each entrant to have a support crew, just as it was done in those early years. And there were would be no spectators, no glamorous finish line, no hundreds of volunteers along the roadway, no corporate hype, no media, and none of the rest of what people take for granted in those other Ironman events.)
Oahu is beautiful, actually stunning. And of course getting to swim, bike, and run in the tracks of Magnum, PI, I mean in the tracks of the Ironman pioneers from 1978, was a real treat. The bummer is that a lot of other people like this island, so it's quite overrun with traffic and tourism. Poor paradise: too bad so many people have "discovered it."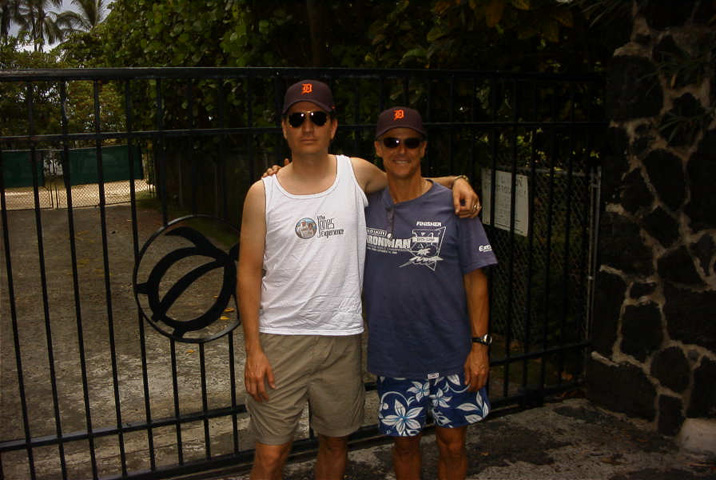 While out studying the race course, we did stop and gawk on the driveway of "Robin's Nest," the estate where Magnum lived. We also learned how it is, perhaps, that Magnum ended up actually doing an Ironman on the show: it turns out the owner of the house was the first female triathlete from Oahu to compete in the Ironman. No doubt her enthusiasm for the race made its way to the producers and writers of Magnum and they decided to weave the race into an episode (Season 1, episode 17, 4/16/81, "Beauty Knows No Pain").
Of course, there are photos of all the events, route touring, and pilgrimages to various Magnum spots right here on the Team Magnum page! (I was posting images and stories every day last August; they are still archived on my website, so go check them out if you haven't yet!!!)
OK, The Race!
It began around 7:00am on August 25, 2002. I say about 7:00am because that was the intended start time, but nobody knows for sure when it really started. In fact, it wasn't until a few weeks ago, while meeting with the CAF folks in Del Mar, that I learned all my timesplits for the day. (That goes to show how non-race-like this event is; it's not about racing, it's about a great cause!!)
There were 27 of us in the event: 24 solo and one three person CAF relay team. So, as the 1978 Ironman co-founders John and Judy Collins announced the official start, 25 of us hit the water at San Souci Beach to swim the length of Waikiki. It was a beautiful day with clear sky and clear water. Once we got past the surf zone and headed along the length of Waikiki, I had a pretty quick swim, at least most of the way. It was a pleasure to see the sea bottom passing beneath me. And it sure was a study in solitude! I hardly saw another swimmer for most of the 2.4 miles, plus there were only a few lifeguards on paddleboards to oversee us. I could have used some directional help.
Net result: I took a "wrong turn" and headed for the beach too early. I was supposed to turn towards the Hilton Lagoon, but since I hadn't been there before, I was confused about its exact locale. So, I ended up turning towards shore too soon and then asking some surfers for directions. I battled the surf zone turbulence and waves until I finally spied the finish line a while later. There, I got some erroneous info from the lifeguards about how to swim upstream, against the rushing, gushing tide coming out of the Hilton Lagoon. I literally lost about 15 minutes while swimming practically in place (like on a swimming treadmill, if there were such a thing). But eventually I left the water, an hour and thirty minutes after I started. Part one of the mission was accomplished!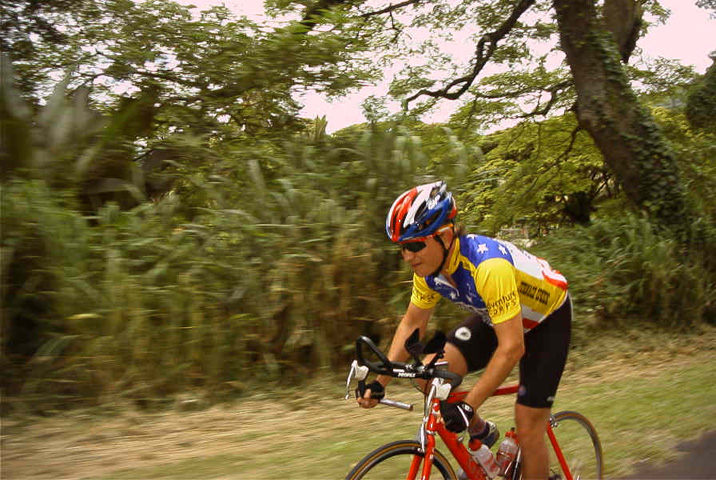 After a twelve minute transition, I began the hot, humid, and windy 100+ mile bike ride. My crew of Debbie Caplan and Jennifer Lasswell (a Honolulu-based Navy linguist who volunteered to help anybody in the race and ended up with me, thankfully) kept me on track, fueled, hydrated, and headed in the right direction. Generally it was pretty easy to follow the route: just keep the ocean on my right! Along the way, I rode past "Robin's Nest," the home where Magnum, PI lived. That was cool! Later, I struggled for a while on the big climb over the island past the Dole Plantation: the heat and humidity really got to me and I had to stop for a short break. (Some of my fellow participants took a short ocean swim to cool off during the bike leg of this non-race.) It was a hot day: over 90 all day.
The last stretch into Honolulu, alongside Pearl Harbor, was a bit trafficky and there were quite a few lights. I reeled in a few riders there, including the infamous Scott Fisher. He really pissed me off, though, because he kept running all the red lights. I'd get ahead of him, stop for a red light, then he'd blow through the light while I was stopped for it. Talk about a bad apple. But enough about him. We beat him in more ways than one!
The somewhere over 100 mile long bike course finished at the Aloha Tower, a dramatic and recognizable landmark. My elapsed bike time was 6:09 and then I took about nine minutes transitioning to the run. That made about eight hours elapsed when I headed out onto the 26.2 mile marathon course.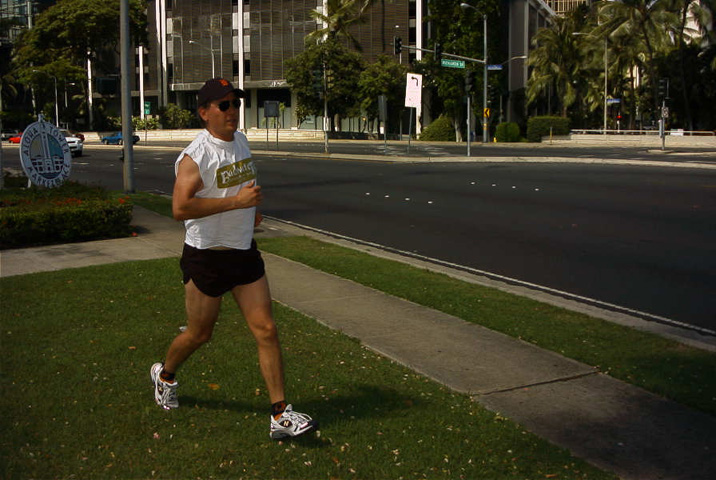 I have to admit, I wasn't looking forward to the third and final leg of this event. I had done only four training runs for a total of 85 minutes in preparation for this part of the event and I also knew that I'd be out on the course pretty much alone, since 25 athletes spread out very quickly over that amount of time and distance.

Thank the tikis for my awesome crew! After I trotted through all the tourists in Waikiki (my buddy Chris Frost, just ahead of me, actually ran through the indoor (and thus air-conditioned) mall that parallels the first part of the run course), Jennifer hopped from the support truck and jogged with me. She did that on and off for much of the day, then later Debbie got out her bike and rode slowly alongside me. It was a tough afternoon, but I hung in there, especially with Debbie and Jennifer to keep me company. When I felt pretty tired, I'd just think about the challenged athletes who would benefit from the money we'd raised and I'd also think about how it would be even tougher to do this kind of thing with a prosthetic arm or leg. How could I complain??

The song in the back of my head through that whole day was U2's "Stuck in a Moment" and especially the last few lines:

And if the night runs over
And if the day won't last
And if your way should falter
Along this stony pass

It's just a moment
This time will pass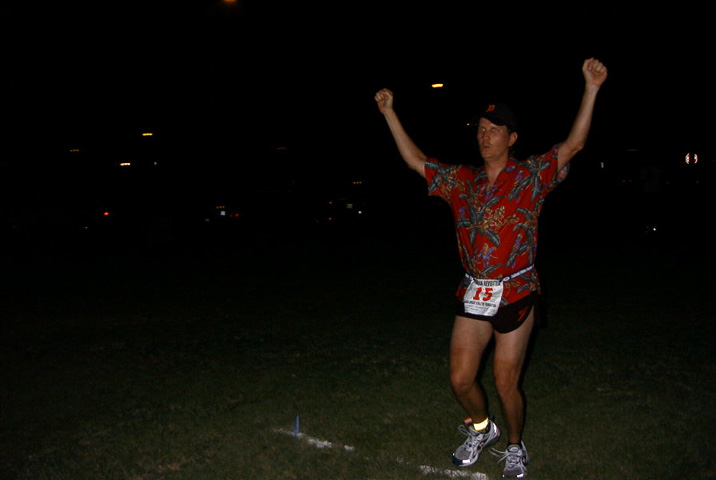 Those moments did pass, one by one, throughout the afternoon and beyond the sunset. I kept plodding along: running, jogging, walking, and occasionally stopping for just a minute. But forward I kept moving, pulled towards that finish line, inspired by the cause, buoyed by the thoughts of those who had responded to my request for support, eager to do something to help the physically challenged get the chance to go out and do the kind of life-changing, wonderful athletic things that I have always taken for granted.
These were the contents of my heart and mind as I reached the make-shift finish, a narrow line of flour in the grass at San Souci Beach, back where we had started our day together nearly thirteen and a half hours earlier. There were no bright lights, no TV crews, no race announcers, no music blaring. But I didn't care and I wouldn't have wanted that, not this time.
My welcoming party was Tabi King of CAF, Bob Babbitt of CAF and Competitor Magazine, the CAF relay trio, my good buddy Chris Frost who had recently finished, and of course my wonderful crew of Debbie and Jennifer. What more could I want or need?
My official time was 13:25 and I finished 9th out of 25, but does it really matter? (Well, only that I beat Scott Fisher handily on the run, I guess that matters!)
The Aftermath
Interestingly, it was there at the finish line that my day and the purpose of the whole event really sank in as I sat there swapping stories, athlete-to-athlete, with the CAF relay guys: Jon Beeson did the swim, Paul Martin did the bike and Joel Sampson ran the marathon. Fellow athletes, each missing an arm or leg, they told me how they'd lost their limbs and how it didn't hold them back anymore, thanks to the inspiration and support of CAF.
This hit home for me, big time. It solidified for me a feeling that had been growing inside me all day, given me purpose to battle the heat, humidity, and wind. I'd gone beyond, way beyond, doing this race to get in touch with "My Inner Magnum" while helping a good cause along the way. I knew right then that the finish line of Ironman Revisited was actually just the beginning, a stepping stone to something more: I was revisiting, quite clearly, my purpose in being an athlete and an event promoter. I now had a mission and I was stoked!
And so it was that I decided to make C.A.F. the Official Charity of all of the events which I, as AdventureCORPS, produce each year. It's a great combination and we are thrilled to support C.A.F. with our events!
This collaborative effort has been successful, too: we're raising money year-round, inspiring participants in our events to dedicate their efforts to CAF and to raise money for CAF, and we're developing a wonderful and close working relationship with Tabi and the rest of the team at CAF. This means so much to us, plus we know exactly where the money's going: to help challenged athletes! Over 80% of all money raised for CAF is spent directly on challenged athletes; there's no bureaucratic overhead sucking that money into the wrong place at CAF!
So you might say that that is where this story ends.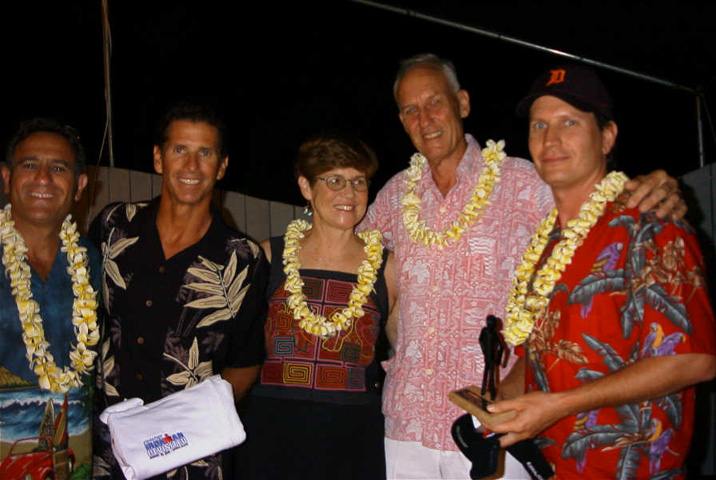 But of course, it doesn't really. I'm headed back to Oahu to do it again! This time, not only will I compete again, but Debbie will as well. She was so inspired by crewing for me last year, that she signed up to participate at the Awards Ceremony last August! This will be her first triathlon and I am so proud of her for taking on this awesome challenge!
(By the way, the Awards Ceremony was particularly awesome. It was outdoors with great live music, incredible food, and lots of the good cheer that permeated this event, the whole week, from start to finish. Each of us also received the official, original "hole in the head" trophy created and hand-made by Ironman co-founders John and Judy Collins. Not involved with the Ironman since 1980, they came to show their support this event and CAF, to be the offical race starters, and to crew for their son, Michael Collins, in the race; at age 16 he competed in the 1979 Ironman on this same course and now was back for more. In 2003, Judy will compete!)
We'll hit the water with thirty-some other triathletes on August 17, 2003. We're hoping to raise at least $25,000 this year between the two of us: twice the amount I raised in 2002. With two weeks to go, I've reached over $13,000, which is great, and Debbie has raised $3,000, which is also great, but we hope to do even better in the next ten days. Please support our efforts!
Thanks again for your support of CAF!
Aloha!