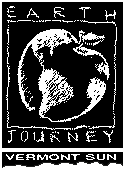 Earth Journey Vermont Sun:
The Original Adventure Triathlon
By Steve Hare and Chris Kostman
Originally published in ULTRA Cycling
The fifth annual Earth Journey Vermont Sun Triathlon was held in and around Middlebury, VT, and the Green Mountains September 13-15, 1996. This three day adventure triathlon stage race bills itself as "the apex of the triathlon pyramid." It's 327 mile swim-canoe-bike-run course is the longest on the North American Continent. The 1996 race was won for the fifth straight year by Middlebury's Steve Hare, while a new women's division course record was set by Donna Smyers (sister of Ironman champion Karen).
Earth Journey takes competitors through some of the most scenic territory on the planet. Though the field of five men, three woman, and one three man relay team was small, the athletes were tough and motivated when the gun went off at the start line at Keewaydin Camps on Lake Dunmore.
The athletes began Day One with a choice of either a 5.5 mile swim or 12 mile canoe course. Four swam and five canoed in conditions that one lake resident called the worst he'd seen in years. With wind literally blowing in every direction in gusts of up to 35mph, the lake was covered in whitecaps. Each swimmer was accompanied by a canoe escort for food, drink, and guidance, but within the first two minutes of the race, two canoe racers and two canoe swim escorts tipped over.
Montpelier's Dot Helling, unable to control her craft and bordering on hypothermia from being soaked in the lake, was forced to withdraw from the water course. Jerry Oleksa of Seneca Falls, NY tipped over four times. One swimmer's escort team just couldn't seem to paddle in the rough conditions, leaving their athlete with no source of food or guidance for the entire swim.
Hare was first out of the lake, covering the 13 canoe course in 2:37:25, followed by Smyers, who swam, in 2:54:48. Hare was paddling for his own solo entry, as well as the first of three athletes in Chris Kostman's relay team. Kostman tagged off Hare, then hit the bike course five minutes ahead of Hare, who need a few minutes to change and regroup before tackling the 95 mile bike race.
Rain threatened as the rest of the field made the transition to their bikes. The athletes raced north for 21 miles to the base of Appalachian Gap and its 1800 foot climb which finishes with a two mile section at a leg-busting 15% grade.
Kostman, of Los Angeles, CA was first at that point, but Hare wasn't far behind. He finally managed to catch Kostman 50 miles later as the two were cresting Brandon Gap, another 1800 foot climb.
As Hare was taking the lead, Kostman half-seriously kidded him, saying "What's that weird noise? I think your bike is breaking. I think you'd better stop and fix it!" Hare's bike was making a noise, and just two minutes later, while the two were racing down the other side of the pass at 55mph, the rear wheel's axle skewer broke, causing Hare to go into a long, sliding crash.
Fortunately, only the bike was disabled. Hare's support crew got him onto his spare bike and back onto the road within three minutes, albeit with road rash. Kostman had stopped immediately when his friend went down to come to his aid, but once the two were back on their bikes, the duel continued. Later, Kostman lost Hare in the Middlebury traffic and beat him to the finish. Hare, however, posted the fastest time for the day as he'd started five minutes behind Kostman at the canoe/bike transition.
A bleeding but relieved Hare said "we couldn't do the Journey without our support crews; they take care of us all the way. And we couldn't do it without the other racers. Chris Kostman and I are friends first and competitors second."
That attitude probably best illustrates what this event is all about, with each athlete finishing this tremendous adventure with support from friends and fellow racers alike.
Smyers was third overall on Day One, finishing only 40 minutes behind the lead men. Then on Day Two, she led the field up Middlebury Gap to begin the 168 mile bike race. It seemed Smyers could be the champion of all the winners.
Hare passed Smyers on the other side of the Gap in Rochester. The two then went back and forth for 30 miles before Hare pulled away. Pittsfield, VT's Craig Wood joined Hare and the duo set the lead pace up the climbs of Killington, Terrible Mountain, and Bromley. Ten miles outside of Manchester, Hare finally broke away and went on to capture the day's stage victory in 8:50:31. Wood held off a fast closing Smyers with a 9:00:12 to her 9:01:20. The predicted rain never came and sun prevailed.
Day Three's 51 mile mountain run, like Day Two's bike race, began and finished at Vermont Sun Sports and Fitness in Middlebury. And once again it was Smyers who set the early pace for the men to try to match. At one point, she led Hare by four minutes. It wasn't until mile 20, on the climb to Goshen, that Hare took the lead. Right behind him was Petawana, Canada's Andrew McLean, who closed to within a minute of Hare. Hare went on to negative split the double marathon, setting a personal record of 7:39:01.
Smyers never faltered and finished in 8:10:40. McLean just held off Helling with a 8:28:03 to her 8:29:38. McLean later described the Journey as "an awesome experience that will stay with me forever. The challenge is a life experience shared with pioneer spirits." Helling summed up her experience, saying "truly a journey through adversity amidst the splendor of Vermont."
Hare's three day cumulative time was 24:13:31, making it the second time he'd won all four events in his five victories. Smyers was first overall and second woman in a new record time of 25:35:12. Middlebury's Joe Carrara anchored Kostman's team on the run, bringing the Journey's first ever relay team in third overall and setting a new team course record of 26:19:33. Albany, NY's Scott McMahon was fourth in 27:46:09, while Wood was fifth (27:51:56), McLean sixth (28:48:03), and Oleksa seventh (29:45:31).
Ripton, VT schoolteacher Sue Ogilvie was the last Official Finisher at 33:01:11, giving this year's Journey the tightest finishing spread ever. Passing under the finish banner after her strong 9:55:30 run, Ogilvie simply stated "I did it. I did it," crying with tears of joy and relief. Helling completed the rest of the Journey after DNF'ing the water.
Race Director Tom White commented, "This event goes far beyond racing. These unique athletes have experienced a physical and mental challenge of incredible magnitude."