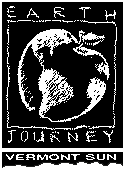 Earth Journey Vermont Sun:
The Original Adventure Triathlon
By Steve Hare and Chris Kostman
Originally published in ULTRA Cycling
Middlebury, VT. - Four men started and four men finished the 327 mile odyssey that is known as Earth Journey Vermont Sun in September 1995. For the fourth straight year Middlebury's Steve Hare won the three day stage triathlon in 24 hours and eight seconds. For the third time Middlebury's Dick Foote was in second in 26:12:25. First time contestants Cory Malzac of Bristol was third (30:05:46) and Los Angeles, California's Chris Kostman was fourth (34:18:13).
The journey is much more than a race. "It's a celebration of fitness," according to Hare, founder of the four year old event. Hare explained, "the Journey lets you explore much of the beauty of Vermont while you discover what you"re body and mind are able to accomplish."
The athletes began their adventure at Keewaydin camps in Salisbury with a choice of a 5.5 mile swim or 12.5 mile canoe. Foote and Hare canoed while Kostman and Malzac swam in Lake Dunmore. A stiff north wind slowed times considerably. Hare was first off the lake in 2:30:37, which was 23 minutes slower than his best. Foote followed in 2:45:19, then Malzac 3:29:10 and Kostman 4:28:14. The day concluded with a 95 mile bike ride that took the athletes over the towering Appalachian Gap, over Grandville Notch, and back to the valley over Brandon Gap. They finished at Vermont Sun Sports and Fitness Center with Hare extending his lead, finishing in 7:34:56, followed by Foote (8:37:08), Malzac (9:09:50), and Kostman (11:23:39). Through out the entire Journey, the racers are accompanied by their support crews in vans or cars. These crews keep the athletes fed and hydrated. They also carry plenty of spare clothing and equipment.
Day two was spent entirely on the 168 mile bike course. The athletes rode together from Vermont Sun in a group. Once the riders began their climb up Middlebury Gap they quickly separated. With Hare leading the way, they headed south on Rt 100 to Londondary. The fog made the cold morning feel even colder. By the time the athletes turned on Rt.11 to climb over Bromley mountain to Manchester, the sun has warmed things up considerably. Route 30 brought the riders back to Middlebury. Hare's average speed after the 100 mile mark was over 30 MPH. His time of 8:40:19 was a day two record. Foote rode 10:02:40, Kostman 10:35:22 and Malzac 11:19:32.
Day three was a 51.25 mile run that took the racers south to Forrestdale before climbing up to Goshen and north along the Ripton Ridge Rd. The forecast called for a 90% chance of rain, but not a drop fell all day. The athletes came down Bristol Notch and back to Middlebury on Munger St. and Painter Rd.
Foote won the run in 7:32:37, two minutes off his course record best. Hare was next in 7:44:53, followed by Malzac's 9:34:24, and Kostman in 12:19:22.
Kostman, an event producer who created the first Earth Journey in 1991 in British Columbia, said "I see no reason why we won't draw close to a full field (25 entrants) next year. This is a terrific race in a sensational area. I've done the Triple Ironman in France where they turn athletes away. That will happen here." Earth Journey is known as "the apex of the triathlon pyramid" because of it's length, terrain, and the fact that it is logical, ultimate goal of all athletes after completing the well-known Ironman triathlon. Earth Journey has almost 20,000 feet of climbing over the three days. The run course has almost 4,000 feet of that altitude gain. Kostman was impressed with the state's mountains. "I've climbed plenty of mountains in my career, but I've never seen so many steep grades.
At the end of each marathon day. the athletes received a massage and all the food they can eat before trying to get as much sleep as possible. 1995 was the only time since the first year that every entrant who started, finished. Next year's race is set for September 13th through 15th. In four years, a total of 30 athletes have finished the Journey. The only woman to finish was from Russia. A couple of local women as well as a few others have expressed a strong interest in competing next year.
Malzac commented, "I had so much to plan for the next day that it was hard to get sleep each night. My support crew took great care of me and made my finish possible."
After his fourth Earth Journey finish, Foote, asked if he would do it again said, "Absolutely, this event is a barometer for me. After finishing the Journey, everything else in life seems simpler."
The fifth annual 1996 Earth Journey Adventure Triathlon will take place September 13-15. Hare, Foote, and Kostman will race again, as well as multiple RAAM entrant Premananda Childs, in an expanded field that will also include several women. For information, contact Steve Hare at Vermont Sun Sports and Fitness 88 Exchange Street Middlebury, VT 05753. Phone or fax 802.388.6888.