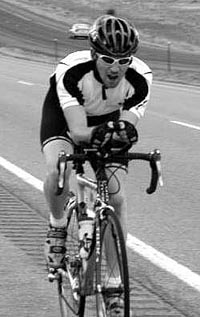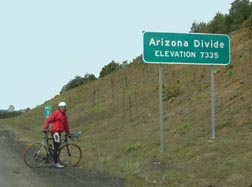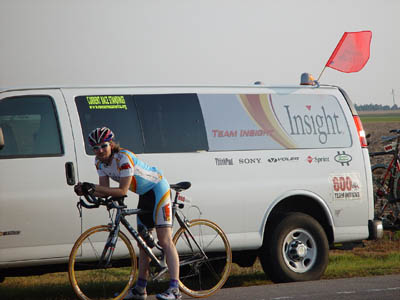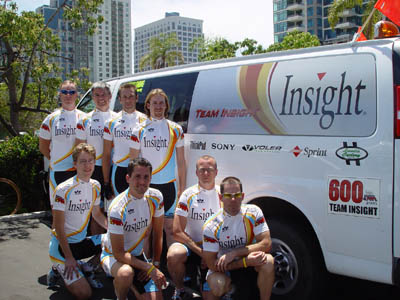 Young Guns: Profile of Derek Slife
By Chris Kostman
Originally published in Ultra Cycling, July-August 2005
Derek Slife, age 24, of Chandler, AZ is a software developer for Insight and was the third youngest competitor in all of RAAM 2005. It was his second year competing on Team Insight in the eight-person corporate team division. Here are some of his thoughts about the experience.
CK: How and why did you decide to race Team RAAM with Insight?
DS: I made the transition from recreational cycling to competitive cycling when Team Insight was forming to compete in the 2004 RAAM. I've always tried to find challenges in life, simply because they make life worth living. This was the biggest undertaking, which I had ever been exposed to. Until then I was only a recreational cyclist with no racing background.
In 2004 I was the rookie on a team of very experienced cyclists. Every team member helped coach and support me in this new challenge called ultra cycling. A competitive spirit was created between all of the riders on the team, driving every one of us to become stronger cyclists. It turned out that this wasn't only a transition in my cycling, but a transition in my lifestyle.
CK: What was Insight's strategy / rider rotation plan? Did it work?
DS: We split the crew and riders into an 'On-Shift' and an 'Off-Shift' group. Each group took an eight-hour shift. Riders within each group rotated based on the terrain for that particular shift. There are always improvements, which can be made to a strategy, but overall, this year's strategy proved out to be very successful. [Insight finished first in 6d 11h 33m in the eight-person division, 3.5 hours ahead of Team Donate Life.]
CK: What's the hardest part of eight-person RAAM?
DS: The hardest part of an eight-person team isn't the riding; it comes down to the logistical preparation and execution before and during the event.
CK: How much sleep did you get?
DS: Most riders on Team Insight, including myself, slept for three to four hours per day. Most of the crew got even less.
CK: What did you eat?
DS: Primarily Ensure™. Then fruit, sandwiches, various bars, and Hammer drink mixes filling in occasionally. Also (this makes soloists and other divisions jealous) every 16 hours the 'off-shift' riders and crew would get to stop for a hot meal at the closest restaurant.
CK: Did you have any physical problems?
DK: I personally suffered no physical problems. However, we had a few teammates suffer from sickness and even crashes. Our preparation and experience allowed us to continue without much degradation of speed.
CK: In May you set a strong, solo Arizona E-W record, 345.9 miles in 23:03, which was 15.0 average mph into the prevailing headwinds. Why did you want to do a record? What do you learn from it?
DS: My continuous goal in cycling is to continue to challenge myself physically and mentally by always going faster and further than before.. This record seemed like great preparation for my crew and I. The record attempt also allowed us to keep costs and time away from home to a minimum by staying in the state we live. I learned a great deal from this experience.
I was thankful for the great information, which is present on www.ultracycling.com. I was unaware of the amount of non-riding preparation, which is required to be successful in an event of this nature. The resources and articles helped me create an excellent plan. The plan then was executed nearly flawlessly by my crew and me.
CK: Did setting the solo record help you for eight-person RAAM?
DS: Not particularly. The riding which takes place on an eight-person team should be compared to time trial riding: ride as fast as you can until another rider is available to transition for you, then do whatever you can to help your recovery for the next upcoming time trial ride. In a solo record setting attempt, the intensity level is much lower.
CK: What's next? Any thought of doing a RAAM qualifier? Of taking on solo RAAM?
DS: Shortly after my first RAAM I competed (as a soloist) in the October 2004 Tejas 500 RAAM qualifier but had to withdrawal at 320 miles because of knee injury. I plan to complete in many other RAAM qualifiers in the future.
Next year, a team mate from Team Insight (Eric Tidd) and I will be completing in the two-person division of RAAM.
Within my lifetime I will be an official finisher of solo RAAM.
CK: Other than writing you a check for several thousand dollars, what can the UMCA do to help younger riders like you?
DS: If not a check, how about cash? That would be nice!
But, I found the most beneficial thing that the UMCA could do is coach, support and foster new upcoming riders. This really isn't a call of action to the UMCA, but its members. Take the initiative and offer support and advice to new young interested riders. All members should continue to build excitement by sharing your ultra cycling experiences at group rides, with friends, family, and young riders.
For Slife's account of his cross-Arizona record go to:
www.ultracycling.com/records/arizona_record2005.html.