Cirque du Cyclisme:
Classic Cycling's Best Kept Secret
By Chris Kostman
Originally published in Vintage Bicycle Quarterly, V3.4, Fall 2005
View the 2005 slideshows for this event: One - Two - Three - Four - Five - Six

The 8th annual Cirque du Cyclisme, held April 29 to May 1, 2005 was a celebration of vintage and classic bicycles held in and around Greensboro, NC. I attended in 2004 on a lark and came away awed and quite certain that I'd attend again this year. One might think it's "all about the bike," and certainly bicycles, their history, and their lore are central to the Cirque experience. In reality, though, what one enjoys the most and remembers most vividly is meeting, hanging out, and riding with nearly 150 friends, peers, idols, riders, historians, and builders from across North America and beyond. This three-day extravaganza is organized by Dale Brown, a venerable and affable bicycle shop owner, and hosted by his shop, Cycles De Oro, along with the local bicycle club, Greensboro Velo Club.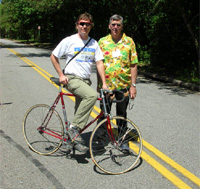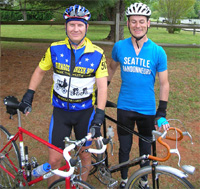 Basically the Cirque is an unending stream of all things cycling. One gets little sleep and the jaw gets as tired as the legs, both from the non-stop conversation and from being slack-jawed at all the beautiful and creative bicycles, both old ("vintage") and brand new ("classic"). The whole event has an incredibly nice feel about it: each activity, ride, event, and meal just led to the next thing. There was clearly a sense of "I don't want this to end" the whole time, as evidenced by attendees gathered in the hotel lobby and elsewhere at all hours of the day and night, always taking every opportunity to enjoy one another's company and share in their mutual love of classic bicycles and their riders.
A particularly neat feature of the Cirque is that many frame builders attend, participate, show bikes, and, best of all, many of them ride their bikes! This was a real treat, rolling down the country roads with the likes of Richard Sachs, Peter Weigle, Ed Litton, Bruce Gordon, Simon Firth of Bilenky, Doug Fattic, Jamie Swan, Darrell McCulloch of Llewellyn, Wesley Gadd, and others.
The intellectual centerpiece of the Cirque is the four hours of seminars held on Saturday. This year's program kicked off with Canadian frame builder Mike Barry of Mariposa Bicycles fame. He's led a very long and interesting life in the world of cycling (still does, too) and he tied that into a slideshow presentation about the history and development of the derailleur. Next up was a three-man tag team covering the history of French bicycles, from the day the bicycle was invented in France up to the present. This was presented in alternate chapters by David Herlihy, author of "Bicycle: The History," VBQ publisher Jan Heine, and vintage collector and expert Mike Kone. Of particular interest were the classic French randonneur bicycles with 650B wheels, many of which were on display. One of these had quite a few "modern" details: top tube and down tube ovalized at one end, all aluminum construction, and clamp-on stem, for example. The final presentation was by noted British bicycle historian Hilary Stone who spoke about the French builder Bastide and the impact their bikes had on bicycle design across the channel in England.
Other Cirque activities on Saturday included a banquet dinner at which a preview of a new documentary about the Six Day Races was shown and a late-night auction in the back of Cycles De Oro that clears out a lot of closets and garages while raising money for charity. Sunday featured another morning ride, then a swap meet and amazing show of classic and vintage bicycles. These are ogled by everyone in attendance while a panel of experts selects the "Best French," "Best Italian," "Best Lugs," "Best Paint," and the like. Perhaps the most coveted award is the "People's Choice" which this year went to first-time participant Bruce Gordon for his neo-retro steel classic with hammered fenders, one-of-a-kind titanium front rack and accessories, along with the latest Dura-Ace 10-speed group.
For me, there were two highlights in particular. The first was trading bicycles during the Saturday ride so that I could ride a 650B-equipped 1952 René Herse "Camping Bike." Even though the Herse had tyres twice as wide with half the pressure as my Ritchey Breakaway, not to mention twice as many spokes, its ride was shockingly quick and comfortable, like riding sew-ups. The second highlight was taking frame builder Ed Litton's 2005 bicycle for a spin. With lugs resurrected from an old Italian Atala, plus a Cambio Corsa four-cog gear changer from the 50s, it's literally a bridge between old and new classic bicycles. Ed's (re-)creation of that bike, coupled with myself and others riding it, brings alive a period of time long gone by, but not forgotten. That's the Cirque du Cyclisme in action!
For more info on the Cirque, visit www.classicrendezvous.com.