Bill Walton (born November 5, 1952), is a retired American basketball player and television sportscaster. The "Big Red-Head", as he was called, achieved superstardom playing for John Wooden's powerhouse UCLA Bruins in the early '70s and winning three straight College Player of the Year Awards and went on to have a prominent career in the NBA. Walton was inducted into the Basketball Hall of Fame on May 10, 1993 and the Oregon Sports Hall of Fame that same year. He is the father of current Los Angeles Lakers forward Luke Walton. - Quoted from Bill's bio on Wikipedia
Less known is Bill's passion for bicycling, which dates to his college days at UCLA where he used a bicycle for transporation, in part because it allowed him to get around the campus without getting stopped so many times by fans, and beause he found cycling to be excellent cross-training for basketball. (See his book's Introduction at the bottom of this page.)
Bill first rode with us at the 2005 Fall Death Valley Century. He's been back for the 2006, 2007, 2008, 2010, 201, editions since then and we've become friends along the way. His enthusiasm for cycling, and for life itself, is invigorating. Not surprisingly, his wife Lori is also wonderful and one-of-a-kind. She and the wives of three of Bill's riding buddies provided outstanding support along the course in 2007. Since then, the "AdventureCORPS Event Staff" magnetic sign they used has been a permanent fixture on Bill's car in San Diego and Lori has been back several times to support the riders.
Here's what Bill had to say about his first ride with us, which you can also hear by clicking the first Go! button below:
"Hello, my name is Bill Walton and I'm just calling to thank you, thank you, thank you from the bottom of my heart for the incredible Death Valley adventure ride we just did up there last Saturday. I've never had more fun and it was my first time ever to Death Valley. You guys are remarkably professional. It was just such an exhilarating experience for me and I want to thank you for turning me onto one of the greatest spots on earth AND one of the truly fantastic events that I have ever had the privilege of being a participant in. You guys are unbelievable. You have so much to be proud of and I can't wait to start searching your website, adventurecorps.com, for more events in more fantastic, phenomenal places. Thank you, thank you, thank you. It could not have been better. We all had the time of our lives. You guys have a lot to be proud of. Way to go. Congratulations and one more time, thank you, thank you, thank you. We love adventurecorps.com. We love Death Valley. All right, you guys are the greatest. Bye now Thank you so much."
And to that we reply, "Thank You, Bill! It's a pleasure to know you and to have you enjoy our rides!"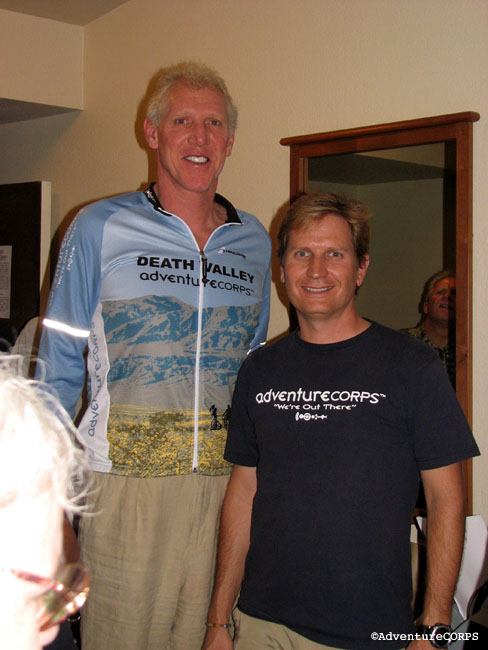 Bill shows off his custom XXXL Death Valley jersey with Chris Kostman
during check-in for the Fall Death Valley Century, October 2008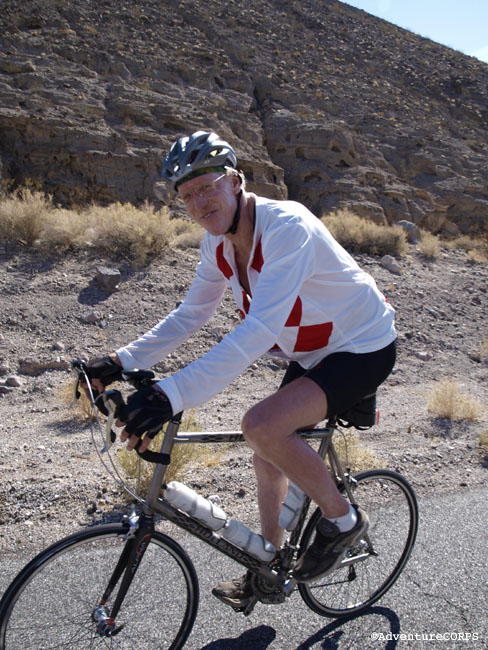 En route to Scotty's Castle in October 2008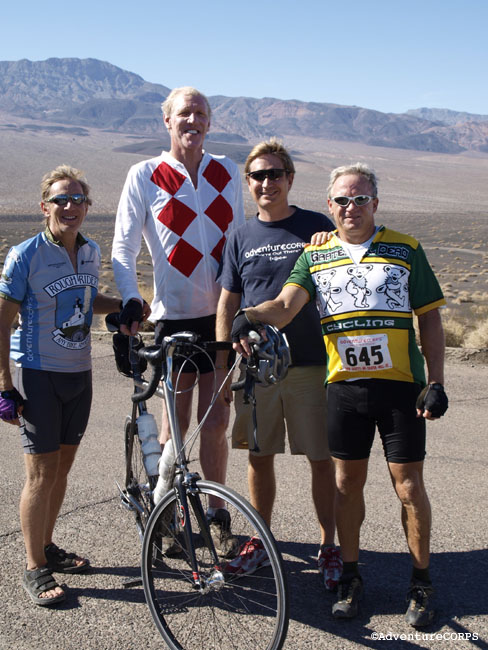 Bill Walton and friends at the Ubehebe Crater during the Fall Death Valley Century
in October, 2008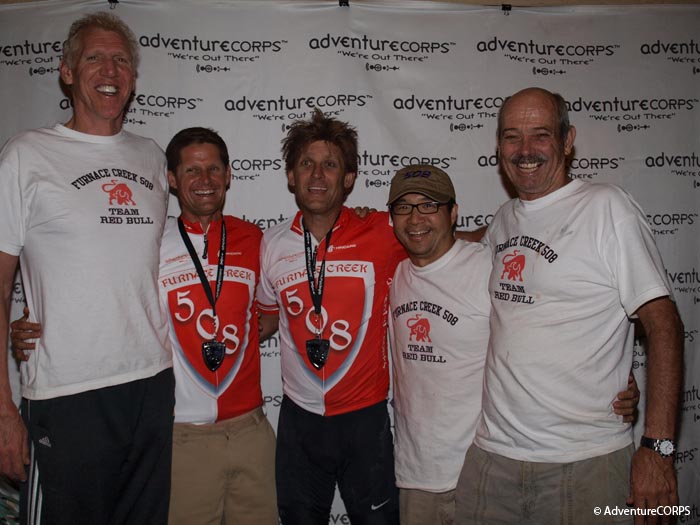 Bill was on the support crew for 2x Team Red Bull at the 2010 Furnace Creek 508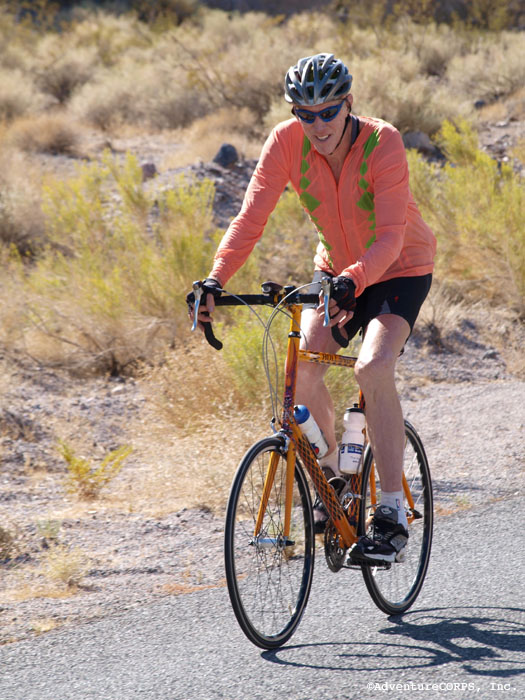 Bill heads to Scotty's Castle during the Fall Death Valley Century in October 2010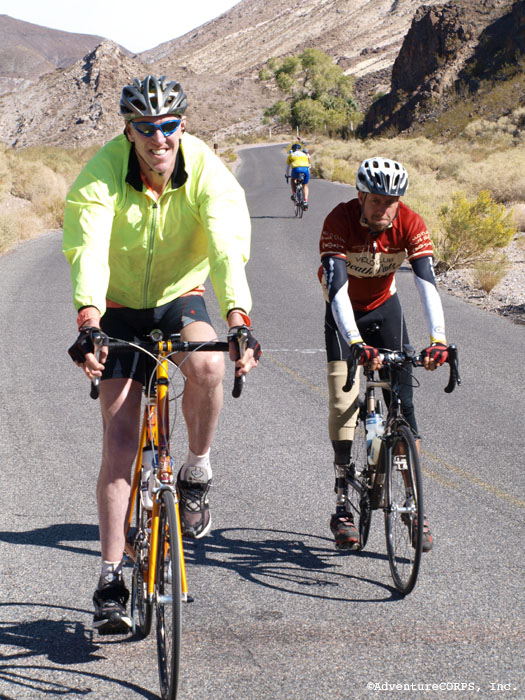 Bill and CAF athlete Brad Geertesen descend from Scotty's Castle during
the Fall Death Valley Century in October 2010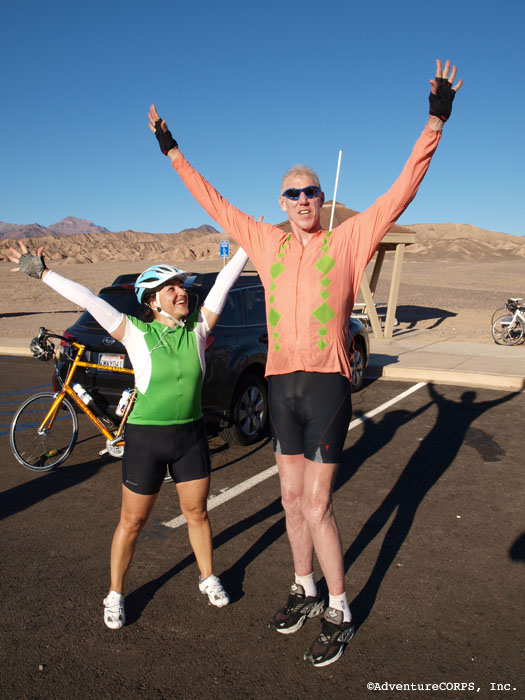 Bill makes friends everywhere he rides, including during the Fall Death Valley Century in October 2010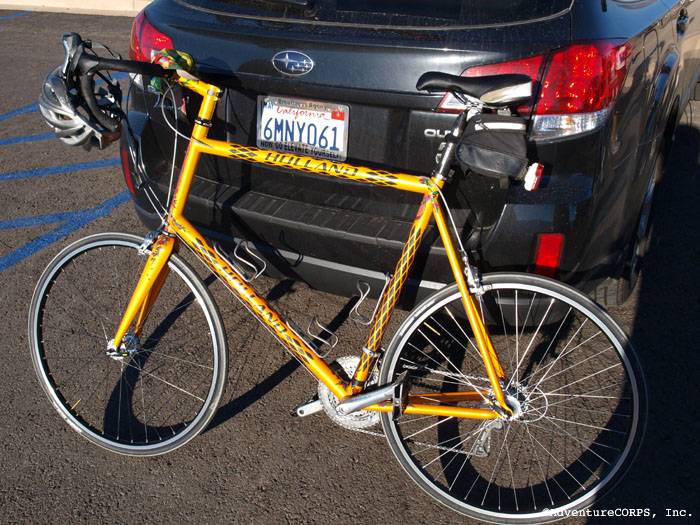 Bill's custom Bill Holland ti-carbon exo-grid bicycle at the Fall Death Valley Century in October 2010.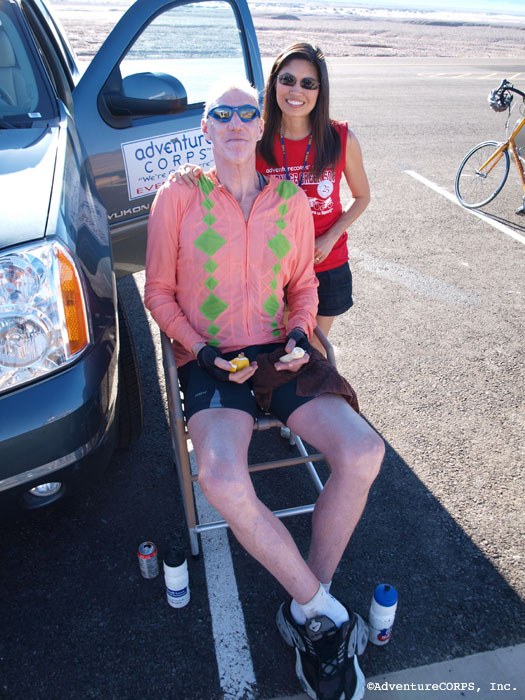 Bill with his lovely wife Lori, also a loyal AdventureCORPS supporter,
during the Fall Death Valley Century in October 2010.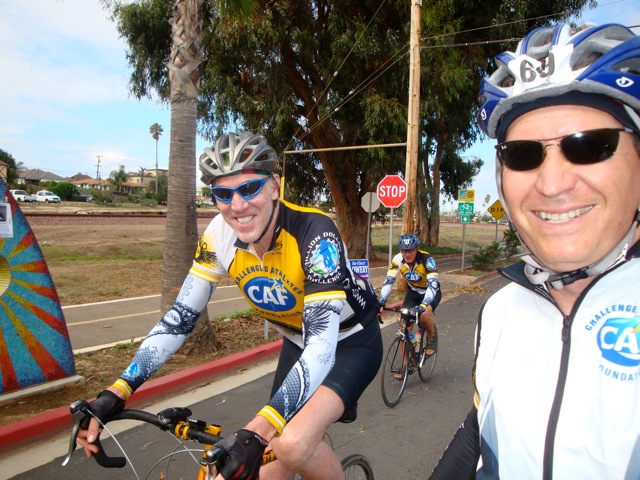 Bill with Chris Kostman during the 2010 Million Dollar Challenge, a seven-day, 620-mile ride from San Francisco to La Jolla to support Challenged Athletes Foundation.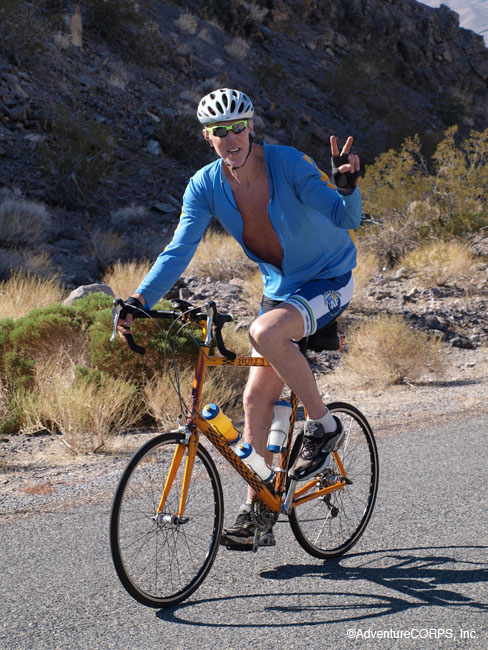 Bill heads to Scotty's Castle during the Fall Death Valley Century in October 2011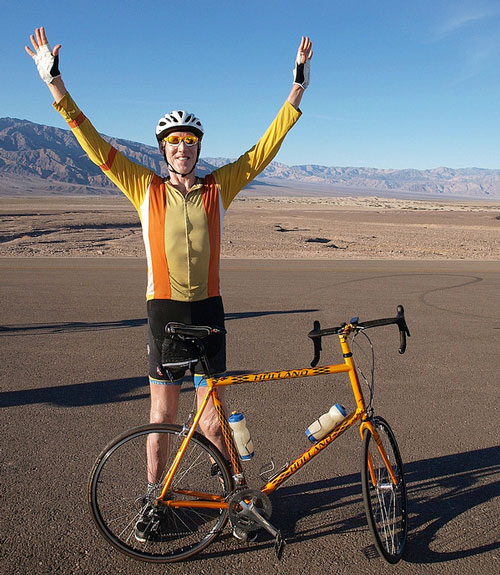 Bill strikes his favorite pose during the Fall Death Valley Century in October 2012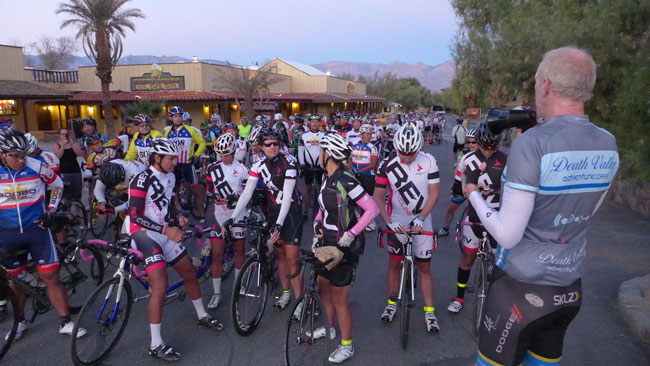 Bill gives words of encouragement prior to the Fall Death Valley Century in October 2013.
---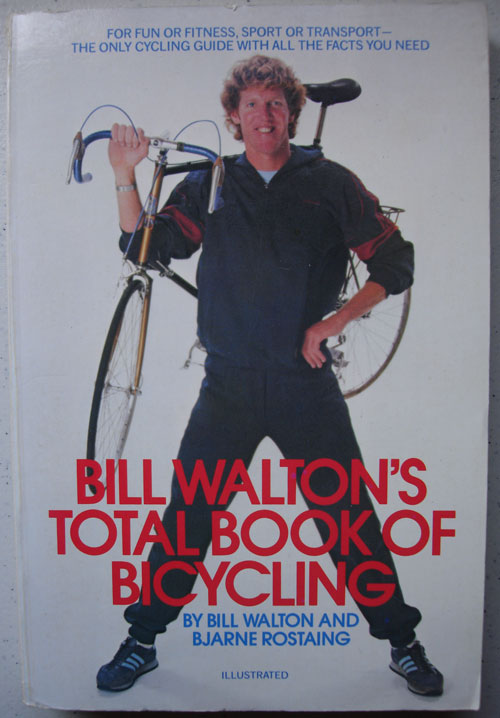 Here is the Introduction from "Bill Walton's Total Book of Bicycling:
I wasn't surprised when U.S. riders swept half the cycling events at the Los Angeles Olympics and took more medals than anyone else. I had trained with members of the 1980 team in San Diego, and it wasn't easy keeping up with them. Anyone could see the sport here was taking off and I was glad of it, being a lifelong cyclist and enthusiastic member of the so-called "bike boom" of the seventies. Bicycles have been part of my life for a long time.
I was six years old when I rode a bicycle for the first time, and I still remember that experience clearly. The bike belonged to my older brother Bruce, and I'd been watching him ride long enough that I had the idea. As I recall, I just got on, Bruce gave me a push, and I rode it away. I'd been doing it in my imagination for some time, and it came naturally.
We lived on a hill, so I rode down the hill, and then I learned something else about bicycles when I rode back up. It really made an impression on me because it was a whole new way of moving, completely different from walking or running. It was a lot of fun - faster and more exciting, the kind of thing you tend to remember. It gave me a feeling of independence I really liked.
After that I was into bikes. As soon as my folks would allow it, I was riding all over San Diego, back and forth to the beach, everywhere. After a while I couldn't find bikes to fit, but I always owned one. I rode to get where I wanted to go, but it always felt good. These were one-speed bikes I was riding, your basic bicycle, nothing expensive, and it wasn't until years later, when I was at UCLA, that I started riding nice ten-speeds. I really appreciated the way this kind of bike responded, and expanded your range. Cycling became my alternate sport, though I didn't think of it that way. It was a pure pleasure activity, and a healthy and productive one, I might add. Also it was to some extent an escape from the pressures of life. I could work things out on a ride.
My first derailleur bike was a green Bertin, which I bought because it was the tallest bike I could find - about a 25 1/2? frame, I think. It came from Hans Ort's Westwood bike shop, and they fixed me up with an extra-long seatpost which let me stretch out my lefts for the first time in years. It also gave me a pretty radical position on the bike, since the handlebars were about five inches below the seat. After buying the Bertin, I took to dropping in at Hans' shop when I had free time, and it was there that I found out about more serious cycling. I went out on rides with the guys who were racing, and through this I learned to respect the sport and the people involved in it. On the bike I was no start, just one of the group.
In college I got in the habit of riding quite frequently, especially in summer. Usually 40-60 mile rides, long enough to loosen up and unwind. I would do that probably four days a week during the summer. A couple of hundred miles a week, probably. I never consciously rode for fitness, but I know now that those rides were very beneficial in a variety of ways. I'm sure they gave me stamina and leg strength without putting stress on my knees and feet, and it never felt like work. It was the kind of activity that settled me down. I've always had to respect what a good ride can do for my mood. Going out on a bike is my idea of an excellent way to enjoy a sunny day. Being outside, getting into the movement and joy of the bike - it's very satisfying to me, that feeling of freedom.
I took advantage of something else about the bicycle then, too: the privacy. There were a lot of basketball fans at UCLA and it could be difficult to cope with this at times. Between playing basketball and attending classes, I needed to get away, so I rode around campus rather walking. On the bike I was a lot less vulnerable, you might say; I was moving too fast for conversation. The bike gave me time by myself to digest the experiences I was having, and this was really important to me.
I finally hammered that poor Bertin to the point where I needed something new, and was lucky enough to meet a British professional rider named Norman Hill. He runs the Vancouver velodrome now, but at the time he was associated with the Falcon team. He arranged for me to get a road and a track bike. These Falcons were a necessity, actually; my size and weight were wrong for any stock bike. The were made of stronger tubing and had less flex; and I could feel the difference, especially when hammering a big gear or climbing hills off the saddle. My first ride with the track bike was a completely new experience, and I found I was still learning a lot about bicycles. These bikes were still a little on the small side, though; manufacturers aren't geared up for out-size frames, basically. I measure out to a 29 1/2" frame, which creates all sorts of problems for the builder.
I might still be riding those Falcons except for a coincidence that brought me in contact with the 1980 Olympic track team, which moved to San Diego for quite some period of time to be near our velodrome. Harvey Nitz, Eric Heiden Mark Gorski, Brent Emery, John Beckmann, Dave Grylls - I can't remember all the names - they were at a hotel near my house, and I'd go out with them, riding my Falcons. I learned a lot chasing them down the road, and missed them when they left. At that time, Eddy Borysewicz, the National coach, did me an important favor, by measuring me and arranging for Ted Kirkbride, who also built the American Masi bicycles, to build me a pair of bikes that really fit. Ted sent to England for special heavy tubing normally used on tandem bicycles, then built me both a road and a track bike, and they were just fine. It way my first experience with what it's like to be on a bicycle that really fits and has good rigidity, and I can vouch for the advantages of this. These aren't neighborhood bikes though, and I also have a stock Nishiki with butterfly handlebars that I knock around on.
Over the years I've thought about what is so different and unique about riding a bicycle. It's not easy to define; I have to compare it to other things I really like, such as rock music and basketball. A bicycle gives me a special combination of rhythm and speed that is continuously exciting, and it's different all the time. There's a freshness to it.
I rely on my bikes for this, and often wished to communicate these feelings, but I never did anything about it until Bjarne Rostaing spoke to me about the possibility of doing a book several years ago. Not a specialist's book, but an introduction to the bicycle with basic useful information about all aspects of the bicycle and how to enjoy it, rather than just purely mechanical things. It passed from my mind until half a year later, when Bjarne wrote me about the idea. I spoke to some cycling people we knew in common, and I got a positive impression. This is the book we came up with and I think it covers the territory. I could definitely have used a copy back when I was learning things the hard way.