AdventureCORPS Presents the February 26, 2011 Death Valley Century, Ultra Century & Double Century
The first AdventureCORPS event of 2011, held February 26, was a ride to remember and Montana Timing was there to document it all and provide semi-live online results. After forecasts had been predicting rain with snow down to 2000' in the Valley, riders left a sunny Furnace Creek southbound into a tough headwind. That's not uncommon for this ride, but usually there's a nice payback on the return. Mother Nature can be cruel, however: Most rode some of, or all, the way back from their turn-around point into a headwind as well. Although it neither snowed nor rained, it was cold and the wind was blowing at 20, 30, or more miles per hour. It made for an extremely challenging day for everyone, including the hard-working and praise-worthy volunteers. 324 riders began the event: 73 completed the 105-mile century, 33 completed the 150-mile ultra century, and a mere ten riders completed the double century. Still, the feedback has been positive and the memories will last a lifetime. We salute everyone for lining up, and heading out, to face whatever fate had in store!
We also want to thank Montana Timing for trekking down from the Big Sky State to provide chip timing for all the riders. Their job was made difficult by the huge numbers of riders who switched divisions (from ultra to century, from double to ultra, for example), or who DNF'd and were driven to the finish line, often "going missing" in the process. It made for a lot of confusing data to sort out, but Montana Timing's Jennifer, Bridget, and Sheamus handled it all with aplomb. We learned a lot that day which will streamline the timing of all our events in the future. Thankfully, Montana Timing will be on board to chip time ALL the 2011 AdventureCORPS events, including the Badwater Ultramarathon in July, Furnace Creek 508 in October, as well as Hell's Gate Hundred on March 26, Mount Laguna Bicycle Classic on April 16, and the Fall Death Valley Century, Ultra Century, and Double Century on October 29. We hope that many of the wind-blown super stars of this ride will join us!
Attesting to the wide-ranging popularity of this ride, we had riders from no less than 23 American States, plus Canada, as you can see in the BatchGeo map below: AK, AZ, CA, CO, DC, FL, IA, IL, IN, KS, MD, MI, MN, NV, NY, OH, OK, OR, TX, UT, VA, WA, and WI!
View 2011 Spring Death Valley Century, Ultra, & Double in a full screen map
Thanks to the wonderful volunteers who made it all happen!
Badwater: Team Swarm: Brian & Jenny Davidson, & Genevieve Maxwell, plus Tommy Gaebel
Ashford Mill: Chris Hanson, Saralie Liner, Alice LaRue, and Mary LaMew
Jubilee Pass Century Turn-Around: Steve & Karen Gray, plus Bridget Voorhees of Montana Timing
Salsberry Water Stop: Ken and Muriel Orr
Shoshone: Tim Kjenstad, Martin Lyons & Stan Pochop; Gary Bear Baierl and family
Stovepipe Wells: Christine McBride, Lisa Andersen & Mike Andersen, plus moral support from Ken & Theresa Guralnik
Furnace Creek: Joe Gargoyle Garza, Jeff Brown Bear Bell, Donna Wason, Robin Nash, Regina Graham, Gary Bear Baierl, Tim Kjenstad, and others
Chip Timing: Jennifer Drinkwalter, Sheamus Conley, and Bridget Voorhees of Montana Timing
SAG: Lee Maggot Mitchell, Mike Angelfish Angelos, Imre Udvardy & Vince Pacheco of Adobo Velo, Doug Goodwin, Mark Martinez, and Chris Kostman
Subway Special Delivery: Joe Gargoyle Garza
Special thanks are also extended to the wonderful people at the Furnace Creek Inn and Ranch Resort, the Subway of Pahrump,
Liberty Ambulance of Ridgecrest, the National Park Service, and Cal Trans in Bishop.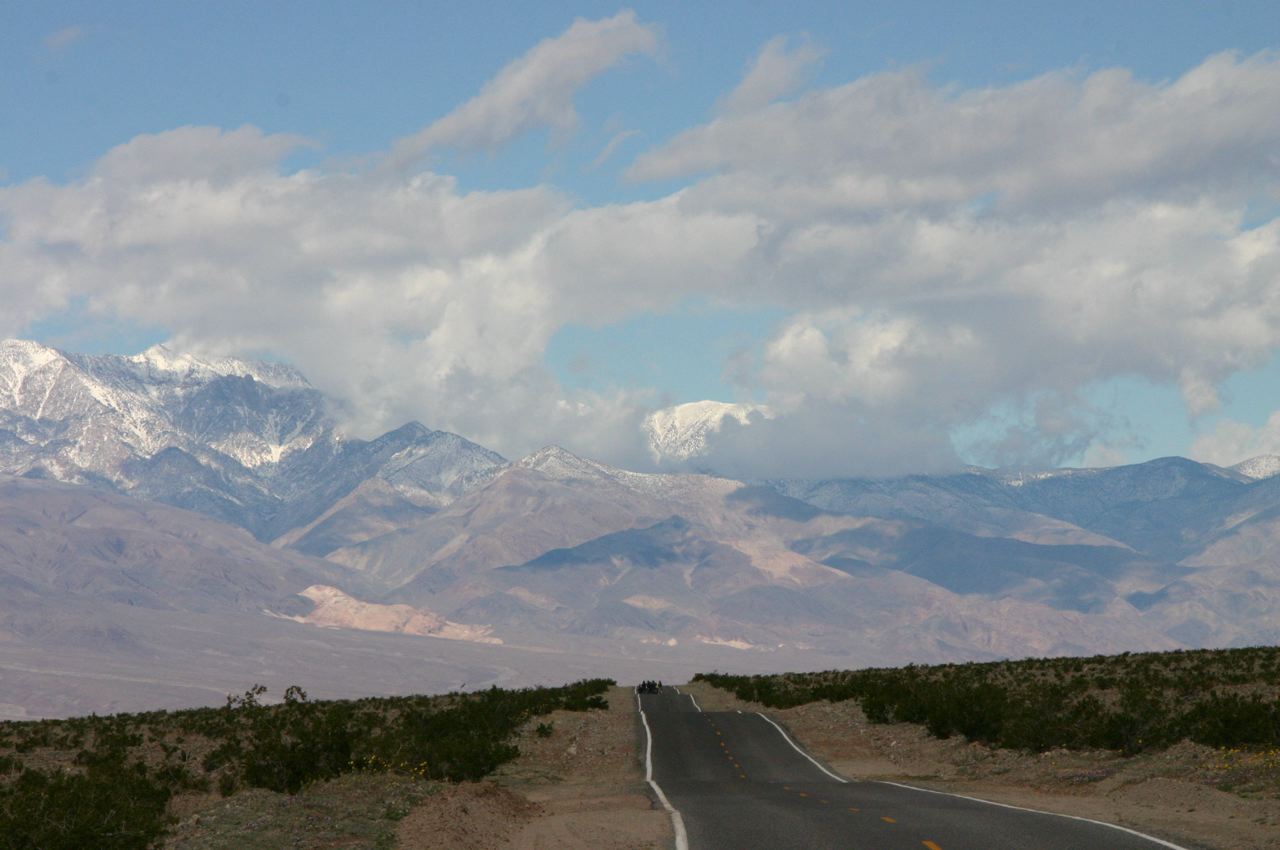 Photo above by Mike Angelos: The snow-capped Panamint Mountains, including 11,000' Telescope Peak, on Feb 26
| | |
| --- | --- |
| | Show 1: Chris Kostman: Furnace Creek - Badwater - Ashford Mill |
| | Show 2: By Chris Kostman: Jubilee Pass, Part One |
| | Show 3: By Chris Kostman: Jubilee Pass, Part Three |
| | Show 4: By Chris Kostman: Jubilee Pass, Part Four |
| | Results by Montana Timing |
| | Blog report by George Red-Eyed Vireo Vargas, first double century finisher |
| | Blog report by John Josephs, ultra century finisher |
| | Blog report by Gordon McGregor, century finisher |
Here are just a few highlights of the 350+ photos we have online here from this event (click any of these thumbnails, or any of the slideshow links above!):

Awesome, Unsolicited, Totally Appreciated Feedback!
Thank you guys a lot for putting this event together. I have never been to Death Valley and came back very impressed. The support that you provided for the ride was exemplary. The weather conditions are obviously uncontrollable and those winds will forever be on my list of the strongest winds I have ever ridden in. I am curious as to what the wind gusts were during the ride. It was unbelievable that the wind shifted in the afternoon. Nevertheless, it was a great event and thanks again. - Kevin Johnston
I had a great time while it lasted! Didn't have it in me to be competive for 200 miles yet. Your support staff were top notch, very friendly and helpful. Death Valley is the most incredible place on the planet. Again, thanks for all you do. - Till next time, Eric Red Rooster Wilson (Note: Eric did not DNF the double century, he was the first Ultra Century finisher.)
Thank you, Chris, for another wonderful visit to beautiful Death Valley. You did a great job on the organization of the ride, even with some difficult weather related circumstances. - Thanks again, Martin Lyons, volunteerWill you please use my ride credit to sign me up for the Hells Gate 100 and let me know what paperwork you'd like me to complete?
I just wanted to thank you and all the volunteers for such an organized, epic, challenging ride! I did not finish this year, as the wind was just too hard for me to contend with in both directions. I was able to make it 94 miles. The support throughout the ride was great, from the volunteers who had to also survive the winds to all the SAG vehicles and to the race for allowing us to get a discount at the Furnace Creek Inn. It was a great weekend, I won't forget... and I will be back to finish my "unfinished" business! - Thank you, Cherryl Rose
I was one of the many who did not complete the Century on Saturday. Hands down, the toughest 75 miles I've ever done. The wind in Long Beach is a light breeze at worst, and any time I'm coming home against head wind after a long day of work work, I'll keep my mouth shut.
I can't wait to try again next year. Many thank yous for an experience I will never forget.
On a side note, the two men who "SAG'd" me in were wonderful. I was a bit out of it so I didn't catch their names, but I've nothing but kind words for them. They mentioned they were on their third trip picking up riders, and refused to take gas money from one of the other riders. They were back on the road once we had all our gear. True gentleman. - Eric McLaughlin (Note: Eric's two heroes were Imre and Vince from Adobo Velo.)
Way to go, Chris and the AdventureCorps team. Despite the extreme winds this was once again another well supported, first class endurance event and the incorporation of Montana Timing was an extra delight. See you at the next adventure, "we're out there" with you, - Steven & Julie Tiede
Wanted to say thanks for putting on the Spring Century ride in Death Valley. We talked a little at the top of Jubilee Pass and you took a few pictures for me because my phone had died.
Had a great day, wanted to share my blog report on the ride. The ride seemed really well organised and supported and despite the weather I had a great time. Thanks again, Gordon McGregor
Thank you for organizing such a great event. I had signed up for the double century but the winds defeated us as they did most people and we did 100 miles instead. My friend Sean Maytum and I took your advice and wore our wool, even bought full gloves and booties and they made all the difference. It was still a very memorable and unique experience and I would like to try the double next year. Thank you, Alex de la Hidalga
Official Results, courtesy of Montana Timing

324 starters: 73 century finishers, 33 ultra century finishers, and ten double century finishers.
| | | | | | | | | |
| --- | --- | --- | --- | --- | --- | --- | --- | --- |
| Elapsed | Distance | First | Middle | Last | M/F | City | State | Bicycle Club |
| 7:15:24 | Century | Mark | Joseph | Ryan | M | Phoenix | AZ | team one |
| 7:51:09 | Century | Marco | | Soldano | M | San Jose | CA | Team Wrong Way |
| 8:07:00 | Century | Maurizio | | Gavardoni | M | San Jose | CA | Gavardoni Velo |
| 8:41:37 | Century | Terrence | Anthony | Bauer | M | Salinas | CA | None |
| 8:43:38 | Century | fred | | winney | M | porterville | CA | Riders of Kawasaki (ROK) |
| 8:44:36 | Century | SCOTT | | LEWIS | M | PARK CITY | UT | Bonneville Bicycle Club |
| 8:45:51 | Century | Michelle | | West | F | Santa Monica | CA | None |
| 8:54:28 | Century | Rod | | Murphy | M | Palm Desert | CA | SCPD Desert Cyclists |
| 8:55:36 | Century | Gerry | W | Platt | M | Elmira | OR | Becher+ |
| 8:55:37 | Century | Cameron | | Estes | M | Henderson | NV | None |
| 9:01:36 | Century | Steven | A | Tiede | M | Bishop | CA | Rovana Ridge Riders |
| 9:12:06 | Century | Mark | | Smith | M | Yucaipa | CA | None |
| 9:15:01 | Century | paul | C. | Shattuck | M | walnut creek | CA | None |
| 9:20:23 | Century | larry | w | bolander | M | pacifica | CA | davis |
| 9:26:03 | Century | Paul | | Pongetti | M | Orange | CA | Team no Training |
| 9:27:22 | Century | Jessica | | Chan | F | Los Angeles | CA | Swarm! |
| 9:27:28 | Century | Chris | | Welch | M | Berkeley | CA | Team None Shall Pass |
| 9:30:33 | Century | Andy | | Smith | M | Olympic Valley | CA | Olympic Bike Shop |
| 9:31:52 | Century | Donald | | Cartwright | M | Berkeley | CA | Diablo Cyclists |
| 9:40:26 | Century | Gordon | | McGregor | M | Dripping Springs | TX | Austin T3 |
| 9:49:15 | Century | Sebastian | | Maurer | M | Los Angeles | CA | None |
| 9:51:19 | Century | Mark | | Stepovich | M | San Jose | CA | Poseur Nation |
| 9:55:23 | Century | Gretchen | | Warner | F | Stevenson Ranch | CA | G&R |
| 9:55:27 | Century | Steven | Hugo | Mattson | M | Venice | CA | Swarm! |
| 9:56:48 | Century | Brian | | Seymour | M | Torrance | CA | Beach Cities Cycling Club |
| 10:03:24 | Century | Lloyd | P | Huff | M | Carson | CA | Beach Cities Cycling Club |
| 10:03:26 | Century | louis | w | norton | M | torrance | CA | Beach Cities Cycling Club |
| 10:10:20 | Century | Alejandro | I | Hidalga | M | Los Angeles | CA | wolfpack.hustle. |
| 10:12:31 | Century | sean | | maytum | M | los angeles | CA | Swarm!, Moth Attack |
| 10:13:31 | Century | stephanie | | figgat | F | carlsbad | CA | The Seven of Us |
| 10:14:36 | Century | staci | | spilsbury | F | henderson | NV | posuer nation |
| 10:14:49 | Century | Darrell | | Spilsbury | M | Henderson | NV | poseur nation |
| 10:16:15 | Century | David | veloceraptor | devries | M | bishop | CA | eastside velo |
| 10:16:58 | Century | Lesley | | Byberg | F | Crowley Lake | CA | Eastside Velo |
| 10:17:01 | Century | Jeffrey | Velociraptors | Byberg | M | Crowley Lake | CA | Eastside Velo |
| 10:22:11 | Century | Jon | | Mayfield | M | Orange | CA | None |
| 10:24:28 | Century | Donald | William | Ebert | M | Las Vegas | NV | BikingLasVegas |
| 10:26:00 | Century | andrew | | kagan | M | OAKLAND | CA | None |
| 10:26:06 | Century | Jim | | Pettett | M | Cave Creek | AZ | Bull Shifters |
| 10:26:06 | Century | Tatyana | | Strong | F | Phoenix | AZ | Bull Shifters |
| 10:26:07 | Century | John | | Langdon | M | Glendale | AZ | Bull Shifters |
| 10:29:23 | Century | larry | bent | kawalec | M | fremont | CA | None |
| 10:31:12 | Century | Tammy | | Renstrom | F | Petaluma | CA | AdventureCORPS |
| 10:31:14 | Century | Erin | | Devincenzi | F | Petaluma | CA | AdventureCORPS |
| 10:31:17 | Century | Alexander | | McMohon | M | Sonoma | CA | AdventureCORPS |
| 10:39:06 | Century | Terry | D | Thomas | M | Kenmore | WA | None |
| 10:40:09 | Century | Ed | | Morente | M | Carson | CA | Adobo Velo |
| 10:40:18 | Century | Paul | A | Hanna | M | Concord | CA | Diablo Cyclists |
| 10:41:05 | Century | Louie | | Rivera | M | Signal Hill | CA | Adobo Velo |
| 10:46:10 | Century | Charles | Duke | Alridge | M | Bend | OR | Sunnyside |
| 10:48:21 | Century | Michael | Lyle | Greenfield | M | Orlando | FL | None |
| 10:48:29 | Century | James | | Freeman | M | Reno | NV | Sports West |
| 10:52:41 | Century | Kristen | Mary | Lease | F | San Francisco | CA | Golden Gate Triathlon Club |
| 10:55:22 | Century | james | | powell | M | rancho palos verdes | CA | None |
| 10:56:13 | Century | Joe | | Lore | M | Rancho Palos Verdes | CA | Cinelli Classico |
| 10:58:54 | Century | Rita | | Garcia | F | San Jose | CA | SFR |
| 11:03:29 | Century | Frank | | Nativadad | M | Montebello | CA | Adobo Velo |
| 11:09:14 | Century | Cuauhtemoc | | Garcia-Garcia | M | Stanford | CA | None |
| 11:09:18 | Century | Peter | | Anthony | M | Menlo | CA | None |
| 11:09:18 | Century | Nancy | | Andrew | F | Cathedral City | CA | None |
| 11:12:13 | Century | Brian | | Recore | M | yuba City | CA | San Diego Bicycle Club |
| 11:18:03 | Century | David | Wayne | Krider | M | Pasadena | CA | None |
| 11:29:48 | Century | Stephen | Vincent | Montalto | M | Hermosa Beach | CA | Beach Cities Cycling Club |
| 11:31:06 | Century | Julie | Marie | Tiede | F | Bishop | CA | rovana Ridge Riders |
| 11:46:15 | Century | David | | Figgat | M | Carlsbad | CA | The Seven of Us |
| 11:53:43 | Century | Steven | P | ODonnell | M | Carmichael | CA | None |
| 11:53:59 | Century | Brandon | | Arnst-Goodrich | M | Elk Grove | CA | None |
| 11:57:10 | Century | Dan | | Zayas | M | La Verne | CA | None |
| 11:59:47 | Century | Becky | | Pickens | F | Hughson | CA | Turlock Bike club |
| 12:05:37 | Century | Joelle | | Gernez | F | Los Altos | CA | None |
| 12:29:40 | Century | Marco | R | Apostol | M | Cathedral City | CA | Orange Train |
| 12:40:48 | Century | Mandy | | Genata | M | San Gabriel | CA | Adobo Velo |
| 12:56:36 | Century | Tom | | Driscoll | M | Mountain View | CA | Western Wheelers |
| 14:22:02 | Century | Leonard | James | Atkinson | M | Folsom | CA | None |
| Elapsed | Distance | First | Middle | Last | M/F | City | State | Bicycle Club |
| 10:50:53 | Ultra | Eric | Red Rooster | Wilson | M | Palmdale | CA | None |
| 11:02:54 | Ultra | Michael | Fennec Fox | Fox | M | Tulsa | OK | None |
| 11:10:29 | Ultra | Daniel | | Eitman | M | Irvine | CA | ME |
| 11:20:42 | Ultra | Christopher | C | Cameron | M | Toronto | ON | NRG Performance Training |
| 11:29:51 | Ultra | Jed | | Reimer | M | Visalia | CA | None |
| 11:39:10 | Ultra | ian | | izzard | M | fort erie | ON | None |
| 11:53:58 | Ultra | Jonathan | W | Woodbury | M | Moorpark | CA | None |
| 11:56:54 | Ultra | jay | colin | grubaugh | M | reno | NV | None |
| 12:11:00 | Ultra | Craig | Russell | Wilson | M | Eureka | CA | Lost Coast Wheelmen |
| 12:12:29 | Ultra | Noah | | Kanter | M | Berkeley | CA | RUSA |
| 12:12:29 | Ultra | milly | | valdes | F | Los Angeles | CA | RUSA |
| 12:54:16 | Ultra | Ed | | Kuykendall | M | Visalia | CA | Southern Sierra Cyclists |
| 12:55:09 | Ultra | Bob | | Doyle | M | Visalia | CA | Southern Sierra Cyclists |
| 12:56:48 | Ultra | Jennifer | Lynn | Bixby | F | Lansing | MI | TCBA |
| 12:56:49 | Ultra | Paul | Trogon | Danhaus | M | Wausau | WI | Wausau Wheelers |
| 13:04:22 | Ultra | Todd | | Law | M | San Rafael | CA | Tri Club Marin |
| 13:04:40 | Ultra | Mark | Owen | Wieneke | M | Oak View | CA | None |
| 13:06:57 | Ultra | Rob | | Ramos | M | Folsom | CA | Bicycles plus |
| 13:26:21 | Ultra | Tamara | | Colbert | M | La Jolla | CA | Break a way training |
| 13:28:11 | Ultra | Al | | Ceron | M | Henderson | NV | Green Valley Cyclists |
| 13:29:13 | Ultra | Mark | A | Dolginoff | M | Henderson | NV | Green Valley Cyclists |
| 13:39:23 | Ultra | Didier | | Ryser | M | irvine | CA | None |
| 13:58:37 | Ultra | Lou | | Briones | M | Los Angeles | CA | L.A. Tri Club |
| 14:00:29 | Ultra | Jack | | Joseph | M | Oakland | CA | Grizzly Peak Cyclists |
| 14:05:44 | Ultra | Tom | | Guevara | M | Coarsegold | CA | Fresno Cycling Club |
| 14:09:02 | Ultra | Jesse | | Santamaria | M | Norwalk | CA | Adobo Velo |
| 14:09:03 | Ultra | Louie | | Fernandez | M | Bellflower | CA | Adobo Velo |
| 14:09:09 | Ultra | Roehl | | Rosales | M | Anaheim | CA | Adobo Velo |
| 14:22:02 | Ultra | Philip | | Auriemma | M | Fremont | CA | |
| 14:29:17 | Ultra | Robert | | Cleymaet | M | Reno | NV | None |
| 14:34:28 | Ultra | Randy | | Domingo | M | Irvine | CA | Adobo Velo |
| 14:39:12 | Ultra | John | | Josephs | M | Jacksonville | FL | KONA Human Performance |
| 15:21:08 | Ultra | Emilio | | Usi | M | Baldwin Park | CA | Adobo Velo |
| 15:21:59 | Ultra | Dennis | | Gorospe | M | Cerritos | CA | Adobo Velo |
| Elapsed | Distance | First | Middle | Last | M/F | City | State | Bicycle Club |
| 13:44:48 | Double | George | Red-Eyed Vireo | Vargas | M | Newport Beach | CA | Bike Religion |
| 13:58:44 | Double | Joshua | | Talley | M | Santa Monica | CA | None |
| 15:05:22 | Double | Kevin | Wolverine | Walsh | M | Lancaster | CA | AV High Desert Cyclists |
| 15:05:23 | Double | Steven | | Decker | M | Fresno | CA | Central Sierra Cyclists |
| 15:35:44 | Double | Adam | Rock Rabbit | Bickett | M | Solana Beach | CA | Rough Riders |
| 15:35:44 | Double | Anabelle | | Lau | F | Solana Beach | CA | UCSD |
| 15:52:54 | Double | Rico | | Mundy | M | Angwin | CA | None |
| 16:03:45 | Double | Joe | | Chancellor | M | Lincoln | CA | Hammerin' Wheels |
| 16:46:34 | Double | Michael | | Stegbuchner | M | Glendora | CA | None |
| 16:46:47 | Double | El | | Lardizabal | M | Duarte | CA | Adobo Velo |