Action Figures
Meet the athletes who push the limits of endurance by participating in epic competitions that begin where marathons end
By Tina Lassen
Originally Published in Midwest Express Airlines Magazine, July 2001
Published here with the permission of the author.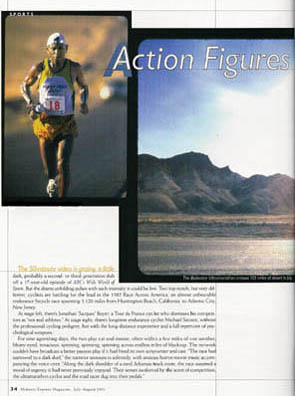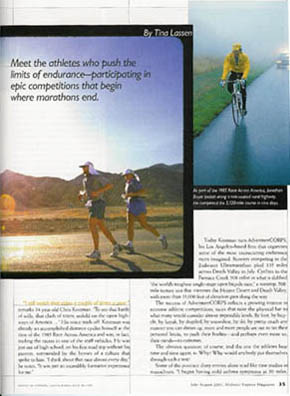 The 50-minute video is grainy, a little dark, probably a second- or third-generation dub off a 16-year-old episode of ABC's Wide World of Sports. But the drama unfolding pulses with such intensity it could've been occurring live. Two top-notch, but very different, cyclists are battling for the lead in the 1985 Race Across America, a sleep-deprived, hallucination-inducing, almost unbearable endurance bicycle race spanning 3,120 miles from Huntington Beach, Calif., to Atlantic City, N.J.
At stage left, there's Jonathan "Jacques" Boyer, a Tour de France cyclist who dismisses his competitors as "not real athletes." At stage right, there's long-time endurance cyclist Michael Secrest, without the professional cycling pedigree, but with the long-distance experience and a full repertoire of psychological weapons
For nine agonizing days, the two play cat-and-mouse, often within just a dozen or two miles of one another, bleary-eyed, tenacious, spinning, spinning, spinning across endless miles of blacktop. The network couldn't have broadcast a better passion play if it had hired its own scriptwriter and cast. "The race had narrowed to a dark dual," the narrator announces solemnly, with anxious music from the horror film 'Halloween' accompanying the voice-over. "Along the dark shoulder of a rural Arkansas truck route, the race assumed a mood of urgency it had never previously enjoyed. Their senses awakened by the scent of competition, the ultramarathon cyclist and the road racer dug into their pedals."
•••
"I still watch that video a couple of times a year," remarks 34-year-old Chris Kostman. "To see that battle of wills, that clash of titans, unfold on the open highways of America...." his voice trails off. Kostman was already an accomplished distance cyclist himself at the time of the 1985 Race Across America, and was, in fact, trailing the racers in one of the race's official vehicles. He was just out of high school, on his first road trip without his parents, surrounded by the heroes of a culture that spoke to him. "I think about that race almost every day," he notes. "It was just an incredibly formative experience for me."
Today Kostman runs AdventureCORPS, his L.A.-based firm that organizes some of the most excruciating endurance races out there: Runners competing in the Badwater Ultramarathon run 135 miles across Death Valley in July. Cyclists in the Furnace Creek 508 enlist in what is dubbed "the world's toughest single-stage open bicycle race," a non-stop, 508-mile torture test that traverses the Mojave Desert and Death Valley, climbing more than 35,000 feet along the way.
The success of AdventureCORPS reflects a growing interest in extreme athletic competitions, races that raise the physical bar to what many would consider almost impossible levels. By foot, by bicycle, by kayak, by dogsled, by snowshoe, by ski, by pretty much any manner you can dream up, more and more people are out to tax their personal limits, to push their bodies–and perhaps even more so, their minds–to extremes.
The obvious question, of course, and the one the athletes hear time and time again, is: Why? Why would people put themselves through such a test?
Some of the post-race diary entries alone read like case studies in masochism. "I began having mild asthma symptoms at 50 miles, became exhausted and despondent at 55 miles and dropped out at 57.5... In retrospect, I should probably have continued in the hope of reviving," wrote one participant in the Hardrock 100, widely considered the nation's toughest hundred-miler, a run that staggers uphill for more than 33,000 feet as it winds through the thin alpine air of Colorado's San Juan mountains. Cyclists in the Furnace Creek 508 write about hallucinations brought on by sleep deprivation and fatigue–sagebrush morphing into people, buildings appearing on the horizon. Paddlers in the Yukon River Quest–a 460-mile, 50-hour-plus canoe race–crumble to the ground with bloody hands, torqued backs and atrophied "canoe legs."
"I have been naked and sobbing by the side of a road," acknowledges Bob Boeder, whose impressive running resume includes the "grand slam of trail ultrarunning," completing four of the most prestigious 100-mile races (including the Hardrock 100) in a single summer. "And I have felt the most glorious sense of well-being and happiness you can imagine. A runner will go through as many emotions in a 30-hour trail race as most people do in an entire year.
"Contrary to the popular perception, we're not a bunch of weirdo crazies," Boeder adds. "We're ordinary people doing extraordinary things. Maybe it's an addiction, but it's a positive addiction. There's a sense of euphoria that's like....well, like nothing else."
•••
Humans have demonstrated remarkable feats of endurance for centuries. The modern marathon has its roots in ancient Greece: According to somewhat fuzzy historic accounts, in 490 B.C. a messenger ran more than 25 miles from Marathon to Athens carrying word of the Greeks' victorious battle over the Persians. To symbolize that legendary run, the marathon foot race was established at the first modern Olympic Games in 1896. A dozen years later at the 1908 London Olympics, today's official marathon distance (26 miles and 385 yards) was established so the course could begin at Windsor Castle and end in front of the Royal Box.
The marathon pretty much stood alone as the human endurance test until the 1970s. Then came the Human Potential Movement, the Me Generation, and suddenly it seemed like everyone was running and cycling progressively longer distances. "I think it was all related to that sense of powerless that came out the Vietnam War and the Civil Rights Movement," suggests Kostman. "There was this focus on the individual, on people doing things for and by themselves."
Marathons soon sprouted up in cities around the U.S. Hawaii's famed Ironman Triathlon began in 1978. Ultra-marathons, or "ultras"(by definition, anything longer than a traditional marathon distance, but often 50 kilometers or 50 miles long) soon followed. In the early 1980s came ultra-marathon cycling. "It was all very simple and straightforward," Kostman says of ultra-marathon cycling's roots. "People would pick two spots on a map, ride it, set a time, and others would try to break it. That's how the sport got started."
Kostman jumped in the game early. At age 14, he was already riding centuries (100 miles). By age 16, he decided he wanted to set a record cycling the 470 miles from San Francisco to Los Angeles. He completed his quest in 31 hours and 13 minutes–and the next week, someone eclipsed it. The following year, Kostman broke that record. And so on.
For Kostman, it all began with an inherent love for cycling. "I wasn't driving yet, and cycling opened up my world," he explains. "I could roll out my driveway and go the beach or the mountains or San Diego. The first day I got my bike, I rode to Mt. Baldy. I had lived within sight of this 10,000-foot mountain my whole life, and had never been on it. Cycling put me in touch with the landscape, with geography. The point wasn't necessarily to go far–it was to go somewhere."
That concept remains key in the events Kostman hosts today. There are endurance races, he notes, that take place entirely on one-mile tracks and in swimming pools. "But who cares?" he argues. "You're not going to learn anything running 262 miles in a circle. It needs to be a celebration of adventure and travel. That's why I put on these events–to provide a dramatic forum for life-changing experiences."
For most athletes, the endurance element factors heavily into that equation. "There's a singularity of purpose–to compete at these levels, you need to drop everything else you deal with on a day-to-day basis," explains Kostman, who has completed everything from snowshoe and bike races across Alaska to the Race Across America. "For most people, their brain is so removed from their body. But these kinds of races create this incredible awareness. You need to focus on your pacing, hydration, nutrition, range of motion...you get to know yourself on physiological, psychological, and emotional levels."
Indeed, most endurance athletes seem to share this keenness for tracking and analyzing and documenting their efforts. Post-race diaries are ubiquitous, many posted on the Internet, detailing everything from what they ate to where they changed their socks. "There's definitely an obsessive-compulsive quality to it," agrees Boeder, who took the race-diary concept a step further, publishing two books rich with description: Beyond the Marathon: The Grand Slam of Trail Ultrarunning and Hardrock Fever: Running 100 miles in Colorado's San Juan Mountains. "Lots of runners are engineers or computer people. You need to be very organized for these races. There's a lot of planning and logistics–arranging travel, planning your food, organizing a crew."
For some competitors, the intense focus stems from something even deeper. Boeder openly discusses what fuels his compulsion to run. "I was a heavy drinker and drug abuser in my twenties and thirties," he reveals. "In my forties, I cleaned up and found running to be good therapy. It just sang to me right from the get go."
He began by running a mile or two, then entering short races, then his first marathon in 1983. "I liked the people, and I liked the challenge," he explains. "And there's nothing like the feeling when every endorphin and every hormone in your body kicks in. It's a natural high, a celebration of life. Everybody who does this says their biggest fear is not being able to run."
At age 58, Boeder runs every single day, tallying 65 miles a week, and ramping that up to 85 miles a week if a race is coming up. He runs a marathon virtually every month. Does he ever not look forward to it, ever not want to run? "Not really," he says simply. "I don't feel right if I don't run. That's the obsessive part, I guess. But it's positive. If you have that kind of personality, it's best to channel it this way, rather than into narcotics or overeating or what have you."
Competition clearly exists, with plenty of gamesmanship going on in the front ranks. "Of course there's competition," responds Kostman, who scoffs at the idea that people enter "just to finish." "No one goes to Hawaii to run, swim and bike (ala the Ironman) by themselves. People want some degree of measuring against others."
But there also is a clear camaraderie and mutual respect among endurance athletes. Just as mountain bikers meet up at Moab or surfers gather at certain wave breaks, theirs is a supremely fit subculture that continually regroups at races throughout the country. They bond over their ordeals, their accomplishments, their elite level of fitness.
While outsiders may dismiss them as "crazies," endurance athletes in turn see a couch-potato society that "is just so damn easy," declares Kostman, a sentiment echoed by athlete after athlete. "Most of America is turning into fat slobs. They use the drive-through, the remote control...Some of us are just looking for a challenge, a way to hark back to the days when we used our bodies to survive, when we scavenged for food."
Kostman even takes a jab at latest twist on endurance events, multisport, team racing competitions like the Eco-Challenge. "We are a culture of jack-of-all-trades-master-of-none," he suggests. "We only want to dabble. Those races offer a false sense of security. Most of those folks couldn't cut it in a Badwater."
•••
Jonathan Boyer, the renegade road racer who plowed his way into the endurance-athlete world in the Race Across America, seemed to understand all this from the start. After nine days on a bicycle, hollow and haggard from sleep deprivation and pure exhaustion, he wheeled onto the Atlantic City boardwalk a mere four hours ahead of Michael Secrest.
"If you have enough willpower and you want something badly enough," he had said, somewhere along a lonely strip of Tennessee pavement, "you can get your body to do anything. Anything."
--end--
TINA LASSEN is a nationally published freelance writer. Her travel features and personality profiles have appeared in National Geographic Adventure, Northwest Airlines World Traveler, Outside, Country Living, Better Homes and Gardens, the Chicago Tribune Sunday travel section, Bicycling, and several other magazines. She is the author of National Geographic's Guide to America's Outdoors: The Great Lakes, and the Michigan Handbook, published by Moon Publications of Emeryville, California.
Tina also owns Pen & Inc Business Communications, Ltd., a writing studio she founded in 1988. Tina writes image brochures, annual reports, catalogs, employee magazines, video scripts and other business communications for a variety of corporations and advertising agencies. Her clients include The Gillette Co., Strong Funds, Honeywell Corp., The Kohler Co., Fiskars and Promega Corp. She has won numerous awards from the International Association of Business Communicators.
In her free time, Tina enjoys alpine skiing, windsurfing, hiking and paddling. She lives in Hood River, Oregon. She can be reached at TinyLasso "at" aol.com.