AdventureCORPS Presents
CORPScamp Death Valley, Feb 21-25, 2009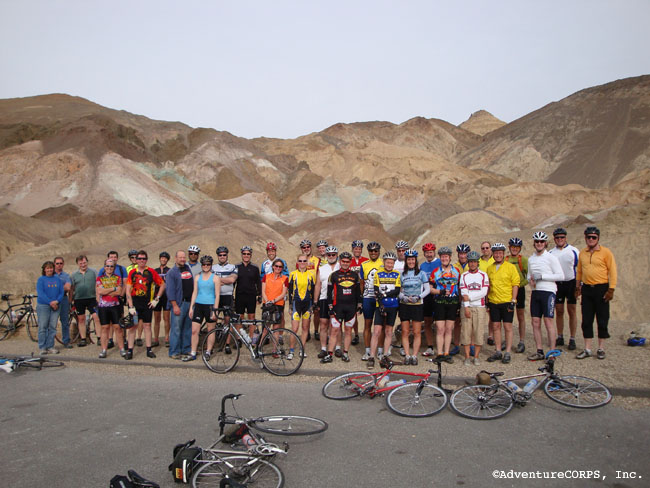 Slideshows, Weblinks, and Blogs
| | |
| --- | --- |
| | Video of CORPScamp Highlights: Give it a few minutes to load, and turn up speakers! |
| | Slideshow 1 by Chris Kostman: Feb 21 (Sat): Badwater Road, Artist Drive, and Artist's Palette |
| | Slideshow 2 by Chris Kostman: Feb 22 (Sun): Towne Pass |
| | Slideshow 3 by Chris Kostman: Feb 23 (Mon): Death Valley Junction |
| | Slideshow 4 by Chris Kostman: Feb 24 (Tue): Scotty's Castle |
| | Slideshow 5 by Chris Kostman: Feb 25 (Wed): Mud Canyon and Hell's Gate |
| | Slideshow 6 by support team Steve and Karen Gray: Artist Drive (2/21), Towne Pass (2/22), Zabriskie Point (2/23) |
| | Slideshow 7 by rider Michael Emde, Feb 21-25: selected shots, plus extra excursions to Salt Creek, Devil's Golf Course, and Scotty's Castle |
| | Slideshow 8 by rider Bob Fisher: Selected shots with an excursion to the ghost town of Rhyolite, plus three beautiful photos by rider Brian Christmas |

A wonderful annual AdventureCORPS tradition continued in Mother Nature's Greatest Sports Arena when 51 cyclists converged for CORPScamp™ Death Valley on February 20-25, 2009. Riders came from AR (1), AZ (1), CA (26), CO (3), MD (1), NM (1), NV (3), OH (1), OR (4), PA (1), UT (1), VA (1), WA (5), and two from Canada!
CORPScamp Death Valley is our annual cycling lifestyle camp based in Furnace Creek and featuring up to 400 miles of epic, one-of-a-kind cycling in and around "Mother Nature's Greatest Sports Arena," Death Valley National Park. We've been producing events here since 1990 and never tire of sharing one of the world's most dramatic, inspiring, and unusual landscapes. From desert flowers to snow-capped mountains, we see it all by bicycle during this camp! The weather was near perfect: never hot nor too cold, light wind at most, and just a bit of chills and dampness on Wednesday's ride.
Each day included the Ron Jones Dynamic Warm Up, a wonderful ride in a beautiful, traffic-free National Park with fueling by Hammer Nutrition, an afternoon CORPSyoga class folllowed by "low tea" (post-yoga social time with tea at 180 feet below sea level), and more. We also enjoyed two lovely dinners together in a special, private room at the Furnace Creek Inn with a spectacular view of the Valley. The first dinner included a one-hour Q&A with Michael Emde, the three-time Furnace creek 508 solo champion and cycling coach from Spokane, WA along with Chris Kostman, endurance athlete for 27 years and endurance event promoter for 25 years, while the second dinner included a fun raffle which sent more than half of the campers home with a prize.
It was a true pleasure to ride and practice yoga in Death Valley for five days, to get to know one another, and to socialize in a very special place. Thanks for joining us and thanks for supporting this event! We hope to see you back in Death Valley next year!
Thanks to the wonderful team who made it all happen!
SAG Support: Steve and Karen Gray; Steve Barnes
Dynamic Warm Up: Developed by Ron Jones
CORPSyoga Classes: Elizabeth
Sponsors: Hammer Nutrition and Earth Wind, & Rider
Special thanks are also extended to the wonderful people at the Furnace Creek Inn and Ranch Resort and the National Park Service.
Roster (veterans are underlined in black)
Charles Aldridge, Deanna Aye-Aye Adams, Steve Protoceratops Barnes, Michael Barry, Mark Bass, Michael Berry, Brian Christmas, Christie Clarke, Bob Clarke, Arthur Combs, Stanley Cousins, Laurie & Thomas Dewey, Ginger Edwards, Michael Alpine Ibex Emde, Stuart Fealk, Bob Fisher, Allen Gerstenberger, Steve Giant Water Bug Gray, Karen Gray, Bob Hartman, Michael Hein, Dennis Henry, Simon Kann, Elizabeth Kellerman, Larry Lindsay, Karen Martin, John Moyer, Paul Myers, Paul Nelson, Donna 2x Panther Nice, Greg Norman, Patrice Pellerin, Michael 2x Panther Pyle, Anurang Ringtail Revri, Kirk Rhinehart, Cindy Rhode, Gerd 2x Leatherback Turtle and Susan Rosenblatt, Steven Rouzer, Mark Ryan, Colin & Julie Stokes, Matt Tapie, Andrew Thomas, Robert Loggerhead Shrike Treadwell, Charles Varela, George & Sue Yocum, plus the CORPScamp hosts, Chris and Elizabeth.
Awesome and Totally Appreciated Feedback!
Thank you, for having me at the AdventureCORPS Camp and the Death Valley Spring Double Century! It was an awesome experience for me and I hope I was able to contribute to your events. It was also great to have conversations with you and to meet your parents. Death Valley is truly an amazing place and there is lots of history to discover! Thanks to Elizabeth for the Yoga classes they were awesome! - Thank you, Michael Emde
Thank you for an experience at CORPScamp Death Valley and the Death Valley 200 that managed to both capture the exceptional beauty of the landscape and offer an opportunity to enjoy the company of fellow cycling enthusiasts. I would certainly like to single out the contribution of Elizabeth and the restorative effects of CORPSyoga. I KNOW that I would not have felt as strong, refreshed, and healthy had it not been for Elizabeth and her patient instruction. I plan on continuing to learn more about yoga and will definitely continue to utilize it with my training. Big, BIG Thanks! …As for the rest of the camp, I had fun, rode hard, learned some things and met some inspiring folks! What else could anyone ask for? I recommend AdventureCORPS to everyone who wants to experience some 'real life' on and off the bike! Thanks to you personally, for creating these unique events and making them so memorable. You, your staff, volunteers and anyone and everyone associated with AdventureCORPS are truly 'Out There!' See you at The 508! - Best, Rob Treadwell
Thank you for a great week. I am a fairly laid back and low-stressed guy, but somehow this week relaxed me even more. Yes, almost 500 miles in 8 days was "relaxing." You brought together a great group of people, providing wonderful support, encouragement, challenge and fun. I look forward to future camps. - Simon Kann
Thank you, Chris and Elizabeth, for a terrific camp. Now, Mike wants to head to Shasta for that camp as well. Given it was my first time doing yoga, I wasn't sure what to expect. I have to say that I was pleasantly surprised and certainly felt "looser" getting back on the bike each day. It was great to meet Michael Emde. He was certainly very approachable and it is no wonder that he has won the 508 the last three consecutive years. Every time I visit Death Valley, I leave with a greater appreciation for its beauty and serenity. I wish that I were coming back in October to race the 508, but am sure that I will still appreciate it as part of the crew. Thanks for continuing to put on events with such a focus on the environment and the athlete. See you at the 508 -- or, possibly sooner in Shasta. - Donna Nice
What a great time I had at the camp and really enjoyed being a "volunteer" for the ride on Saturday. Put me down for the camp again next spring! - Bob Hartman
That adventure in Death Valley still resonates three weeks on - helped by a wonderful image of the valley from Dante's View that serves as wallpaper on my computer. Thanks ever so much for a wonderful, stimulating vacation - it was a great escape from the hurly burly and came just in time for me. - All the best, Brian Christmas in Mississauga, ON, Canada
I've been rather remiss in thanking you for a great week in Death Valley. I hadn't been there before, I'm sorry to say, but I can't wait to go back. It was a great group of people and it was a pleasure getting to know both of you better as well. I'm planning to be there again next Feb and trying to recruit others as well. Elizabeth – let me know when your 'yoga for cyclists' CD is available! I'll buy the first copy. I need it… Looking forward to seeing you again soon, Mark Ryan